The Dreamy Mists of The Isle of Skye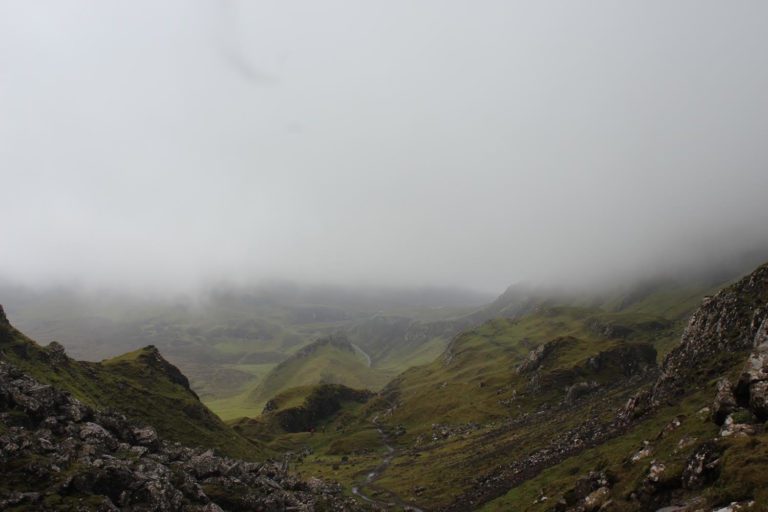 Oh it's real.
So maybe you've been thinking about Skye for a while. Maybe it's been on your bucket list for years or maybe you've never heard of it. As a traveler, artist and lover of mountains it's been on mine for a long time. I knew when I finally arrived it would be beautiful. But damn was it ever.
Be prepared for rain
We went to Skye on a 4 day excursion (however you could spend weeks exploring here) knowing we would see mostly wet weather, I mean it is Scotland. Having the proper gear makes all the difference; with our raincoats, waterproof trousers and hiking boots we set off on our hikes with ease to see what we could discover in the fog. To be honest I wouldn't have wanted it any other way; the dewy hills and misty mountains made it feel like we were walking through a fairytale. It was enchanting and quiet climbing the mountains along the famous Quiraing footpaths, the northernmost summit of the Trotternish region in the Northern peninsula of Skye.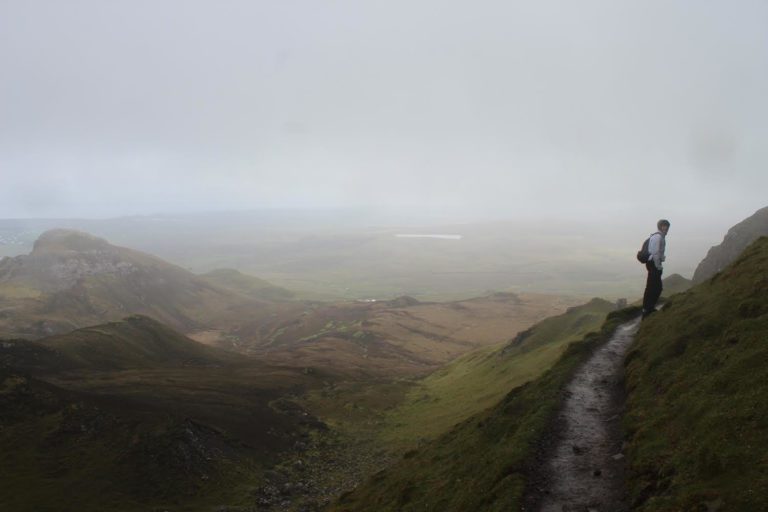 There will be tourists
Even in the rainy weather there are always people exploring this majestic island. If you want to beat the crowds (especially when the weather is clear) leave early in the morning or hit a place around dinner time. We made our way to the famous "Old Man of Storr" by 8 am and pretty much had the place to ourselves.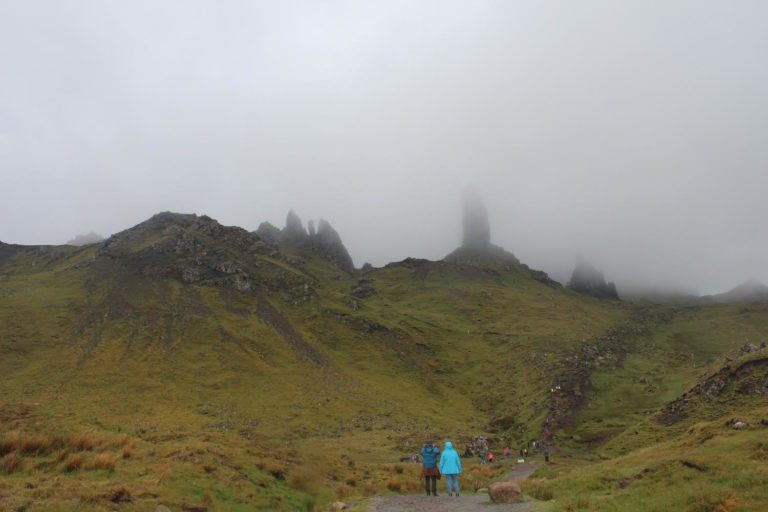 If you hire a car you can stay anywhere
I wouldn't worry about where you're staying too much. Everything is about an hour's drive from each other. We chose an Airbnb last minute in the small area of Killbride, right outside the town of Broadford. It was the perfect cottage away from home with mountains and sheep right outside our door. The cute town of Broadford which is the second largest settlement on Skye (Portree being the first) has everything you need from cute vintages shops and take away coffee, to a Co-op, petrol station, and a delicious sit down pizza restaurant.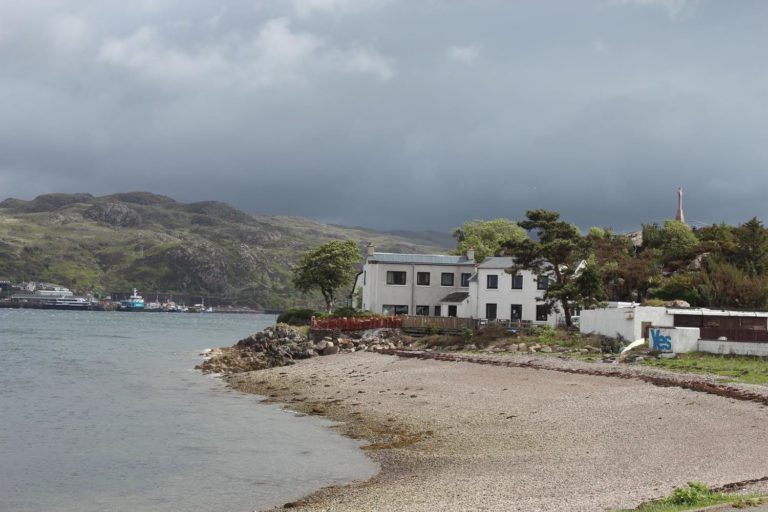 If you don't have a car
You don't necessarily need to have one for there is a main bus that takes you around the island multiple times a day however you're at the mercy of the bus schedule. I would recommend going with a tour company, like the Scottish company MacBackpackers who own their own hostel, Skye Backpackers and tour home in the cute coastal town of Kyleakin. This is definitely a more enjoyable option to see the island when you're on a budget and want a taster of Skye's famous hikes.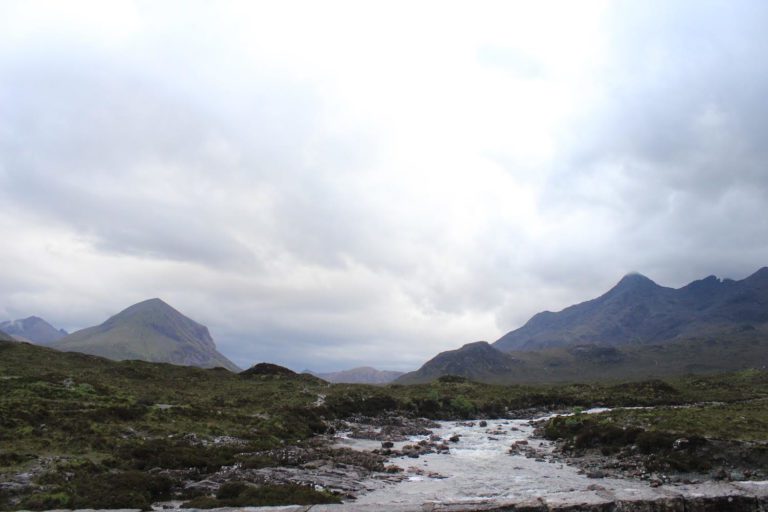 UK's most challenging mountain range is on Skye.
There are two ranges located here; the Black Cuillin and Red Cuillin. I would highly recommend fitting this into your itinerary for you can find a variety of walks and hikes at all levels. The website isleofskye.com is an excellent place to find information on the top 10 routes ranging from 1-8 hours through to either Cuillin range. Do a bit of research before you go and then hit that trail!

Wait, fairy's are real?
Everyone know's the famous Fairy Pools (located in Glenbrittle), but have you heard of the Fairy Glen? Even though Skye is known for it's fairy legends there are no stories to be traced to this particular spot. The Fairy Glen received its name due to it's unusual location. Even so, it's quite a beautiful and unique sight to see with windy roads leading up to your destination it only takes about an hour to explore this mystical area. There may not be fairy's here but you can still feel the magic of Skye.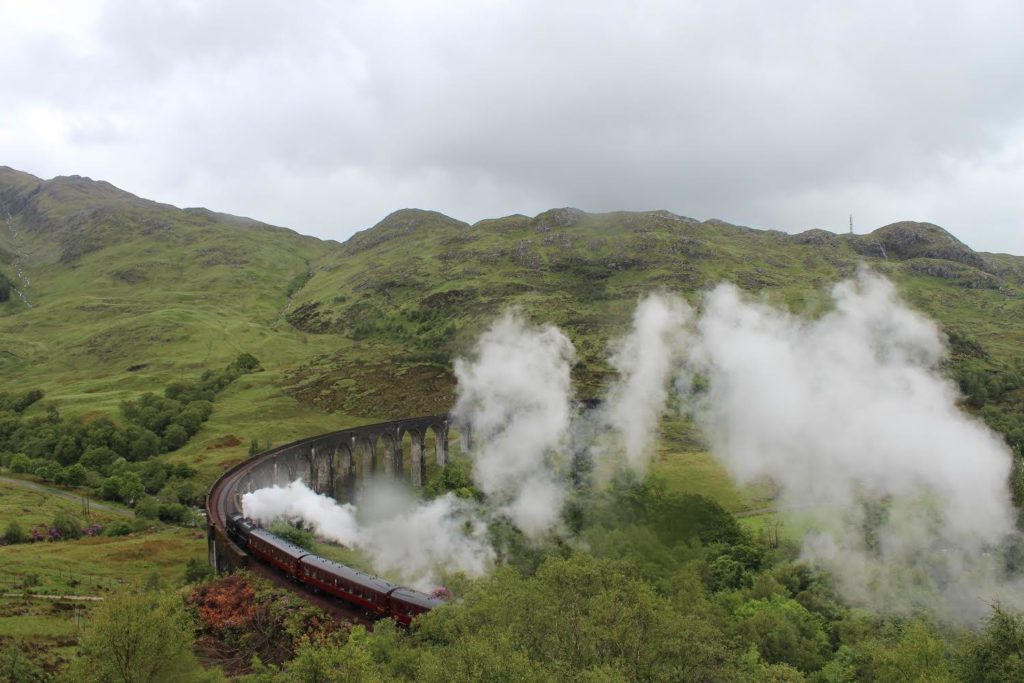 For those Harry Potter fans.
Well you've come all this way so you might as well check out the Jacobite Train and all it's glory. We decided to catch a glimpse of this world famous train and viaduct on our way back from Skye. The best route to get here is by hopping on the CalMac ferry (schedule and information can be found at calmac.co.uk) from Armadale (Southwest of Skye) to Mallaig. It is claimed to be one of the prettiest drives in Scotland and why not sail across the Atlantic Ocean back to mainland Scotland. When you arrive at the viaduct I suggest parking beside the Glenfinnan train station. There is a nice path that takes about 30 mins to walk to the perfect spot overlooking the viaduct. Make sure to check out the Jacobite Train schedule (found here at westcoastrailways.co.uk) before you arrive. Get your cameras ready! And just in case you didn't get that Insta pic, wait only 5 more minutes and another steam train will be coming from the opposite direction. 
So when you're thinking about where to check out next on this big o'l planet, don't forget about Scotland. It was even voted most beautiful country in the world in 2019. Slainte!
If you don't have the money for a car then check out our fully guided MacBackpackers tours that head to Skye 3 times per week. You can check them out here!  We also have a quaint hostel in the fishing village of Kyleakin called Skye Backpackers, check them out here.