8-18 Blackfriars St, Edinburgh EH1 1NE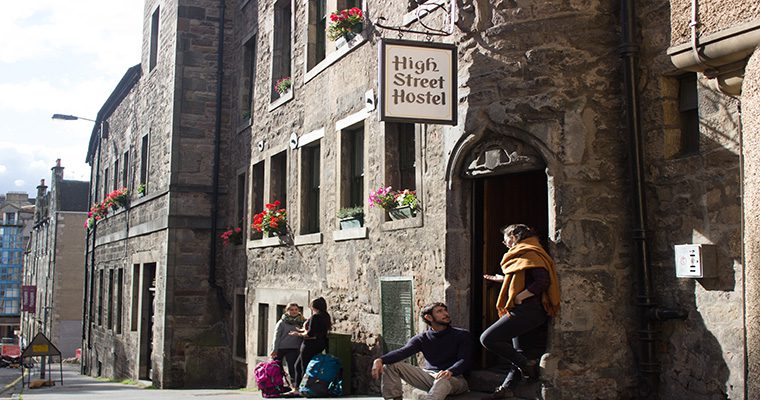 We are Edinburgh's original independent hostel !!! Opening our doors to world travellers as far back as 1985. Originally our building – Morton House – was the town-house of the Earl of Morton, he briefly ruled Scotland but was later beheaded due to his involvement in the assassination of the lover of Mary Queen of Scots. Since then Edinburgh has moved on a fair bit and so has our building too! With wifi, bedside USB sockets, self-catering kitchen, great showers and fabulous and friendly social areas we offer ideal budget accommodation set amidst some pretty ancient architecture. Even though we are a buzzing place, right in the city centre with a wonderful nightlife on our doorstep you can still occasionally see the Earl trudging disapprovingly through the hostel, holding his head in his hands!!!
FREE Bed linen
FREE Thursday Pub crawl
FREE Lockers with locks
FREE Movie nights & popcorn
FREE Coffee, tea and hot chocolate
FREE Hair dryers
FREE Electrical adaptors
FREE Wi-FI in every room
FREE Book exchange
Breakfast for £1.90
Kitchen use and fridge space
No curfew Luggage
Bike storage
Minutes walk from the bus and train
Towel rental for £0.50
Laundry service for £4.00
Local food and drink discounts
Optimal hostel experience!
Elise D
Incredible value, especially because of the location!
Tea B
Strictly no stag or hen parties.
You will need photographic ID to sign.
Please note if you are booking for more than 5 people you need to contact us directly before making the booking.
Be aware that if you book for a group without contacting us directly, your reservation will be cancelled and you will lose your 10% deposit.
If guests are under the age of 18 you must contact the hostel first for the manager's approval.
Our cancellation policy is 48 hours prior to 10:30am on the day of arrival. No-shows will be charged the equivalent of two nights stay.
Instagram has returned invalid data.