Magical Places in the Highlands
Fairy Pools, Isle of Skye
The famous Fairy Pools are a truly magical phenomenon right in the Glen Brittle forest. The crystal clear water is so blue that you almost start to think you've accidentally wandered to Greece – but the moment you jump in, reality hits you like an ice bath. Don't let it stop you though! It's worth the trip just for the photos, and it makes for a pretty scenic walk. Want to really feel the magic? Stop by Talisker Distillery for some peaty, peaty goodness. In terms of accommodation, we've got you covered – book in at Skye Backpackers here.
Loch Ness
We may as well talk about the elephant in the room… Loch Ness is arguably Scotland's most famous loch, but before you go, you might want to brush up on your knowledge of the proper pronunciation of loch (it's not what you think). While you're admiring the scenery, remember to bring your binoculars and try to spot the famous Loch Ness Monster, aka Nessie. Fun fact: the first sighting of Nessie dates as far back as 565 AD, and there have been dozens of official research expeditions aiming to find the monster. For the best viewing spot, get yourself a bed at the Lochside Hostel, located right on the edge of Loch Ness.
Finnich Glen
You may recognise Finnich Glen, now commonly referred to as Devil's Pulpit, from the TV series Outlander. Rumour has it, Finnich Glen was also a secret meeting place for the ancient Druids, and was also literally where Satan preached to the monks. Despite being located just 15 miles from Glasgow, the site is profoundly remote and peaceful. Finnich Glen is famous for its crimson red water streams that rise and fall to reveal the Devil's Pulpit rock.
Enchanted Forest, Pitlochry
The Enchanted Forest is an outdoor light and sound festival set in Faskally Wood in Highland Perthshire, taking place from October 4th to November 4th in 2018. Renowned as Scotland's premier light experience, the event aims to create a fairytale-esque experience using lights on the natural scenery, accompanied by live music and actors. This year's show is named 'Oir an Uisge' (translation: 'edge of the water' in Gaelic'). To complete the experience, you can grab some mulled wine and head over to the Storytelling Yurt for some enchanting tales. At the end of the night, kick back with some hot chocolate and a game of pool at the Pitlochry Backpackers Hotel.
Callanish Stones
Scotland's equivalent of the Stonehenge, also known as Stonehenge of the North, can be found near Loch Roag on the Isle of Lewis. The stones are made from the one of the oldest rocks in Britain, Lewisian gneiss, which dates back approximately 3000 million years. It remains unknown as to why the Callanish Stones were erected 5000 years ago, however it is known that it was a hotspot for ritual activity for 2000 years. Ancient folklore claims that the stones were giants who refused to convert to Christianity, and were petrified by St Kieran, effectively turning them to stone. Maybe by magic?
Glenfinnan Viaduct
Speaking of magical, let's not forget the iconic Glenfinnan Viaduct, better known as The Harry Potter Bridge, where you can catch the Jacobite steam train, aka the Hogwarts Express. The viaduct was featured in Harry Potter and the Chamber of Secrets, and the Prisoner of Azkaban, attracting thousands of visitors every year. The town, Mallaig, was actually considering closing the railway due to economic troubles – luckily, JK Rowling turned the Glenfinnan Viaduct into a tourist attraction and saved the jobs of many locomotive workers. For the ultimate experience, catch the Jacobite steam train from Fort William to Mallaig, and head out from the car park to get a good view.
You're a wizard, Harry.
What's happening in Edinburgh this month?
Edinburgh Festival of Wine
November 4th 12pm
Tom Cannavan of STV's The Hour brings you an all-day wine celebration, with samples of over 200 of the UK's best wines at the famous Balmoral hotel. You can also attend a few masterclasses to make you a true wine connoisseur. Go on a journey through Chenin Blanc with South African wine expert Ken Forrester, or do a taste test to determine whether decanting really makes a difference. And the true highlight – a wine and cheese matching masterclass with Tom himself.
Guy Fawkes Night
November 5th
Guy Fawkes night, also known as bonfire night, is a celebration of the failed Gunpowder Plot of 1605 to kill James VI. To celebrate, swing by The Meadows for public bonfires and set off fireworks, or you can head to the garden centre in Lasswade for food and fireworks from 6pm. The Meadowbank Stadium is hosting its last fireworks display before undergoing major renovations from 6pm. This year's theme is Sci Fi, so don't forget to dress up – and get ready for a truly artistic firework show.
Yellow Movement Friday
November 17th from 7pm
The Yellow Movement Friday is returning to Stramash with the assistance of 6 bands to fundraise and raise awareness for Who Cares? Scotland. Entry is free from 7pm to midnight, after which the stage will be taken over by Scottish folk duo The Mad Ferret Band. Stramash hosts live music 7 days a week until 3am, find out more about their November lineup here.
Edinburgh Christmas Markets
November 17th to January 6th
The famous Christmas Market is a favourite among locals and tourists alike, turning George Street and Princes Street gardens into a spectacular winter wonderland. This year brings back classic food and drink stalls where you will find German pretzels, lobster sandwiches, bratwurst and sauerkraut, and of course, hot toddies, gin and tonics and more. Adventure seekers can skate through Frozen Scotland's ice rink, scale an ice wall, and take a ride on The Yeti or Starflyer. Some newcomers this year are the brand new Forth 1 Big Wheel (pictured above) and the Candy Cane Bungees (not for the faint hearted). Entertainment is provided by critically acclaimed La Clique Noël, serving up a dazzling mix of cabaret, magic, burlesque, comedy, circus and music.
Edinburgh Tequila Festival
November 18th 1pm-11pm
The Mexican Fiesta will be touring 16 cities around the UK, swinging by ATIK in Edinburgh on November 18th. You can expect a mariachi band, piñatas, over 30 brands of tequila and some Mexican classics like tacos, fajitas and nachos. You also receive a complimentary shot of tequila, a sombrero and a tequila bible with your ticket. Arriba arriba, andale andale!
St Andrews Day
November 30th
The 30th of November is Scotland's national day, so the city will be bustling with events and activities to celebrate. George Street will transform into an ice rink filled with sculptures of historical figures, so you can polish up your skating skills and Scottish history knowledge at the same time! Buy your tickets here before they sell out. More of a dancer? Celebrate St Andrews Day in true Scottish fashion by dancing the night away at a ceilidh from 8pm at The Counting House or Lauriston Hall. You can also feast on some traditional Scottish dishes and listen to songs and stories about Scotland at the Scottish Storytelling Centre's Fisherman's Feast, Sailor's Rest event.
Weekly events & gigs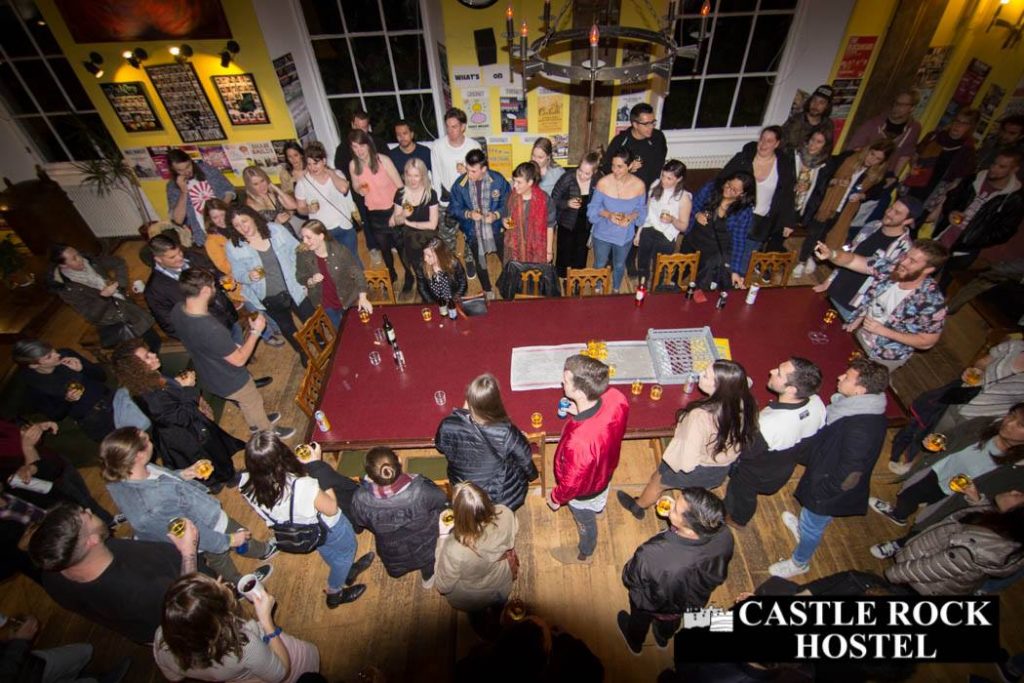 Don't worry music lovers, we haven't forgotten about you. This month at Whistle Binkies you can watch performances by The Lost Boys, Karel Kalaf Trio, Matt Gloss & The Emulsions and more.   If you want to work on your stage confidence, or simply just show your talent, you can attend Open Mic Night every Monday at Whistle Binkies, and every Tuesday at Stramash. Not ready to perform yet? Every Monday, Stramash hosts Songwriter Sessions with some local performers to get you in the zone. For those of you wondering about the nightlife, Edinburgh has something to offer every night of the week. If you are staying at any of our MacBackpackers Edinburgh hostels, you can join our free Thursday pub crawl to take you around the city. On Saturday nights, guests at Castle Rock Hostel compete in a weekly beer pong tournament followed by a night on the town.