Unsolved Scottish mysteries
Many mystery writers use Scotland as the setting for their novels, like The Balmoral Incident and Out of Bounds. Besides the many legends and myths about supernatural creatures, there are plenty of real events that remain unexplained today…
Dundee's mystery hangman
A criminal gang known as the Black Band terrorised Dundee throughout the 1830s with break-ins, robberies and riots. An Irish member, Mark Devlin, was captured in 1835 and sentenced to death by hanging. Unfortunately, Dundee didn't have a hangman, so they had to call for an executioner from Edinburgh. The executioner failed to show up, so officials were forced to ask for volunteers from the townspeople. The volunteer identified himself as local showman James Livingstone, but requested that he wear a mask during the execution. As it turns out, the real James Livingstone had been 15 miles away, in the town of Forfar, at the time of the incident. Needless to say, James was pretty upset, and gathered several reliable witness accounts to prove it wasn't him. 180 yeas later, no one knows who hung Mark Devlin.
The Great Mull airplane mystery
In December 1975, former Royal Air Force pilot Peter Gibbs drank whisky and a bottle of bordeaux at a hotel in the small Isle of Mull. Him and his girlfriend left swiftly, announcing to hotel staff that he was going to fly a rented Cessna plane. The staff protested, worried that flying at night after drinking was unsafe, to which Peter responded:
 "I am not asking for permission, I just thought it was courtesy to let you know."
Upon Peter's instructions, his girlfriend Felicity remained on the ground and held up two torchlights to guide the airplane as there were no landing lights. He told Felicity that he would land once in Glen Forsa, to prove that night landing was possible, and then return to her after a few minutes. Two hours later, Peter had still not returned, and a 72 hour storm broke loose. Gibbs' body was not found until 4 months later on a hillside, but apart from a small cut on his leg he had suffered no other injuries. He did not look like a man who had crashed his plane into a hill, nor was there any evidence to suggest his body had been in contact wit sea water. The aircraft was found between Mull and the mainland 11 years later, but the doors were locked and the engine, wheels and wings had been detached, suggesting a serious crash had happened. Many questions remain: why wasn't his body found during the police search in the first 4 months? Mull is a very small island, making it relatively difficult to completely lose a human (let alone a plane). Why was the plane in such terrible condition, meanwhile Gibbs only suffered a small cut on his leg? Why did he decide to fly that night at all? To this day, the mystery remains unresolved.
Bluejacket Boy
In 1949, a woman found a stamped letter behind her fireplace in the Orkney Islands, although she had no idea how it got there. The letter was dated 1916 and was addressed to Wales, with the sender identifying himself simply as Bluejacket Boy. The intended recipient, John Williams, has been identified as a member of the navy in World War I. In the letter, Bluejacket Boy mentions several family members, and that he sent a handkerchief with a photo of a sailor on it to someone named Ethel.
Decades later, the Orkney library conducted a search on the 1911 Census and were eventually able to uncover the identity of Bluejacket Boy: a man named Dai Phillips, pictured above. Dai's granddaughter, Minnie, has also been traced and will be collecting the letter from Orkney one day. We still don't know how the letter ended up behind that fireplace, but at least we finally know who Bluejacket Boy is.
Bible John & The Barrowland Killings
In the late 1960s, three women named Patricia Docker, Jemima McDonald and Helen Puttock were picked up from the Barrowland Ballroom in Glasgow by an unidentified man, on separate occasions. The women were all raped and strangled with their own stockings. The most unsettling part of the story is that all three women were menstruating at the time of the murders, and their bodies were found with used sanitary towels and tampons near their bodies. The bodies were found in different locations, however they had all been murdered the same way, and gotten their handbags stolen – although their belongings were left by their corpses. Witness accounts allowed police to create a sketch of what they think Bible John might look like, but 50 years later, we still don't know who was responsible for the rape and murders of the Barrowland Ballroom.
What's happening in Edinburgh this month?
Edinburgh Festival of Wine
November 4th 12pm
Tom Cannavan of STV's The Hour brings you an all-day wine celebration, with samples of over 200 of the UK's best wines at the famous Balmoral hotel. You can also attend a few masterclasses to make you a true wine connoisseur. Go on a journey through Chenin Blanc with South African wine expert Ken Forrester, or do a taste test to determine whether decanting really makes a difference. And the true highlight – a wine and cheese matching masterclass with Tom himself.
Guy Fawkes Night
November 5th
Guy Fawkes night, also known as bonfire night, is a celebration of the failed Gunpowder Plot of 1605 to kill James VI. To celebrate, swing by The Meadows for public bonfires and set off fireworks, or you can head to the garden centre in Lasswade for food and fireworks from 6pm. The Meadowbank Stadium is hosting its last fireworks display before undergoing major renovations from 6pm. This year's theme is Sci Fi, so don't forget to dress up – and get ready for a truly artistic firework show.
Yellow Movement Friday
November 17th from 7pm
The Yellow Movement Friday is returning to Stramash with the assistance of 6 bands to fundraise and raise awareness for Who Cares? Scotland. Entry is free from 7pm to midnight, after which the stage will be taken over by Scottish folk duo The Mad Ferret Band. Stramash hosts live music 7 days a week until 3am, find out more about their November lineup here.
Edinburgh Christmas Markets
November 17th to January 6th
The famous Christmas Market is a favourite among locals and tourists alike, turning George Street and Princes Street gardens into a spectacular winter wonderland. This year brings back classic food and drink stalls where you will find German pretzels, lobster sandwiches, bratwurst and sauerkraut, and of course, hot toddies, gin and tonics and more. Adventure seekers can skate through Frozen Scotland's ice rink, scale an ice wall, and take a ride on The Yeti or Starflyer. Some newcomers this year are the brand new Forth 1 Big Wheel (pictured above) and the Candy Cane Bungees (not for the faint hearted). Entertainment is provided by critically acclaimed La Clique Noël, serving up a dazzling mix of cabaret, magic, burlesque, comedy, circus and music.
Edinburgh Tequila Festival
November 18th 1pm-11pm
The Mexican Fiesta will be touring 16 cities around the UK, swinging by ATIK in Edinburgh on November 18th. You can expect a mariachi band, piñatas, over 30 brands of tequila and some Mexican classics like tacos, fajitas and nachos. You also receive a complimentary shot of tequila, a sombrero and a tequila bible with your ticket. Arriba arriba, andale andale!
St Andrews Day
November 30th
The 30th of November is Scotland's national day, so the city will be bustling with events and activities to celebrate. George Street will transform into an ice rink filled with sculptures of historical figures, so you can polish up your skating skills and Scottish history knowledge at the same time! Buy your tickets here before they sell out. More of a dancer? Celebrate St Andrews Day in true Scottish fashion by dancing the night away at a ceilidh from 8pm at The Counting House or Lauriston Hall. You can also feast on some traditional Scottish dishes and listen to songs and stories about Scotland at the Scottish Storytelling Centre's Fisherman's Feast, Sailor's Rest event.
Weekly events & gigs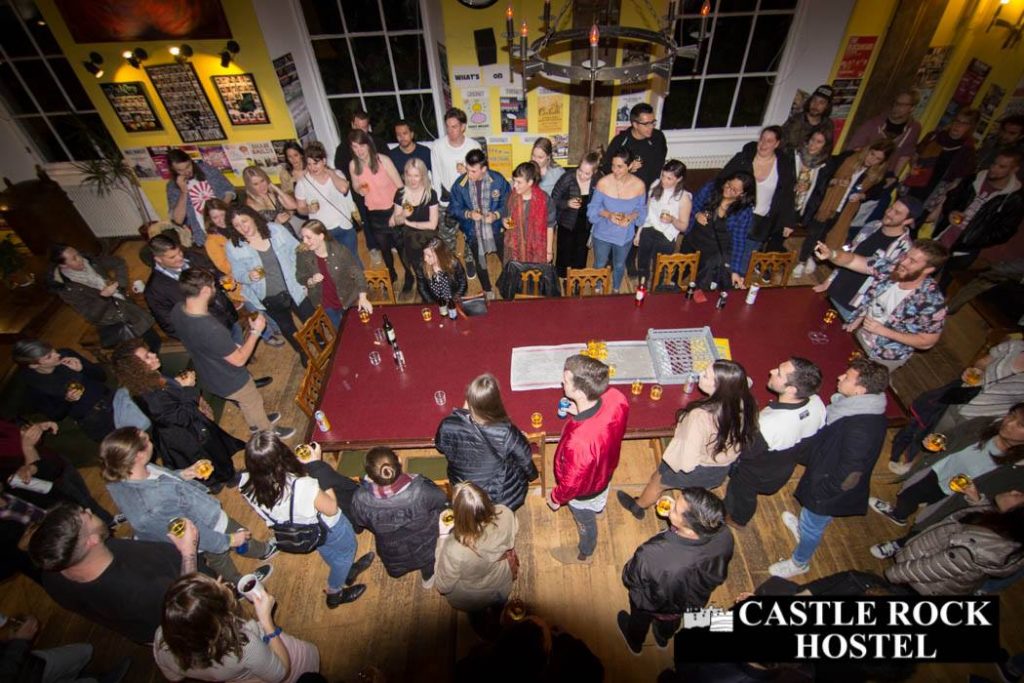 Don't worry music lovers, we haven't forgotten about you. This month at Whistle Binkies you can watch performances by The Lost Boys, Karel Kalaf Trio, Matt Gloss & The Emulsions and more.   If you want to work on your stage confidence, or simply just show your talent, you can attend Open Mic Night every Monday at Whistle Binkies, and every Tuesday at Stramash. Not ready to perform yet? Every Monday, Stramash hosts Songwriter Sessions with some local performers to get you in the zone. For those of you wondering about the nightlife, Edinburgh has something to offer every night of the week. If you are staying at any of our MacBackpackers Edinburgh hostels, you can join our free Thursday pub crawl to take you around the city. On Saturday nights, guests at Castle Rock Hostel compete in a weekly beer pong tournament followed by a night on the town.