Where would you like to go?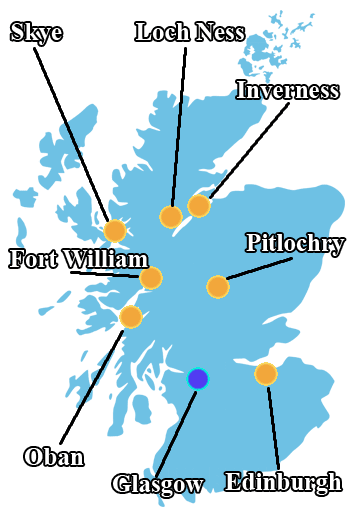 Lochside Hostel Loch Ness
Skye Backpackers
Fort William Backpackers
Oban Backpackers
Edinburgh Hostels
Inverness Student Hotel
Pitlochry Backpackers
Lochside Hostel Info
We offer you a one-stop budget traveller's website including award winning hostels, transport to and around Scotland and award-winning Backpackers tours for your perfect Scottish holiday.
Our Hostels around Scotland
Scotland's Top Hostels offers nine welcoming hostels throughout Scotland. With the original (High Street Hostel) opening up in Edinburgh in 1985, followed by Castle Rock Hostel(located beside the castle), as well as Royal Mile Backpackers(located on the famous Royal Mile). We also offer six Hostels in the Scottish Highlands. Whether you're hiking the Great Glen Way from Fort William, wanting to spend some time on the bonnie banks of Loch Ness, or visiting the Highlands biggest city(Inverness) we have your Hostel needs sorted.
Multi Award Winning Tours of Scotland
MacBackpackers has run fun filled, fully guided adventures around Scotland for over 15 years. Created for young independent travellers aged between 18 and 40, our tours give an entertaining, informative and utterly unique view of Scotland.
Our guides, patriotic and passionate, will open up our amazing country to you, weaving together the rich fabric of Scottish history and culture as we travel along some of the most picturesque routes in Scotland.
What our guests have to say
Hear from our guests from all across the world in what they thought about our Hostels.
Cool hostel in the centre of Edinburgh. Loved it
Jack Roberts
High Street Hostel
Lovely hostel and super helpful staff
I stayed here with a friend for three nights at the beginning of January for a hiking weekend. I was very pleasantly surprised at just how lovely this hostel was. The beds were very comfortable,… Read more "Lovely hostel and super helpful staff"
Natalia S
Fort William Backpackers
I really like this hostel. This is my third visit.
Laura McKendrick
The Lochside Hostel
For sleeping very good
For sleeping very good. Price are normal. For extra charge breakfast like toast cereals juice. Coffee and tee are free. Disadvantahe i consider wc and toilet. But if you looking for cheap acommodation for sleeping… Read more "For sleeping very good"
Andrej Žiak Andrej Žiak
High Street Hostel
Warm hostel, great location, helpful staff
Warm hostel, great location, helpful staff (Anne went above and beyond helping me book my bus plan for the next day), fun little city with great pubs and live music.
Joshua Mogyoros
Inverness Student Hotel
This could be a boutique Hostel
If you are looking for an affordable place right in the loch then you got it. This could be a boutique Hostel but now that are a friendly budget calling Hostel. Beds are good with… Read more "This could be a boutique Hostel"
Matthew Marcus
The Lochside Hostel