The Origins of Arthur's Seat
by Astrid Samuelsberg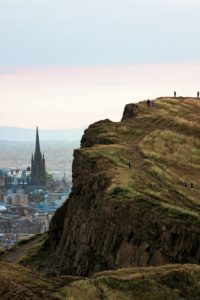 When you visit Edinburgh, Arthur's Seat and the Salisbury Crags are guaranteed to be in your top 10 things to do on your trip. Arthur's Seat was formed by an extinct volcano, creating an 822-feet hill with a series of cliffs known as Salisbury's Crags at the top. Being the highest point in Edinburgh, Arthur's Seat is renowned as the peak of Holyrood Park. At the top, you get a perfect view of Edinburgh, the sea and the mountains. That being said, Holyrood Park's other features such as Whinny Hill, Samson's Ribs and St Margaret's Loch are equally stunning. Arthur's Seat is located 1.6km from Castle Rock Hostel, meaning you can easily squeeze in the 2 hour roundtrip during your stay.
It remains unknown why the hill was named 'Arthur' – some theorise ties to King Arthur, but maybe it was just named after someone called Arthur. The 'Seat' is said to refer to a notch between the highest point of the peak and a secondary point of the hill. Most likely, the name originates from the Gaelic name Ard-na-Said, which means height of arrows.
The dark history of Holyrood Park
Over time, various landmarks of Holyrood Park have been given names like Samson's Ribs and Pulpit Rock. If you look closely at the names, the darker side of Arthur's Seat history emerges. You don't have to be a historian to guess the origin of the name Murder Acre, where the King's Troops shot several civilians in 1677.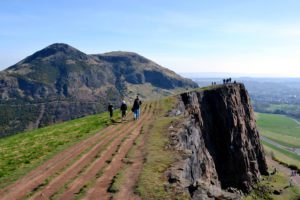 After a series of more than unfortunate events, Whinny Hill is now better known as Hill of the Dead. It probably started with Mungo Campbell's 1769 murder of an officer, after which he killed himself and demanded to be buried below Salisbury Crags. Unfortunately for Whinny, its reputation as Hill of the Dead was truly solidified in 1863. Nestled on its cliffside, two boys discovered 17 coffins filled with fully clothed wooden figurines. While no one knows for sure, legend has it the coffins were symbolic burials of Burke and Hare's 17 medical murder victims.
The Salisbury Crags were not given any eerie nicknames. Although, it doesn't take a detective to guess where the Crags Killer got his name. As recently as 1972, Ernest Dumoulin (the Crags Killer) pushed his 18 year-old bride off the Crags on their wedding day so he could claim a £1m insurance policy. To make matters worse, after only 16 years in prison, he is now re-married and also a minister.
The beautifying properties of May dew
On a lighter note, Arthur's Seat was also a hotspot for women seeking beauty and youth back in the day. Thousands of women would gather at Arthur's Seat before sunrise on May 1st to wash their with the May Dew. Stemming from pagan rituals, the dew was regarded as holy water of the druids which would bring health and beauty. Specifically, women believed the dew would whiten lines and beautify their faces – essentially, an airborne fountain of youth.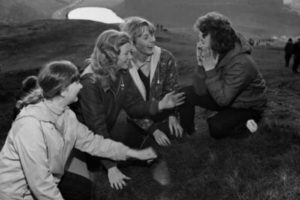 Robert Fergusson's 1773 poem, Auld Reekie, describes the May Dew ritual as follows:
On May-day, in a fairy ring, we've seen them round St Anthon's spring
Frae grass the cauler dew draps wring to weet their een
And water clear as crystal spring to synd them clean
The May Dew ritual has now dwindled in popularity, possibly due to competition from anti-ageing creams and beauty balms.