How to live a happy life, the Scottish way.
A little concept called Coorie is helping Scotland take over as the happiest place on earth, writes Rachel Wagner.
Imagine days spent wandering between the formidable mountains of the Scottish highlands. Wild swimming in lochs before retreating to a bothy to swathe yourself in layers upon layers of tweed. And finishing your night at a country pub with a big steaming bowl of traditional Cullen Skink to warm you from the inside.
It's in our nature to seek out happiness wherever we go.
In Denmark (the happiest country in the world) they have hygge. When the air develops a chill, they look for small comforts to survive the long, cold nights. Like hot cocoa drunk by candlelight, it's the epitome of cosiness.
But Scotland has something even better. It's called Coorie and it doesn't just draw on aesthetics, it's rooted in hundreds of years of Scottish history.
Journalist Gabriella Bennett is spreading the good word about Coorie with a new book. The Art of Coorie teaches us how to be happy through simple pleasures.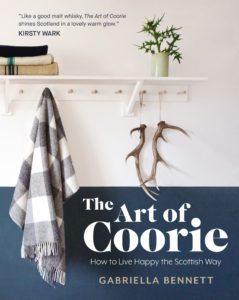 "C​oorie is about ​learning to live better using what is around you," Bennett says.
"A coorie way of life practises small, quiet, slow activities by engaging with our surroundings to feel happy."
The lifestyle concept was first co-opted by interior designers as a way of encompassing some of Scotland's oldest traditions and textile heritage into their modern designs, but originally, the word had another meaning.
"The Scots' word has always meant cuddling up or snuggling in – now it applies to a lifestyle," Bennett explains.
So how can you achieve coorie? According to the writer, it's all about getting in tune with your surroundings.
"Coorie is rooted in what Scotland is best known for – our wild landscapes and the output of our creative talent," she says.
Here are some Coorie-filled activities to try while you're in Scotland:
Cook a traditional meal
Coorie cooking can be a truly special experience. Spend a day in the kitchen with some old Scottish recipes (you can't go wrong with the classic haggis, neeps and tatties.)
"Coorie cooking recalibrates these dishes by giving them a modern spin," Bennett says.
And if you want to really turn things up a notch?
"You can harvest pine needles to flavour food and drinks. Or smoke your own food – not with the fancy expensive models, but a DIY smoker made from things lying around the house. A large metal tin will do."
Bag a munro
Fancy a wee hike? Why not tackle one of Scotland's 200-plus munros? Munro bagging is a competitive sport in this country, and involves scaling mountains of heights over 3000ft.
It may sound daunting, but clambering your way to the top of Ben Nevis will lift your spirits sky high. It'll be tough. You'll duel with blisters and peat bogs. But the act of walking is a meditative one and your sense of satisfaction will only grow when you see those views.
And who could be unhappy on top of a mountain they just climbed?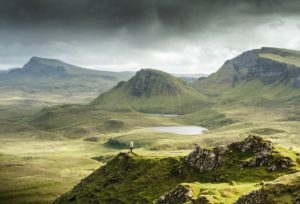 Knit a Fair Isle sweater
Making something with your hands is the perfect road to Coorie.
These colourful patterned sweaters are named for Fair Isle, one of the Shetland islands, and the knitters who laboriously craft them frequently have three year waiting lists.
It's a painstaking craft to learn, but you'll be rewarded with a beautiful, snuggly garment steeped in history.
You can buy The Art of Coorie by Gabriella Bennet here.
Feature image: Mike Smith – Unsplash