Winter has come, but that doesn't mean you have to stay inside. Scottish winters may be brutally cold, but it also creates ideal conditions for some wild winter activities. Pack your warmest winter gear, and get ready to brave the freezing temperatures. If you're looking for adventure, you've come to the right place. There's more to snow than just skiing.
#1 Go mountaineering and scale ice walls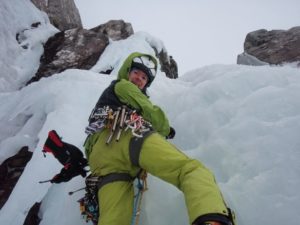 If you're a thrill-seeker, simply admiring the views of Glencoe and Ben Nevis is simply not enough. So why not learn to mountaineer and climb your way to the top? Ice Factor National Climbing Centre will take you on a 3 day mountaineering course to climb Glencoe and Ben Nevis. The course will teach you how to ascend and descend mountains using axes and crampons, as well as avalanche risk assessment. You'll also get to abseil down using rock and snow anchors. If you're a beginner, you might prefer to take lessons at Ice Factor's 40ft tall indoor ice wall. The arena holds over 500 tonnes of real snow and ice, so you'll still get the full experience.
#2: Build a snow-hole and sleep in it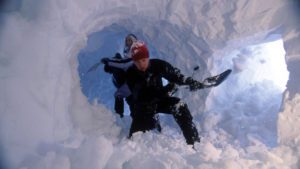 Have you ever wondered what you would do if you caught yourself in a Revenant-style freezing night? If you're not willing to slice up a horse to sleep in like Hugh Glass, and don't have a tauntaun kicking about, there's only one other option… Build a snow-hole. Scot Mountain Holidays will take you on a 4-night expedition through Cairngorms National Park and teach you the winter survival skills you need. First, you'll learn to spot the ideal conditions for a snow hole. Then, they'll help you build your own snow hole to sleep in. Never know when this skill might come in handy.
#3 Snow Shoe your way across glens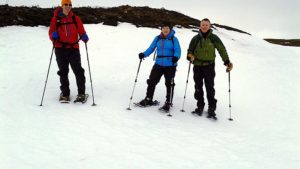 If you've ever tried to walk through deep snow, you'll know the struggle of constantly lifting your feet after sinking. Back in the day, ancient hunters sought to imitate the feet of snowshoe hares, which allowed them to move rapidly across deep snow. The result was the 'snow shoe', which uses a webbed design to distribute weight across a larger area to help you 'float' over the snow.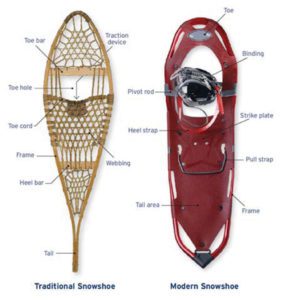 The snowshoes were a pioneer for cross-country skiing, making it the perfect introduction to winter sports. C n Do Scotland offers a 1-day guided snow shoeing experience through the forests, hills and glens of Stirling. Once you've learned the basics, you can rent equipment from Aviemore Ski and snowshoe independently across the breathtaking Aviemore and Glenmore.
#4 Ski and Snowboard in Cairngorms Park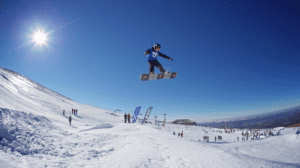 Cairngorms Park offers the best skiing and snowboarding in the UK, with three resorts designed for every snow sport and skill level. Beginners can take snowboarding and skiing lessons at Glenshee or Lecht. On Cairngorms' 30km piste, more experienced skiers can cruise down the funicular railway to the resort area in Aviemore. After a long day in the slopes you can enjoy aprés ski bars, open fires, a cinema, restaurants and museums. Those of you who looking for extreme winter sports won't want to miss the fun park. The fun park is often used for competitions, so it's fully equipped with table tops, gap jumps, and log slides. If you're looking to try something different, Slochd Cross Country Skiing has beautiful trails for beginners and experts alike.
#5 Try Curling
Oh, curling, the dark horse of the Winter Olympics. Pushing a granite stone across ice rinks using brooms might look silly, but there's a reason it's known as 'chess on ice'. Curling is a game of strategy which requires great concentration. Since the sport was invented in Scotland, it'd be rude not to play a game while you're here. There are 22 ice rinks in Scotland with curling facilities, so you won't struggle to find one. The Edinburgh Curling School provides 2-hour tasting sessions for £10 at their Murrayfield arena. Those further up north can try the majestic game at Inverness Ice Centre or The Moray Leisure Centre.
#6 Walk with reindeer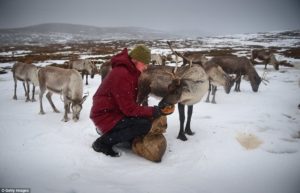 Contrary to popular belief, reindeer exist outside of Christmas time. The Cairngorm Reindeer Herd consists of 150 reindeer walking freely in the mountains. Every day at 11am throughout the winter season, you can join a reindeer herder on a walk through the Aviemore mountains. As part of the tour, you get to walk with, feed and pet the reindeer – don't worry, they're tame creatures.
7# Ride on a Sled Dog Safari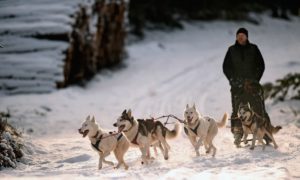 The Sled Dog Centre in Aviemore is the only one of its kind in the UK, and one of 5 in Europe. It's run by the Stewart family, who have trained and raced with sled dogs for decades. The Aviemore Sled Dog Rally takes place on January 27th-28th, but you can join in on a non-competitive version too. The Twin Cart Sled Dog Safari takes you on an adventure through the mountains, led by a herd of huskies. What more could you possibly want?