Our Top Gluten Free Food in Edinburgh
Travelling can be hard when you can't eat everything, but Edinburgh is absolutely full of great cafes and restaurants that will cater to most dietary needs. We got one of our resident gluten free friends to go out and find us 3 great places to get a gluten free and healthy meal and this is what he found.
A perfectly place cafe, Pumpkin Brown's been set-up in such a way that the sunlight angles its way through a modern glass front, onto window seats that look out onto the historical Grassmarket. Perfect for people watching as you enjoy their tasty menu. With many of the customers looking for plant-based, raw and organic breakfast and lunch options; owner Amanda Brown has not only made vegan dishes just her focus, but has also created a menu which is almost entirely gluten and refined sugar free. 
In a neighbourhood that sees strong and similar competition, namely from Hula, and Graze. Pumpkin Brown takes advantage of those attending drop-in dance classes next door at Dance Base (Scotland's National Centre for dance.) This has inspired the name of their most popular dish: Contemporary Improvers. " This Dragonfruit smoothie bowl', says Brown, "is so bright and tastes amazing."  To make it Brown buys in organic dragonfruit pulp, blends it with bananas, tropical fruit, a milk alternative, then adds nuts, seeds, fresh fruit, and cacao bibs. A delicious healthy way to start your day in Edinburgh's Old Town. 
A Dragonfruit smoothie bowl will set you back £7.45, and pairs nicely with one of their speciality lattes for £3.50.
When you arrive you'll mostly likely note how Pumpkin Brown advocates and sells eco-friendly products in their store and practices zero-waste and zero-plastic. A definite must visit if you find yourself exploring Grassmarket this summer!
Find them at, 16 Grassmarket, Edinburgh EH1 2HS
Their opening hours are 9.15am everyday, closing, Sun-Weds 5pm, with Thu & Fri at 6pm.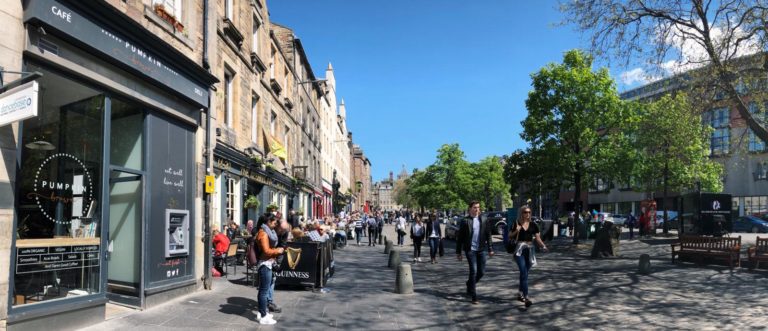 Graze on Grassmarket is lite, light, and filling. Their made-to-order, pointing as you shuffle along, Subway-esque menu has satisfied many a traveler's appetite. Unique in its outdoor seating (look for the sheep mannequins) and modeled  inside like a mini-paddock, it is situated only a few minutes down from Edinburgh College of Art. With Graze being student-affordable, it is often filled with those on a budget looking for one of their tasty salad boxes. There's a big focus on vegetarian here, as well as, vegan and gluten-free options, and with a small salad box priced at £4.45, a medium for £5.45, or £6.95 for large, there should be change for one of their vegan gluten-free cakes as well.
Graze is open Mon-Sat 7.30-4pm, with Sun 8.30-4pm
Find them at, 67 Grassmarket, Edinburgh EH1 2HJ
Now, this is a ramen place you won't forget. Not only do they make a lot of their food vegan and gluten-free, but they do it in a funky decorated room with deep generous bowls. Lining the walls as you enter are colourful post-it notes with messages from satisfied customers, tiny portraits and love notes passed across tables before being stuck up along the interior of the restaurant. With their ramen coming in classic toppings such as: pork, beef, salmon, even lobster, and as now, Maki Ramen have made available, vegan and gluten-free toppings as well! Now you can have cubes of silken tofu, carrot, spring onion, sweetcorn, wakame and kombu seaweed and sesame seeds added to your generous meal.
A vegan gluten-free Miso Ramen costs £10.90 will leave you wishing you had space for more.
Find them at 4 Locations : 37 Leith Street Edinburgh / 97 Fountainbridge / 13 West Richmond Street / 75 Nicolson Street
Maki & Ramen, is open Sun-Thu 11.30am-10.00pm, with Fri & Sat at 11.30-10.30pm