A Rosslyn Chapel Day Trip With MJ
Looking to get out of Edinburgh on a day trip but not sure where to go? How about visiting a timeworn chapel featuring intricate and peculiar carvings, stories of murder and betrayal, and even featuring in a bestselling book? Sounds friggen sweet, eh!? You're not wrong, Rosslyn Chapel is the creme de la creme for Scottish history sites to check out and with over 181,700 visitors last year alone, it's safe to say its a pretty popular place to visit! So come with me, new friends, as I tell you about this unusual place and its place in Scottish history.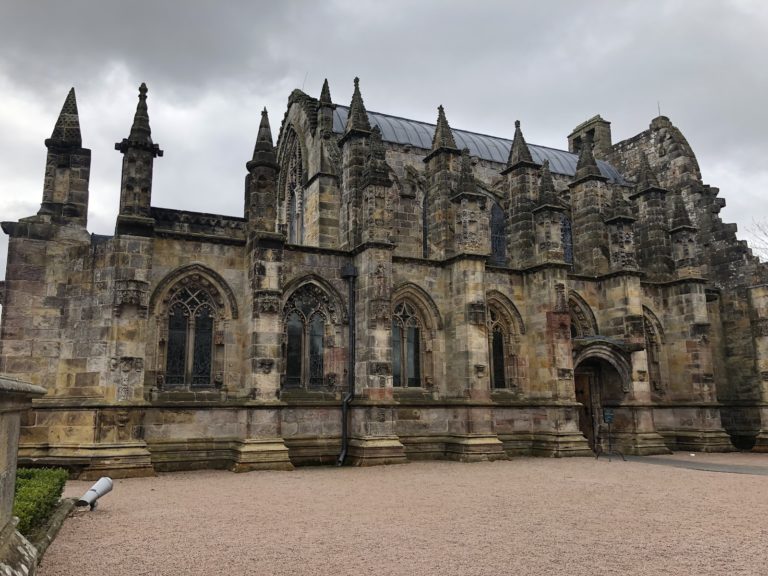 Firstly, you should know that Lothian buses are awesome and you should take them anywhere you can. They're awesome for several reasons:
1) they are cheap-as, at £1.70 one way, it is hard to find a cheaper way to travel (except two feet and a heartbeat!)
2) tickets can be purchased on the bus with Contactless (Tap or PayWave for you Canadians and Aussies) or on their handy app "m-tickets" so no need to panic about not having exact change and
3) they are double decker which will never not be awesome. From my home at Castle Rock Hostel, you will walk about 10 minutes down the Royal Mile to South Bridge and catch the #37 bus to Penicuik Deanburn. The ride will take you just about 45 minutes, and you will get off at the Original Rosslyn Hotel, just down the street from the chapel.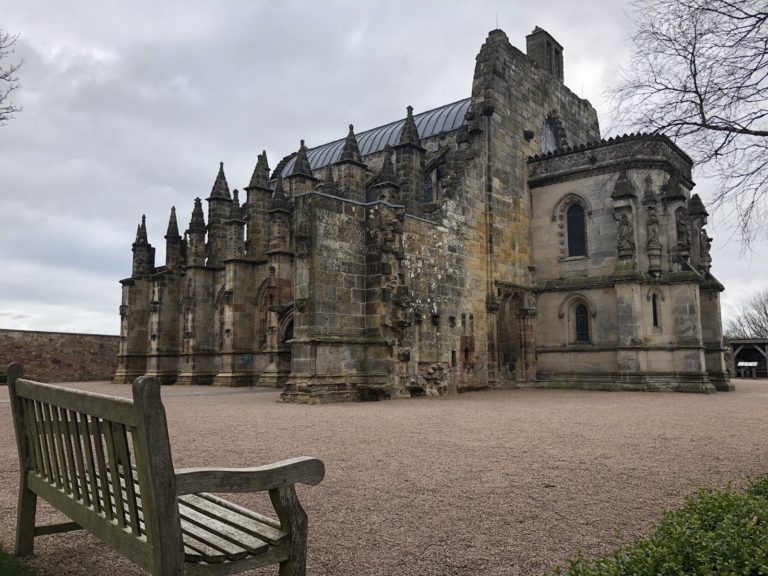 Once you get to the Chapel, there is a guest house with toilets, souvenirs and a small cafe that you must go through before entering. To be able to go inside the grounds and Chapel itself there is a cost of £9 (£7 if you're a student!), however, if you live nearby or plan on visiting again within the year, this ticket can get you in for free for another 12 months (just ask them at the counter when you purchase your ticket!) Now, normally I would shake my fist and shout at the heavens about the cost because I am a poor, cheap backpacker; but in this case I feel that it is well worth the cost as there is truly nothing like Rosslyn Chapel. Preserving it for people like you and me and all the generations to come is pretty darn important, and apparently pretty darn costly too (who knew!)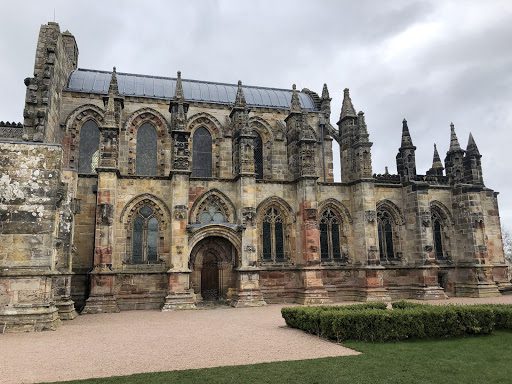 Once you're inside the grounds be sure to be on the look-out for the most important thing you will see all day – William the cat. William is a beautiful black cat that has been at the Chapel since he was a small kitten, and they've even started writing books and selling stuffies that look like him in the gift shop. I will be completely honest with you, I did not get the pleasure of seeing William the cat and I am actually still pretty gutted about it so make sure you do your absolute best to track him down and give him some pets from me. Besides stumbling upon a curled up William, the grounds outside of the Chapel do hold other charms such as: cute wooden benches to sit and gaze upon the beauty of the natural colours of the sandstone Chapel,  small flower and hedge gardens, a few informative plaques and a "history hut" to give you some context and guide your learning about the Chapel ground. There's even a memorial monument engraved with a sonnet from the the fourth Earl of Rosslyn (who was actually buried on the Chapel grounds!)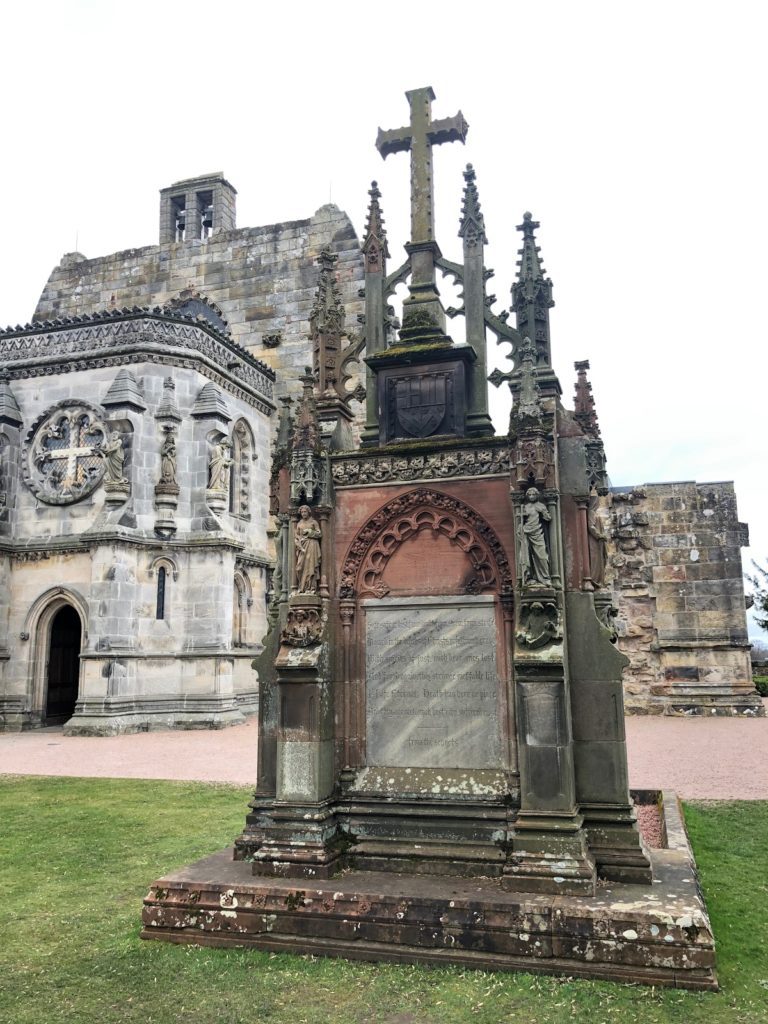 Once you're done getting your perfect pic for insta (I took about 17 pictures from the exact same spot, and at one point almost laid on the ground for the right "angle" so yah, no judgement here), head on inside to check out the intricate carvings for yourself! On the day I went, I got really lucky as a guide was starting a "talk" just as I walked in, but they usually give them every hour or so and they are quite informative! They take you through the history of the Chapel from the first stone laid up until modern-day, and you learn about why "the Da Vinci Code" by Dan Brown is so important to Rosslyn Chapel's restoration (Tom Hanks, Tom Hanks, Tom Hanks!). After the talk, I took about an hour and a bit to peruse the Chapel and chilly crypt ( so around a hour and three quarters in total.) To be fair, I was a bit taken at how stunning it was and felt a wee bit overwhelmed at it all – I went slow and tried to find each carving or sculpture that the plaques pointed out, as well as just took time to stand and look at each bit individually – so you might be able to do it quicker than me. Overall, I thought it was incredibly beautiful and compelling, especially the apprentice pillar – but there are no pictures allowed inside the Chapel so soz, but you're going to have to take my word for it and see it yourself (no, don't google it cheaters!)
Getting back to Edinburgh
After my tour of the Chapel, I didn't feel quite "done" with the place and I wanted to explore the area around the town of Roslin. Lucky for me (us), there is a ruin Castle nearby as well as a lovely river-walk in Roslin Glen I highly recommend if you have a few hours to spare! To avoid me trying to explain the walk to you and then being on the hook for giving terrible advice and you ending up in Peebles or something, I would advise you to check out www.walkhighlands.co.uk for some wicked trails. The one I did was a series of trails leading to the outskirts of Polton and back with great views of the River North Esk and the Pentland Hills, which only took me 2.5 hours in total and made for a lovely afternoon.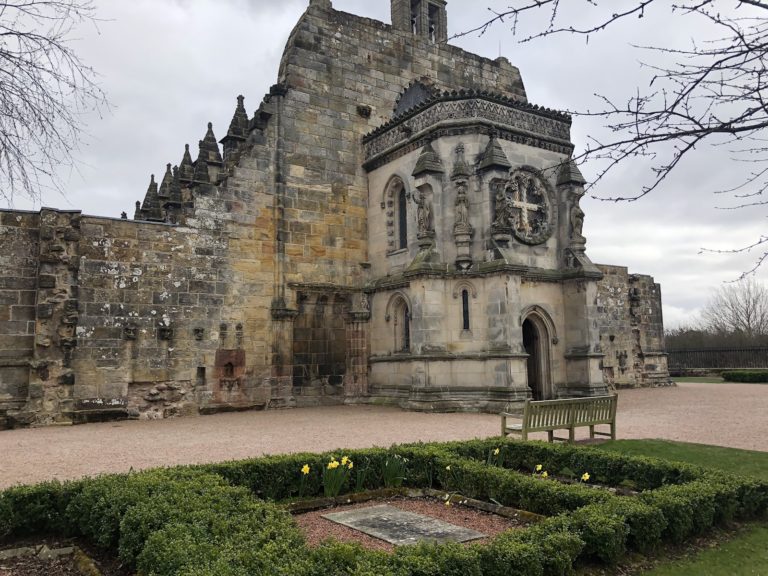 After my nice country jaunt, I arrived back at the bus stop in Roslin just in time for the bus back to the big city. If I was better at life admin I would have stopped for a cuppa at Dolly's tea room (it is right in front of the bus stop and I have heard they have an amazing sticky toffee pudding) but I arrived 15 minutes too late and was bitterly disappointed to find it closed (shouldn't have stopped to pet so many dogs…). So if you do stop into Dolly's, please write me and let me know how the pudding is and if I should skip back out there for some!
Got any suggestions on where I should go next? Send our Facebook page a message and I'll do my best to check it out!