Taobh a Deas Chas Chaolais : Gaelic "Southern Side of the Steep Strait"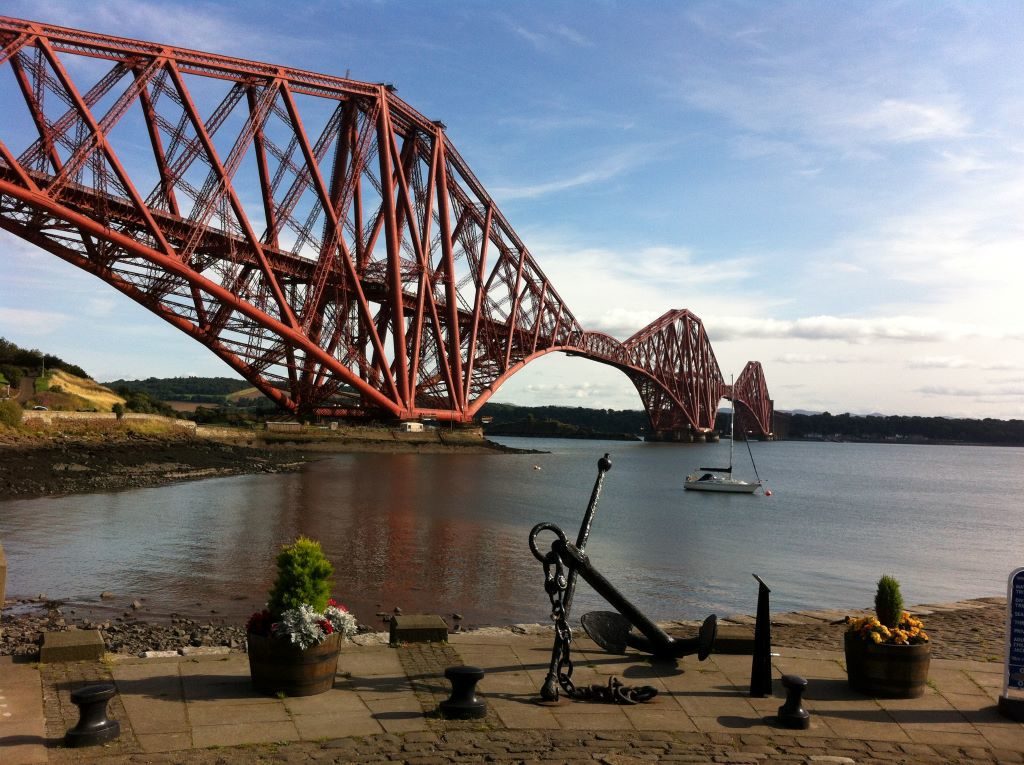 Queensferry is an affordable and picturesque day trip from the city centre full of history and charm. A great place for those on a budget and for those who can afford to do something extra. This former ferry point for pilgrims is home to a UNESCO World Heritage Site of the The Forth Bridge. It also hosts the annual famous "The Loony Dook" tradition! A Hogmanay dive into the freezing waters of Firth of Forth on New Year's Day that attracts people from all over the world visiting Edinburgh. While we are not suggesting to dip into the waters of Firth of Forth, unless the urge is really there…
Your wallet size doesn't have to sacrifice memorable moments that can be created on this trip. You can learn about the history and the building of the bridges at Queensferry Museum for free. Or experience wildlife thriving off historical islands like Inchcolm, where a 12th century abbey and Second World War defenses remains can be discovered by a boat trip. You can uncover historical surrounding attractions of stately homes of Dalmeny and the Hopetoun House where vast gardens encompass these architectural pioneers of their time.
Walk down the main street enjoying plenty of beautiful views of the Forth Bridges. If you fancy a sweet nibble the main street is filled with relaxing cafes and restaurants to satisfy your hunger. It's also the perfect place to get a unique souvenir, with many independent retailers offering one of a kind pieces. There are guided history walks that can take you across the bridges, if you don't want to do it alone. If heights are not your thing, check out Port Edgar, one of Scotland's major yachting and water sports centre instead.
We highly recommend to explore this place for the mixtures of activities it provides and narrowed down the main attractions to easily navigate the town!
TRANSPORTATION
Getting to Queensferry is simple. Lothian Bus number #43 from Princes Street is closest from Castle Rock Hostel. The bus stop is just across from the Levis and River Island shops. The bus is very distinguishable by its green colour (in comparison to the local maroon coloured city buses) with it's destination sign for "Queensferry". One way trip costs £5.00. Make sure you have exact change because buses do not give change back nor take card payments. The trip lasts about 45 minutes and drops you in the middle of Queensferry town.
Another option is by Scottish railway. On average there are 3-4 trains per hour that depart daily from Mondays to Saturdays and 2 trains per hour on Sundays. Journey time takes around 15 minutes from Haymarket train station and cost £4.80 for return off peak hours. The exit station is Dalmeny, and the walk towards the town centre can take up to 30 minutes. Don't worry, just follow the signposts located throughout the town to direct you to the local attractions. You can also download a PDF version of a visitors' map before you arrive, or pick up a paper copy in town.
MAIN ATTRACTION: THE BRIDGES
The main attractions in Queensferry are Forth Bridge (1883), its neighboring Forth Road Bridge (1964) and the newest addition Queensferry Crossing (2017). All three bridges are distinctively unique. The Forth Bridge exemplifies Victorian engineering ingenuity that took 7 years to complete and is a World Heritage Site since 2015. The Forth Road Bridge has been used for transport from Edinburgh to Fife and the North East since 1964. It is also the only of the three bridges which the public can walk or cycle over. Queensferry's third bridge, Queensferry Crossing opened in 2017 and is the longest three-tower, cable-stayed bridge in the world!
HISTORICAL ATTRACTIONS: BUILDINGS
For those who are history buffs, or just interested in cool old architecture, the Queensferry town centre offers several intriguing properties to check out. One of the oldest building's in town is St Mary's Episcopal Church which was built in the 1450's for the Carmelite Order of friars. On the High Street, you can find the Black Castle from 1626, a Tolbooth that commands your attention with its clock-tower in the town's centre. While a 17th-century mansion, The Plewlands House has earned the privilege to be managed by the National Trust for Scotland.
UNIQUE ATTRACTION: ESTATES
Away on the outskirts of the Queenferry centre you can choose to explore the estates of Dalmeny, Dundas and Hopetoun. Although Dundas Castle (1818) is privately-owned, the Dundas estate provides an enjoyable walk. Meanwhile, the Hopetoun House is one of Scotland's best preserved stately homes with over 100 acres of parkland. The Georgian style home was designed by the Scottish architects Sir William Bruce and William Ada and has been home to the Earls of Hopetoun since 1699. Nearby Dalmeny House, has been home to the Earl and Countess of Rosebery for over 300 years and was built by English architect William Wilkins in 1817.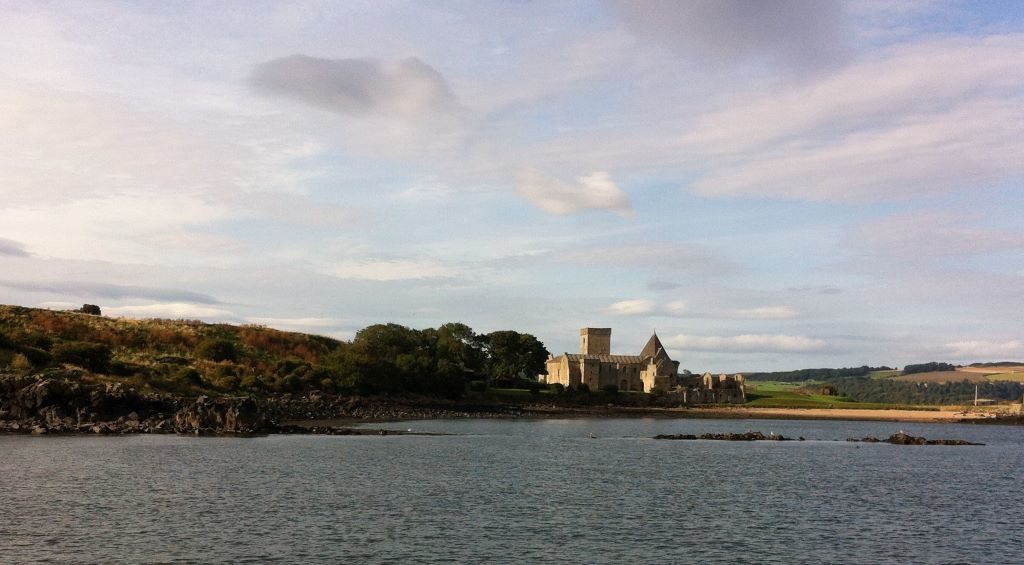 THINGS TO DO:
You can easily walk around the town centre of Queensferry and explore things at your own discretion and leisure with a trusty map. Or sign up for the Forth Bridges Walking Tours that reveals historical sites and tales from Queensferry's rich past. The tours last about two hours, costs £10 for adults and £9 for students. However, they are limited to seasonal availability and must be booked online in advance. If you don't want to spend money on tours but are interested to learn more about Queensferry's history, bridges and naval past, remember that Queensferry Museum is free!
Queensferry is also a great place for coastal walks. You can join the John Muir Way and follow it through to the Dalmeny Estate towards Cramond village. But try to treat yourself to one of the  sightseeing boat tours. The Three Bridges cruise cost £15 and offers spectacular views of the magnificent bridges. For the same price you can choose the The Three Bridges and Inchcolm cruise instead and encounter wild life such as puffins, seals, dolphins and even whales on the way to Inchcolm Island. There you will see the beautifully preserved abbey, that was founded in 1123 by King Alexander I.  If interested in any of theses, all boat cruises depart from the Hawes Pier in the heart of the town.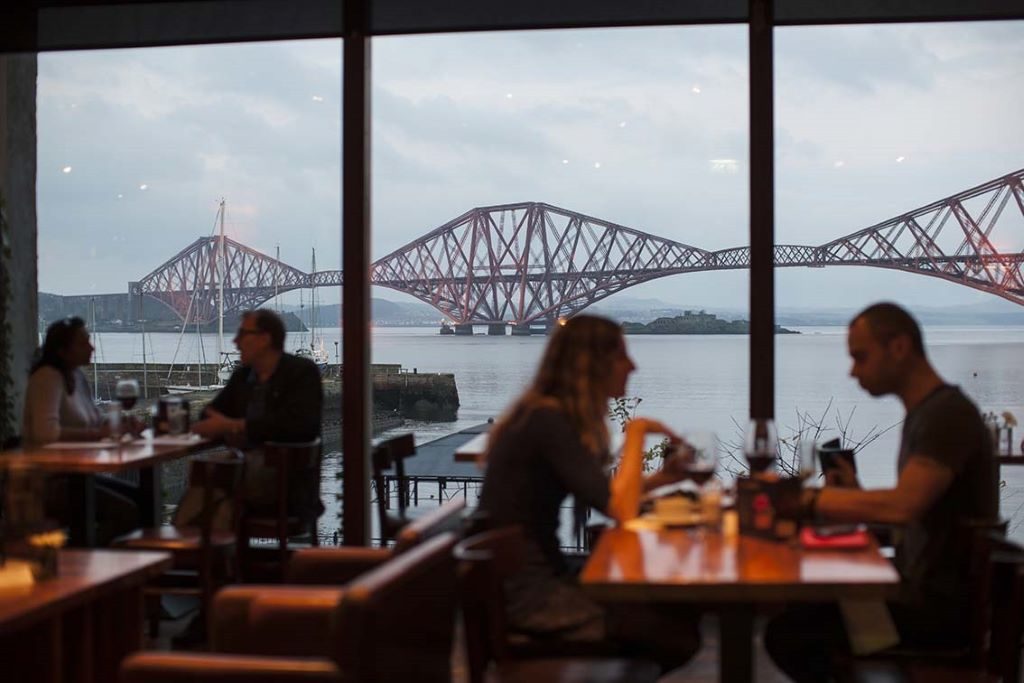 FOOD AND DRINK
There is a large selection of pubs, bars and restaurants within Queensferry. Locally sourced Scottish seafood are a staple on the menu here. With so many to choose from, our recommendation was narrowed down to Orocco Pier's "Antico Cafe Bar". This contemporary restaurant/pub offers vegan options and quality Scottish cuisine. More importantly it doesn't break the bank and everything tastes delicious. A classic fish 'n' chips dish will set you back £12.50 while a Chicken Burger is around £9.95. There are full breakfast options, drinks and coffee as well. Whatever you decide, the best part about this place are the gorgeous views of the bridges. Definitely one of the coolest places to sit back and relax no matter what the weather is like.
For a unique local drink experience, we suggest checking out the Ferry Brewery. The first and only brewery since 1851. They produce and name beers after landmarks around the town. This brewery is special because they want to to contribute to the historic attraction of Queensferry by reviving its brewing heritage after 165 years! They capture the history and appeal to the modern market by combining traditional and historic recipes with a contemporary twist. So if you love craft beer and want to learn more about the Scottish handcrafted variety, we suggest taking a Brewery Tour at the Ferry Brewery. It lasts an hour and only costs £15 per person, with you getting to try a fresh local brew at the end. The perfect way to end your day after exploring this idyllic place.