Traveling on a budget to Edinburgh? Vegan?
Edinburgh is the perfect place for all food lovers! If you are a traveler on a budget or willing to treat yourself just a bit, we have gathered a list of top three vegan friendly places our fellow hostel travelers have tried and recommended! Our suggestions for vegan breakfast, lunch and dinner delights are conveniently located within the city centre and near our very own High Street Hostel, Royal Mile Backpackers and Castle Rock Hostel. So it's quick and easy to try all three in a day! 
We hope you enjoy!
BREAKFAST 
Mornings can be tough… Especially if coffee is your elixir of life, and even tougher when there is limited delicious no-meat food in sight. Hula changes all that, because walking into Hula is like stepping into breakfast paradise. If the interior décor of colourful and bright tropical vibes doesn't lift your mood up, the selection of almond lattes, avocado sourdough toast or a fruit smoothie will surely be a pleasing delight. Hula offers vegan and vegan option dishes that are beautifully arranged in presentation and taste like the produce has been cherry picked just for us. An almond milk Macha Latte (£3.50) costs less then most regular lattes in the city. Meanwhile, the portion size of a breakfast favorite the Acai Bowl (£7.45), will keep hunger away till dinner at least. If this breakfast option is too large in size or price, the selection of smoothies can ease the strains of budget and stomach capacity without compromising on taste. In the end, Hula remains a constant favourite among us and our guests because of its wide selection of food that suits any budget range. Hula is open 7 days a week from 8am-6pm.
103-105 West Bow, Edinburgh EH1 2JP
LUNCH
This award winning vegetarian and vegan restaurant is eclectic, funky, cool and just super full of chill vibes. It's also very popular and known for their amazing cocktails. The restaurant describes their style of food as "American inspired Diner food". The main menu attests to that as it is full of delicious selections of burger inspired interpretations such as the "Black Bean Burger" or the "Southern Fried Halloumi", or one of the favorites made of Tequila beer-battered tofu the "Lucky Fish Burger" (fish and chips anyone?). They also offer salads, fries, nachos and very affordable side bites. The menu is simple in selection but very colourful with delivering unique food choices. With burgers ranging around £8, salads as well, there is ample room in the budget for extra's. Or go for the sides and splurge on cocktails! Last but least, it's open 7 days a week and serves food from 12-10pm, but if you fancy a naughty tipple, their bar is open till 1am! 
41 Lothian St, Edinburgh EH1 1HB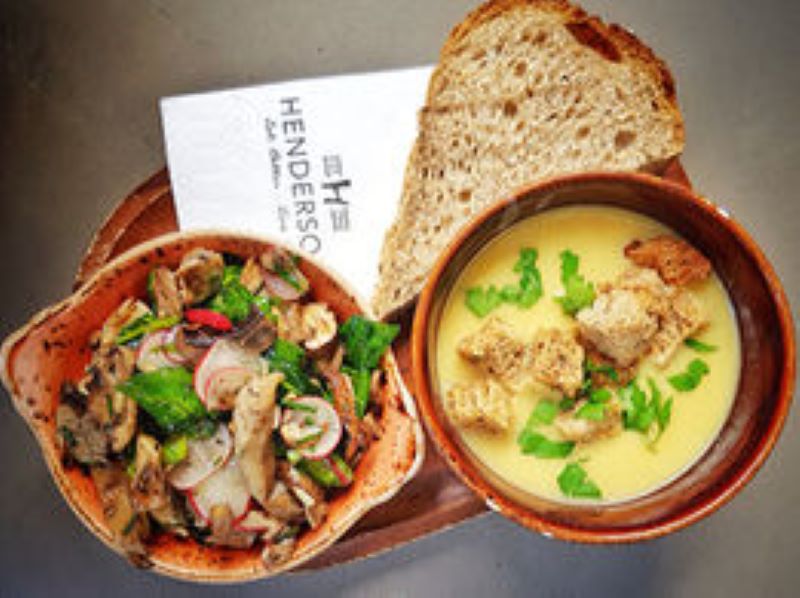 DINNER
This modern, yet simple but cozy restaurant captures a relaxed atmosphere that focuses on fresh produce dishes with a modern approach. Since it's establishment in 1968 as Henderson's Bistro, the restaurant operated as 90% vegan and 2015, it went 100% vegan. Thinking this already sounds expensive? No, quality fresh produce doesn't mean that meals are beyond the reach of our budget travelers wallet. While the most luxurious item on the menu is "Haggis" at £13.50, it's still less then most pub meals in the city and would easily satisfy even a meat lover. Other delicious dishes that are slightly lower in price include the "Jackfruit, Tomato and Coconut Stew" (£12.50). Or simply go for nibbles like soup of the day around (£5.40) and add dessert! Overall, Hendersons offers a lovely dining experience for vegan budget travelers. Hendersons Restaurant is open 7 days a week from 11:30am-9:30pm (Mon-Sat). Sunday from 11:30am-8:30pm.
25c Thistle St, Edinburgh EH2 1DX