Feeling Adventurous? A New Exciting Way To Explore Edinburgh!
For travelers who are limited on time, or alternatively those wanting additional ways to fill in their time during their Edinburgh stay.  Edinburgh recently has installed a rent-a-bike scheme, providing fantastic transport options for travel within the city. A bike affords freedom, personalizing your trip and of course making our planet happy.
For travelers already familiar and experienced with bike rentals and for those who have never tried or thought about it ; below we break down all the information to get you started for Edinburgh.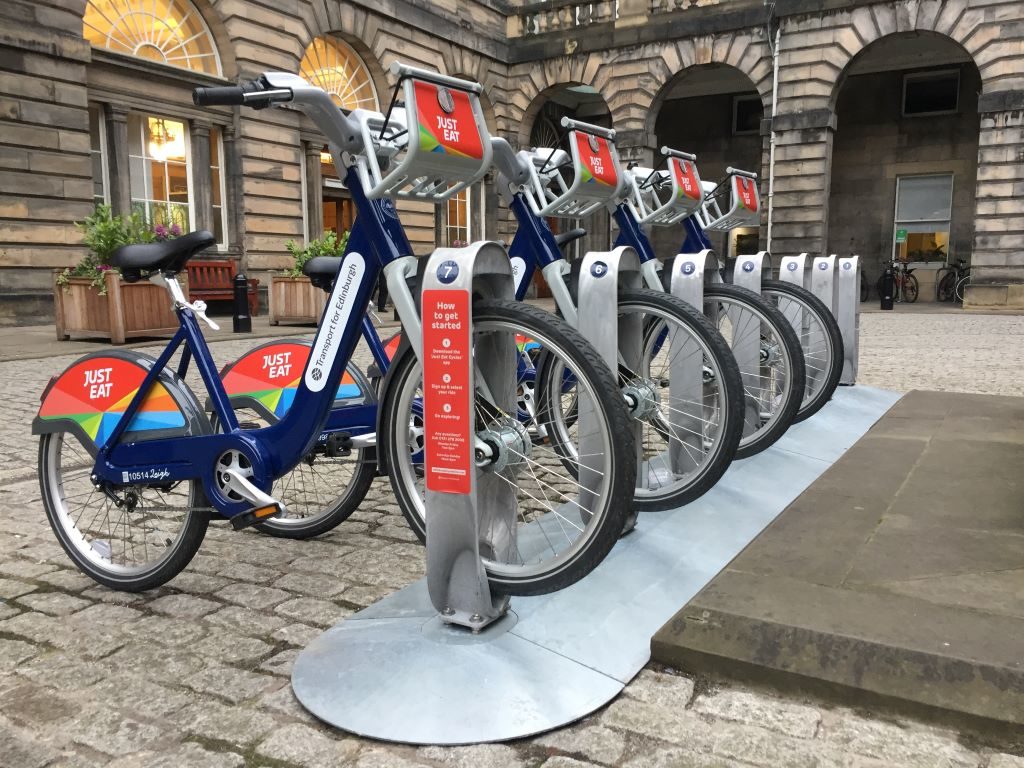 Just Eat Cycles
Just Eat Cycles is the company that hires bikes out throughout Edinburgh city centre. The way it works; in order for you to use the bikes you have to buy a pass. The easiest way to buy a pass, is to download Just Eat Cycles App for whichever smart phone you have. After that, you sign up and are ready to explore!
Price
The rates for bike rentals start at £1.50 for a single trip of up to 1 hour. After that, each additional 30 minutes costs £1 extra. Is one hour enough time for Edinburgh? The answer is yes, especially for the city centre, because Edinburgh is actually small and compact in size. You can pretty much explore the majority of the city by free guided tours provided by companies such as Sandeman's but there are places that can be reached faster and easier by bike. So, although an hour doesn't seem like a lot of time, bike hire would be ideal for a quick exploration ride to somewhere outside the city centre such as the Botanical Gardens, Dean Village or just around Arthur's Seat.
That said, the best value is the day pass that costs £3. It offers unlimited journeys of up to 1 hour each in a 24 hour period. This means, that within a 24 hour period you can use a bike for an hour each time as many times as you want. However, after each hour you will have to either return the bike to any of the stations and re-hire it out again or pay £1 extra for each additional 30 minutes. Despite the '1 hour' time limit, it's enough for Edinburgh but hopefully with popularity and demand longer hire/rental times will become available in the future.
Locations
Locations for bike hires/rental stations are strategically well dispersed throughout Edinburgh city centre and its proximity. Locating the closest bike station is easiest through the Just Eat Cycles App or if you are planning out your trip in advance the Just Eat Cycles website provides a live feed that shows exactly how many bike are available at any given point and time. Important side note, not all bike stations will be the same. Meaning some will have a physical station with docking bike points, while others will be virtual stations indicated by markings on the ground.
For our savvy travelers, the closest and best are located just near our very own Castle Rock Hostel. Located at the corner of Castle Terrace and Lady Lawson street, this bike station offers a guarantee for a bike and easier access to comfortably ride out of the city centre towards places like the Meadows and Holyrood Park. The other nearest bike station is located on the Royal Mile, which is ideal to access especially after doing a free walking tour (Sandeman's tour actually stops at this rental point when covering the history of the Chambers Building). One could easily get a bike there, and proceed out of the Royal Mile towards St. Andrew Square and down towards Dean Village through Stockbridge. On the way back, instead of riding back to the Royal Mile, dropping a bike on Prince's Street can leave room to explore the Prince's Street Gardens. Or if one is very adventurous, they can ride all the way to one of Edinburgh's most favored places, not only by the locals but travels alike; Portobello beach. If one way bike journey produces enough excitement or if Scotland's weather delivers a surprise, a bus journey back to the city centre will easily assure a comfortable ride back.
Above Images by Sasha Alexander
When can you use them?
The most useful part of this bike hire is that bikes are accessible 24 hours a day! For travelers, flexibility and availability are essential and this means that if someone arrives late or early in Edinburgh, they have the opportunity to be able to hire these bikes.
Overall, using the bikes is very easy. They are clearly branded by Just Eat Cycles and have a distinguished colour scheme with visible stations that allow them to be be easily identified. Once you locate the nearest bike station, you will need to sign in into your Just Eat Cycles App and press "unlock" to see which bike is for you to use. If you are unsure what to do, steps are clearly labeled to help on the bikes. You befriend your bike, your journey officially begins!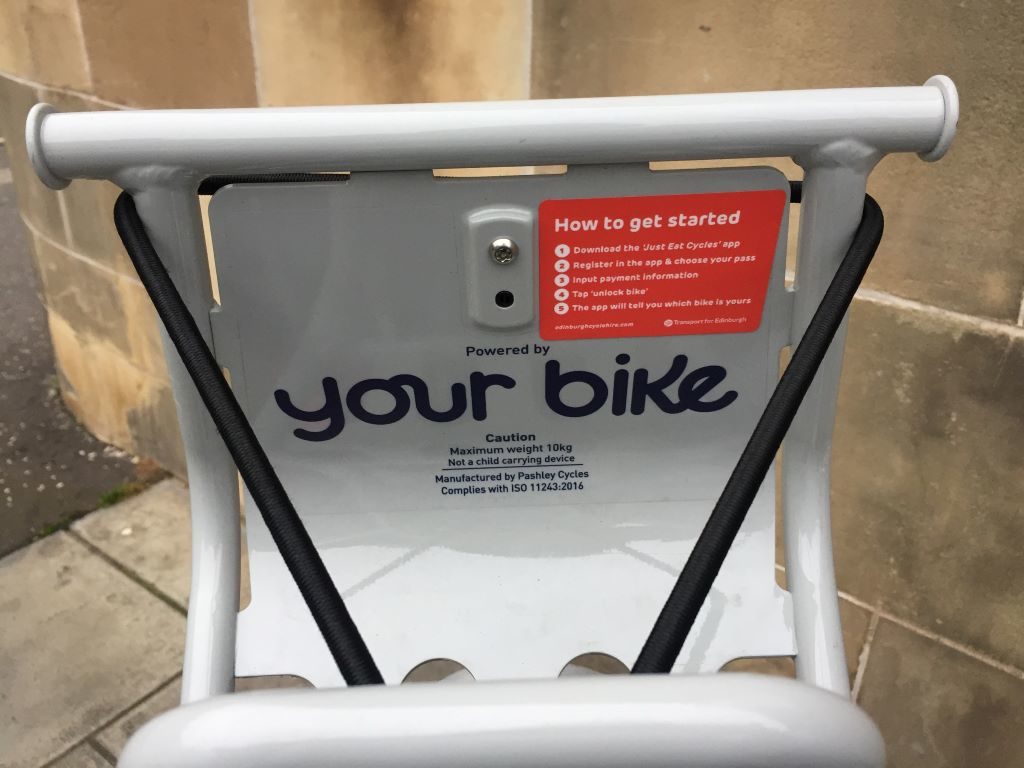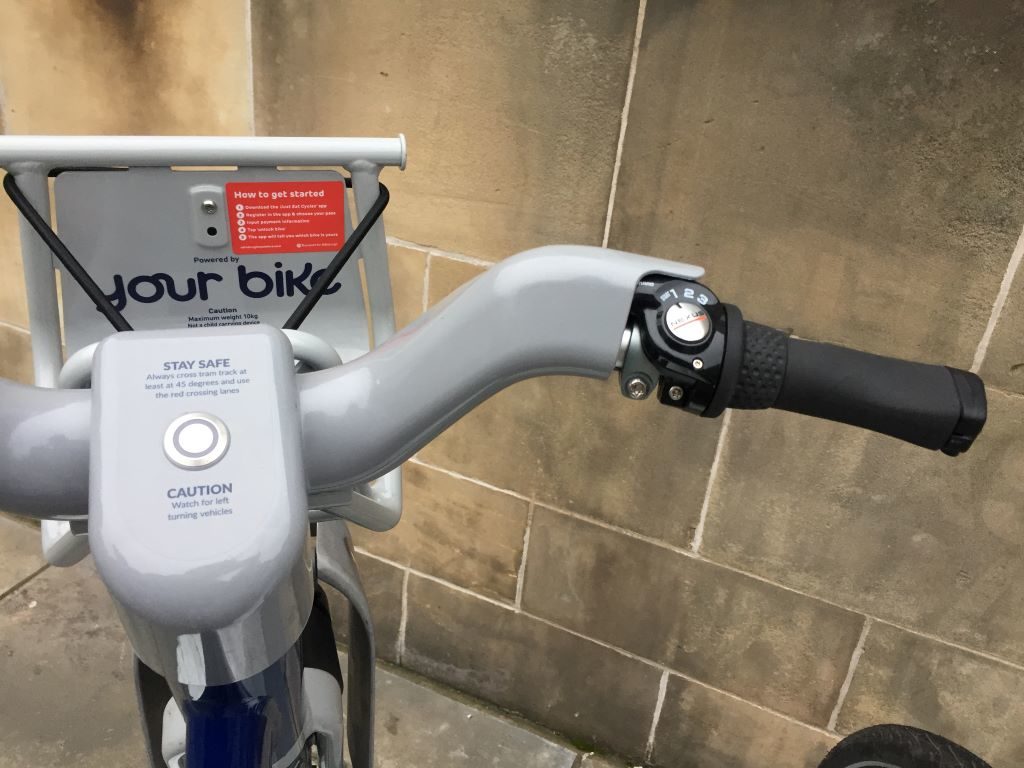 Remember, you have 1 hour to use your bike, as the app times you. If you feel like you need extra time, the option is there to buy additional 30 minutes for just £1. When you are done, the bikes can be returned to any available bike stations shown by the app. When returning a bike to a station, you have to press "end my ride" button on the app. At physical stations, lock the bike by placing it back into its dock station until a green confirmation light appears and return is verified within the app. At a virtual station ( remember it will just have markings on the ground) after you press "end my ride" a front light will turn blue allowing you to securely lock the bike back in. Again, confirmation of the "end of journey" will appear within the app along with other journey details.
We wish you a pleasant journey!