MARKUS GET'S HIS BREATH TAKEN AWAY AS IT'S SUCKED INTO THE VOID WITH THIS ABSOLUTELY THRILLING PIECE OF WORK!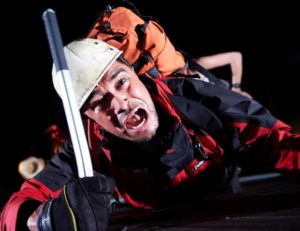 Lyceum Theatre
Till February 16th
Evenings 7:30pm / Matinee 2pm
Tickets from £14
There are certain things in this life that I find don't get enough appreciation on the platform that is the stage. And the biggest one that strikes my mind is that of the thriller. It certainly a widely regarded phenomena that'll create goose pimples for you as its energy flows off the silver screen, but it's rare that it's utilised in the theatre. Which to be honest is an absolute crying shame, as the intimacy of a theatre can heighten things tenfold. And within the walls of the Lyceum their stage has been adapted to create one of the most thrilling experiences ever imaginable. That of Joe Simpson tackling a major mountain climb and how he discovered the perilous power that is mother nature.
Based on the experience true experiences of Simpson, you may think this would be a difficult one to portray. And I imagine resident writer David Greig and director Tom Morris thought the same as they stood at the base of this script. But using a mixture of styles and motifs they do manage to create a thrilling beast of a production.
The play opens up at the wake of Joe Simpson (Josh Williams), where one of the most prevalent noises is of the crinkly sound that emanates from a lot of gore tex jackets, as this watering hole is associated with climbers and their ilk. Almost like it's hallowed ground to celebrate adventurers come and gone. But to be honest the one person who's not bedecked in such raiment is that of his elder sister Sarah (Fiona Hampton). She has never cared much for climbing or climbers themselves. So when Simon Yates (Edward Hayter) and Richard Hawking (Patrick McNamee) turn up to show their respects, she is not in the most cordial of moods to them, as this pair would have been the last to ever see her brother alive!
Hayter's performance of Simon is a subtle one, he has a very easy going air about him, even one who is facing up to this tragedy, as he was the climbing partner of Simpson. But you can see it weighing on him nonetheless. And he does help Sarah come to terms as to why he and her brother had such an interest in climbing forsaken places in the first place. Hampton does bring a steely determination to her role but is also vulnerable at the same time. Which is no mean feat.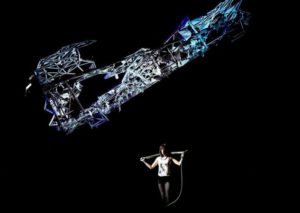 Simon's sidekick Richard on the other hand is one of the most tactless individuals you could ever imagine. He was in charge of base-camp, but is not a climber himself. If anything he's more of an over enthusiastic fan boy. And Hawking fuels him with an energy as if he's sort of getting off on this whole awful experience. In earnest initially the weakest link acting wise was probably from that of Williams' himself. But I think that's due in part to the script, as he seems to be often coming out with buzzwords and recites at one stage what seems like a version of "Choose Life" from Trainspotting! But when it gets to the latter half of the production he truly does get to shine by pretty much portraying how much physical pain his character is in!
The set in it's own way is actually quite minimal and with help from the considered lighting design of Chris Davey it does seems to focus on just the downstage area. It's basically set up as a pub but lurking behind that is the utter darkness representing the void that Simpson falls within. It makes the void genuinely mysterious and foreboding as if it is some faceless evil from beyond time and space. In relation to that, there is a clever use of the scene changers. They are all clad in red parkas with the hoods up, but instead of faces all we see is a dark visage-less mask, almost as if they are emissaries of the void itself! I was actually reminded quite a bit of bunraku puppeteers when I first saw them. And it is evident that this is something Morris and designer Ti Green had in mind as when Simpson is willing himself along, by holding up chairs they represent each different rock he tries to make his way to.
Much praise must be lauded upon the composition and sound design of Jon Nicholls. There is a quality in his music that helps to represent the epic and the horrific in both equal measure. And talking about horrific, he truly does let loose with his sound design where we can hear the crunch of bone and squelch of flesh to such a sickening effect.
I have to admit that this is indeed one of the most dramatic, audacious and thrilling experiences that I've ever seen on stage! Be brave and get ready to tackle this theatrical behemoth.
Markus Helbig