MARKUS HEADS TO THE KING'S FOR A RATHER OPERATIC ARCTIC ADVENTURE BUT DID IT WOW HIM OR CHILL HIS VERY SOUL…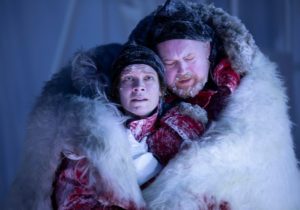 King's Theatre

I'll admit that I've never seen a modern opera before. But when I heard about this one and that it was set within the inclement climes of the Arctic with a hint of something lurking beneath the ice I was certainly intrigued.
I have a great fondness for this theme, which is a sub genre represented by many a film, tv show or even audio series and can make for something truly thrilling.
But alas, in ways although it starts out on the right foot it does become something a bit muddled. Stuart MacRae (Composer) and Louise Welsh (Librettist) have combined to create this cold world we experience. But in ways they are rather at odds with one another. The music style reminded me very much of John Williams television work, and there are many creative stings here and there used well throughout this opera. But because of these little beats are great at racking up tension within the first half, it does mean that there's not much flow to it. Which is certainly important in the second half, as there's is very much a tonal shift.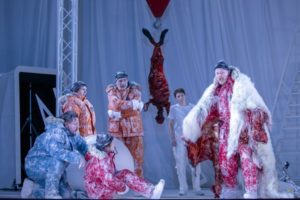 You could say that the first half has more to do with a pulpy but exciting adventure tale whereas the latter half is trying to create something more artistic, brooding and even esoteric. And to be honest it can be hard to have both, unless these elements are seamlessly introduced from the very beginning. I think Welsh was certainly attempting at this as the characters can sometimes speak rather floridly about what they are doing. The way they describe things at times it's as if someone was singing parts of the National Geographic to you. But i earnest the words don't always befit the actions and you sort of lose the passion of the piece.
Saying all this it may well sound that there's nothing to enjoy here. You can very well hear that Jennifer France who plays Ice is a great soprano and Paul Whelan gives great humility to his performance of superstitious Captain Ross. You can see that there is an abundance of ideas here but yet they do seems to be fighting each other in order to be seen or heard properly. In the end it certainly makes for a rather curious night but one that kind of gets a bit lost within the arctic wasteland.
Markus Helbig