GET SUITED AND BOOTED TO CHECK OUT THIS AUDACIOUS MUSICAL INTERPRETATION OF THE CLASSIC FILM!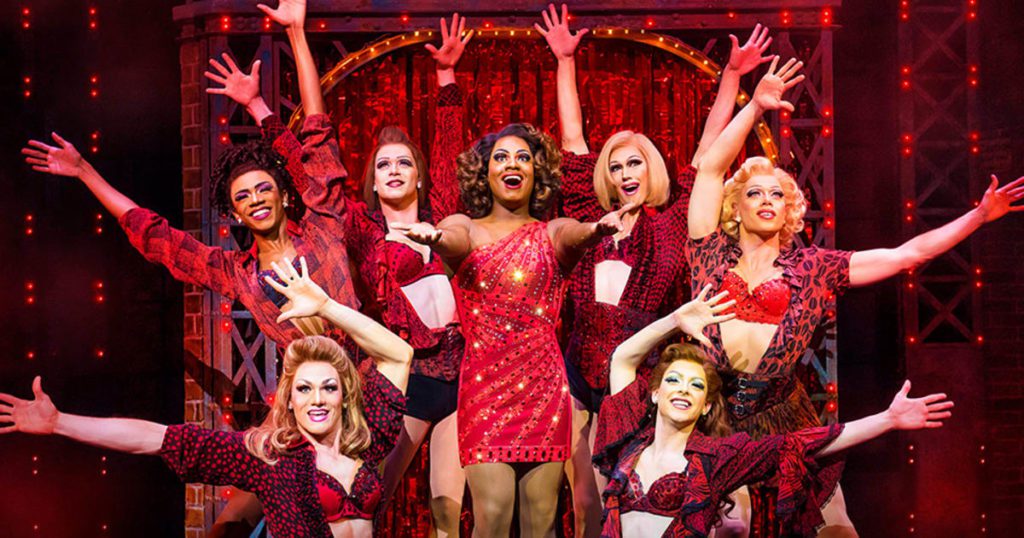 Edinburgh Playhouse Theatre
Till January 5th
2:30pm/5pm/7:30pm/8:30pm
Tickets from £19.50

You know I've always enjoyed those grand old comedy films that Ealing Studios used to produce. Their films often concerned a community whose whole way of life would be turned upside down, but with a stiff upper lip, plenty of gumption and ingenuity, they were able to create something meaningful and worthwhile out of this topsy turvy situation.
And when the film "Kinky Boots" first came to our screens, I admired it quite a bit as it's rather a contemporary take on this curious scenario. So I was intrigued to see how a musical could embellish upon this rather eclectic parable. The tale in question concerns a rather listless young man, Charlie Prince (Joel Harper-Jackson) who doesn't really know where he's going with his life. But the the one thing he does know is that he's going to get as far away as possible from his father's traditional shoe factory. But alas his father dies, and he finds he has to grow up pretty quickly, as he discovers that it isn't just himself who is disinterested in a well made brogue, as he finds that the factory he practically grew up in and the people who he shared these experiences with are going under pretty quickly. He desperately wants to know how he can salvage things when he has a chance encounter with the rather vivacious Lola (Kayi Ushe). Lola is a drag queen, and although she's well able to hold everybody's attention when she's on the stage, the heels holding her up are a very different story. And so this pair decide to hatch a scheme together…Goodbye comfortable shoes. Hello, kinky boots!
It was a good idea to incorporate the drag antics into the very narrative flow of this piece itself, as Lola and her cohorts give it welly on stage. And as for the stage, it truly is a well put together piece from David Rockwell that genuinely reminded me of the small factory my father used to work in. And it was equally complemented with Kenneth Posner's lighting effects, that had some rather soft hues here and there in the factory, but were pretty much flashing off the stage during every punch in a fight scene! The world renown Sydney Lauper was on hand to create the songs for this experience but I do have to admit although functional in their nature to keep the plot ticking along, it's a shame that there's nothing too memorable here to develop into an ear-worm.
Still there are some genuinely good performances here, as Lola is knocking the songs out with true power and verve particularly with " Land of Lola". But then you also have the rather quirky tune "The History of Wrong Guys" sung by Charlie's admirer Lauren (Paula Lane). Although not related to vocals we do get a rather considered take on Don (Demitri Lampra), a rather uncouth character, who certainly gets more development thanks to Harvey Fierstein's witty but sensitive script.
Now you know, I'm not saying the movie is a rather stiff oxford, as you can see that it was made with a lot of love, but it does come across a wee bit twee in comparison to what gets delivered at this bombastic live show! Slap on your kinky boots and get down to the Playhouse posthaste!
Markus Helbig.