FEROCIOUS FUN TO BE HAD AT THIS PASSIONATE MUSICAL CABARET CELEBRATING CINEMATIC SIRENS!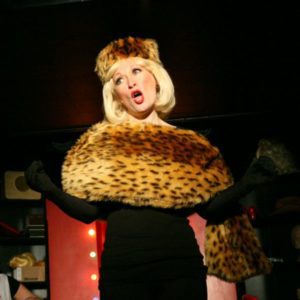 Rose Street Theatre
14th – 16th December
7:30pm
Tickets from £18

In association with the Gilded Balloon, this little gem has been excavated from all the tumult and the craziness of the Fringe and touched up with the necessary accoutrements to give it a festive feel.
This is a wee musical revue that's loosely wrapped around the idea of all the tittle tattle that takes place backstage between the makeup artists and the dressers about the inspiring and colourful lives of five divas of destiny.
Be it seductive renditions of "Ugly Duckling" by Doris Day or Julie Andrews' salacious take on "I Could Have Danced All Night"! The little tales weaved through these musical pieces about these stars are deftly brought to life by the vocal trio of Gail Watson, Jenny Hulse and Joanne McGuinness. Plus ably accompanied by the musical direction of Hilary Brooks as she tickles the ivories upon the stage.
You can tell that writer/director Morag Fullerton has put a lot of herself into this script. Her reverence for these deities of stage and screen certainly shines through, but she she's not without mischief as she lovingly sends them up too.
In helping to embody these outrageous shenanigans is the mercurial mimic Watson. She certainly sells you on the foul mouthed antics of Julie Andrews and the hospitable but cheeky nature of Dolly Parton. Of these starlets lives, apart from bits and bobs, I wouldn't know too much about them. But when it comes to Andrews union with her husband director Blake Edwards, you can tell she was trying to shake off the good girl image she ended up with. I mean the likes of "S.O.B." and "Victor/Victoria" that they both collaborated on, pretty much gets to highlight her rebellious spirit, and Fullerton and Watson embrace this aspect of her with a lot of gusto.
Hulse also has a lot of fun playing no nonsense mothers' and pedantic directors but she truly gets to let loose as she morphs into Liza Minnelli. She creates a wonderful version of "Money Makes the World Go Round" with McGuinness going toe to toe as Joel Gray.
Now without a doubt this is a fantastically entertaining show but in way's it a shame we get more of a showcase for McGuinness' talents. But she does get to lead us out of this night of heartfelt mirth with a genuinely moving rendition of "Over the Rainbow". So be sure to click your heels and get down to Rose Street theatre forthwith for one of the best shows in town this Christmas.
Markus Helbig