A FANTASTIC SHOW WITH PLENTY OF HIGH JINKS BUT NOT WITHOUT A DARK UNDERBELLY!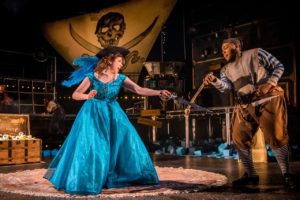 Lyceum Theatre
29th November – 5th January
Regular Evenings 7pm,  Sunday 5pm 
Matinees Friday/Saturday 2pm, Sunday 1pm
Prices from £12

Time's winged chariot can be a fast paced thing, and before we even think of halting still for a moment we realise that a lot may have already passed us by. This can become quite a dark little thought and this aspect is certainly brought to the fore within this interesting and heartfelt adaptation of J.M. Barrie's tale by Ella Hickson. When we are introduced to the nursery of the Darling children, we discover that an extra child has been added into the mix by Hickson; wee Thomas (Kieran Gallacher). A rather sickly child. And it's not long before that dark side of time crops up, in the form of Dr. Giles, clad in his crocodile skin waistcoat swaying his bag pendulously. And followed by a rather ominous tick-tock. So before you know it, poor Thomas is gone. But his elder sister Wendy (Isobel McArthur) says she saw Peter Pan (Ziggy Heath) and his Lost Boys have spirited him away.
The joy and laughter of the darling family has disappeared, Mother and Father are distant with their children or arguing with each other. So their daughter Wendy steps up to look after her two brothers, John (George Naylor) and Michael (Cristian Ortega). But when Peter Pan appears in her nursery once again, she demands that he take her to find Thomas.
And so this intriguing beginning is how we start our adventure to Neverland. And this theme as time as the villain and a sense of loss is peppered throughout this production. And although this play is full of jolly japes and a quite a bit of anarchistic lingo and antics, it still holds an air of melancholy and certainly danger. When boys and girls are up on stage swashbuckling with pirates, death does feel it could be upon one of them at any moment.
And talking about pirates, although there's talk of the crocodile with a clock in its belly that always haunts Captain Hook (Gyuri Sarossy), as it slavers over the taste of his lost hand, it's the ticking tock of time that is his enemy. He's sees an awful lot of himself in young Peter, and it puts envy into to his heart. Even the ways he's dressed as a proto-punk pirate, clad in torn jeans and a t-shirt adorned with a skull, it does emulate some aging rock star that's clinging on to his youth. Sarossy really delivers on this and at times it genuinely makes you feel for the old sea dog. And I thank designer Max Johns and director Eleanor Rhode for helping to imbue this quality within him. I mean in earnest who's to say that Peter Pan with all his feckless ways and blood lust could not have turned into something similar to Hook if only he ever had the opportunity to grow up.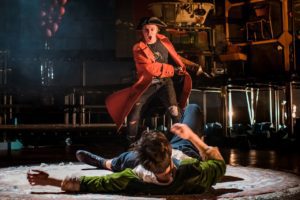 But at the core of this is Wendy, fighting to find her lost little brother. A girl who wants to get up to adventures as much or even more so than any of her brothers. I have to admit when I recently read the novel of this tale, that I never particularly found Wendy a weeping damsel in distress. True she does came across a bit motherly but I always thought she had her own brand of gumption. So at times when she's going all gung ho about being the leader of the Lost Boys and spouting words like, 'Cool!', it can come across a bit jarring at times. But I do see what Hickson's trying to do here in giving a strong female presence in a boys life that isn't their mother, and a brassy role model for girls to aspire to. I just wish the transition was a bit more seamless.
All in all though, it's truly a magnificent piece of theatre that combines the light and the dark within this tale so well. And that I'm sure will have young and old reminiscing for some time to come.
Markus Helbig