A FANTASTIC NIGHT OF COMEDY THAT MOVES AWAY FROM THE ALL WHITE MALE LINE UP WITH A SMATTERING OF CABARET!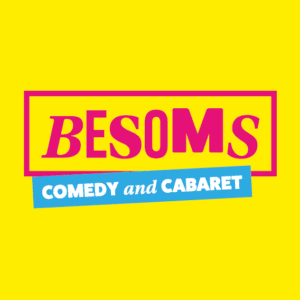 Gilded Balloon's The Basement
Last Thursday of every month
8pm
£6

"BESOMS" is the brainchild of resident Scottish comedian Jay Lafferty. As a young female comic she wants this to a be a place that reveals to the world that there's more to life than white straight males standing on stage and telling jokes. And it's true that we do get an eclectic mix of comedians this evening but it was I'll admit a little scarce on the cabret side.
Alas Lafferty was unable to act as this evening's empresario as she was away in sunny Glasgow doing a bit of filming, but she left it in the very capable hands of local comedy stalwart Jo Jo Sutherland. Sutherland gregariously engaged with the audience and generally told us that now in her fifties she likes to behave as a toddler! And that certainly does come across in her rambunctious, devil may care demeanour.
The first act we were introduced to was Wis Jantarasorn, a man child who hails from the exotic realm of Thailand, or was it Leith?! And claims to be the product of a union between Alan Carr and Gok Wan. A very witty fellow, whose jokes at times go a little deeper than you might think. In particular is the running gag that pops up here and there about his estranged mother. It truly is mischievous and that's certainly the vibe Jantarasorn is emanating.
We were then introduced to Phill Herrin, their resident drag king. I never experienced a drag king before, so I wasn't too sure what to expect. But as Herrin turned up with painted on stubble, and dressed in hipster raiment she/he gave a good and rather serene performance of an almost spoken word piece called "The Day I Died". I hadn't realised that this was a song by Just Jack and I thought it was an original work. But it still worked well with Herrin's performance and appearance. It's a shame that I can't say the same for the latter song Herrin performed. Bedecked in a bowler hat and singing "King of the Road", it came off a little lacklustre and less distinctive in comparison.
After a wee interval we were regaled by the antics of Susan Riddell, who was followed by Robin Grainger (The token white straight male comic of the group!) Riddell has a matter of fact quality about her but you have to admire the way she thinks. And as to how she found herself doing comedy, even though she claims to be a rather shy person. She gets herself in to all situations job wise; following a certain code. She likes having her nails done, ergo she becomes a beautician. She likes going out for food, so she gets a job serving it. She like to be entertained by comedians so now she is one. So she's certainly a bit unsure if this is the right way to go about it but it does create hilarious results.
Grainger on the other hand is a rather wiry sort with a maniac energy that's akin to a Jack Russell. Like any dog, he does his fair share of gurning but is also quite adept with accents too. I particularly liked his intense delivery of the Australian vet he once had to deal with!
We also had a surprise appearance from Lafferty herself, as she just got back in time to regale us! And she was in top form to boot. Although, she's only in her thirties you should hear her giving out about the young! As she exasperates about how things were back in her day to the fresh faced nineteen year olds sitting in the front row.
And then our final act of the night was the much lauded Danny Bhoy. I'll be frank, I was a wee bit apprehensive as I had heard quite a bit about him, but never experienced a performance by him before. And generally I tend to be quite wary of hyperbole. But to be honest, the hype is justified. Mr. Bhoy is a very accomplished performer and storyteller. Creating a whole comedy piece based on the domestic unrest over the loss of a candle snuffer is truly inspired. And there was his take on Italians and how they're going to eat like the British, which I'm pretty sure he just made up on the spot! And in relation to that, his accents of which were myriad, are all spot on.
All in all, it was a fantastic night of entertainment, and I can see where Miss. Lafferty's going with this. But it was a bit low on the the whole cabaret side of things. I think it might be better if there was a more even balance or maybe just the phrase 'a wee bit' added in front of the word cabaret on the posters. And knowing Lafferty's lingo, she probably wouldn't mind that.
Markus Helbig