A ONE OF A KIND CIRCUS!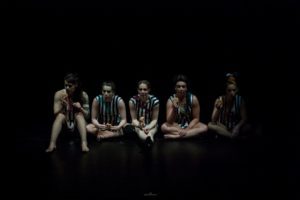 Summerhall
Summerhall is a wonderful venue for all things eclectic in this city. Which is interesting as this city is already very eclectic! But it almost like this building is like an incubator for the arts and if you take a chance you can get to discover some marvelous and moving curiosities here within these walls. Case in point is this circus that I was invited to review. It was developed by Ellie Dubois who was here at the Fringe a couple of years ago and who was performing a very exclusive circus experience at the time. A one woman show which she would perform for just one audience member! And part of her experience on that has led to her developing this contemporary feminist piece. Here we get five women who are performing a dynamic and irreverent big top event. A piece which get to highlight their core strengths and not have them making dolly bird poses just for the sake of being eye candy.
As show's go, it certainly works and there is a message here. But what is wonderful about the performance is that although it gives one food for though, it not belligerent in getting its message across and it weaves these notions amongst their motions upon the stage quite seamlessly.
You can see this troupe is having a remarkable amount of fun in sending up these old circus tropes. Be it putting themselves into these exaggerated alluring poses as a send up and even turning their performances into an improvised game at times. One prime example of this is when they all stand on one leg and try to outdo each other as to who can push themselves through the pain and be the last woman standing! It half makes me wonder if they are putting bets on it, each time they perform it! As this is the cheeky, and playful vibe that they exude from the stage. One of my favourite scenes after all their energetic hard work is that they all just sit in a row eating jam donuts. And if crumbs fall on the floor or jam slops onto their legs they have no qualms about gobbling those morsels up!
And like those donuts, this show truly is a treat but in a rather thoughtful kind of way.
Markus Helbig.