The can can was all a go go at the launch of this marvelous Toulouse-Lautrec exhibition!
BY Markus Helbig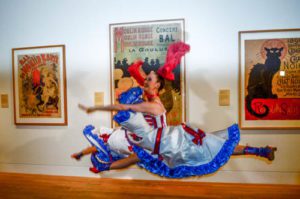 I don't usually play favourites, but if I did have to with an artist although there are plenty I admire I think it would always come back Henri de Toulouse-Lautrec.
There always seems to be a striking but whimsical quality about his work. And it is certainly explored at the National Galleries of Scotland's new exhibtition "Pin-ups: Toulouse-Lautrec and the Art of Celebrity".
This is very much a showcase of his posters prints and paintings that revel in the theatre and celebrity culture of Paris during the 'Belle Epouque'.
Check out our podcast as Markus catches up with Dr. Frances Fowle, co-curator of the exhibition as she reveals some of the history and mischief behind this whole experience!