Have you ever daydreamed about creating your very own podcast?
Maybe you were put off by the cost of all that super exxy equipment. Or embarassed by your not-so-sexy husky voice.
But we discovered something last week. It's actually really bloody easy to do. And hey, if Macaulay Culkin can start a podcast, you can start a podcast.
On Wednesday night, a group of aspiring podcasters* converged on Whitespace in Edinburgh for an event called Podcasting 101. Organised by Braw Bloggers, the event was an evening of workshops to help turn a bunch of amateurs into kick arse podcasters. Well, podcasters at least.
Once we were all plied with gin and snacks from the bagel bar, our very snazzily dressed host kicked things off. If you've ever read our blog or listened to our podcast, you'll know Markus Helbig. He's MacBackpackers' resident cultural coordinator and knows EVERYTHING going on in Edinburgh's arts scene. Although he's been podcasting for a couple of years, Markus was as eager as we were to learn from our first pod-god of the evening, Ant McGinley.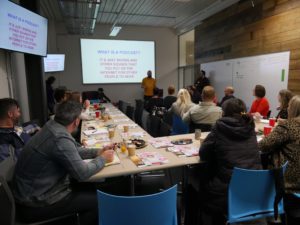 And there was absolutely no mucking around. Within minutes the producer of ARIA nominated football podcast On the Left Side was giving us the terrifying news. We were about to make a podcast in under half an hour.
Ant asked us, what exactly is stopping you from making your podcast? And there were a lot of answers. Time. Fancy equipment. No idea how to edit audio. But the biggest common thread? Fear. Ant broke down all these barriers in a flash.
Proving that you can make a podcast about anything, we got brainstorming. Throw out a topic, Ant prodded. Anything. Frozen peas? Stories of stoned people? Within about five minutes, we had come up with our topic. And it was utterly absurd. But that is the brilliance of podcasting, Ant explained. There's a really, really niche show for every interest imaginable.
And in the time it took to down a glass of gin, we created a podcast where people shared a story involving either frozen peas or cannabis. It was up to the audience to decide which one they were talking about. I told you, absolutely certifiably insane!
You don't need fancy equipment. Sure it helps your show to sound more professional, but your iPhone will get you started. He showed us how to easily record our shows, pausing between segments so there was no need for any editing at all.
With 10-odd minutes to spare, Ant demonstrated how to upload our show to a hosting platform to get it onto iTunes. His suggestion was Libsyn, an easy to use platform with excellent analytics and plans starting from a fiver.
And so Chilled Out, Stoned Cold was born. We made a podcast. From scratch. With just our phones. Easy peasy lemon squeezy! Want to check out our hairbrained creation? Just search for Pod From Nothing in iTunes or your favourite podcast app. And go easy on us, it was our first time.
After our fears were assuaged and we realised this whole podcast thing might not be so tricky, we were introduced to a bevvy of pros. First we heard from Podcart founder Halina Rifai about how to get noticed as a podcaster. Then it was over to our pod-panel for a Q&A session. Ant returned, alongside mental health podder Mummy JoJo and Chris Conroy, Gary Black and John Walker from Glaswegian comedy show Trampled Bat.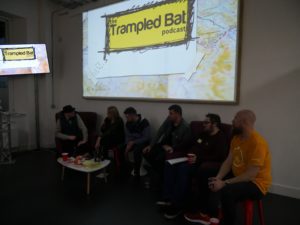 And holy smokes did they have a lot of wisdom to share! We learnt about how to create an authentic voice, how to engage with our audience, and how to keep podcasting FUN.
But before long we couldn't help asking that dirty question: how do we make some cold hard cash out of podcasting? Our panel talked us through the different options for monetising your show. There's Patreon, where your audience contribute donations to gain access to bonus content. This is great if you have a really loyal listener base who are greedy for more of your podcasting goodness.
The second option is sponsorship. While it may feel like you're selling out, we discovered that ads on podcasts are actually really effective compared to TV. It turns out listeners are surprisingly receptive to hearing hosts spruik mattresses! According to Ant, the golden number for getting companies interested in sponsorship is around 5,000 listens per episode. But guess what? If you're not hitting that yet, that's fine. Just target a super niche company that ties in perfectly with what you're podcasting about. They might not be reaching as many ears, but the people they do reach will be far more valuable.
Optimistic that we might have gained the knowledge to start recording those first few precious seconds of audio, we said goodnight to the podcasters. And because no workshop is complete without a lucky doorprize, Markus gave one of the guests something even better to take home – a free three day tour of the Highlands with MacBackpackers!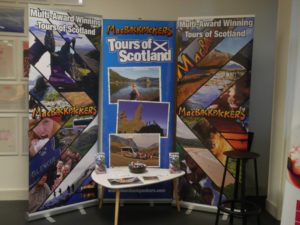 We walked out of Podcasting 101 rummaging for our smart phones and rearing to get home and start a podcast. Hopefully we can come up with something better to talk about than frozen peas.
*Disclaimer time! I'm a professional podcast producer, so I know how to make a podcast. But it was damn fun going back to basics. 
Listen to one of the latest episodes of Scotland's Top Hostels' podcast here: