A visually appealing piece about Irish immigration that alas loses its way on stage!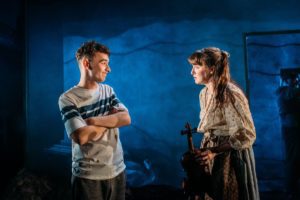 Mihaela Bodlovic
Traverse Theatre,
27th – 29th Septmeber,
7:30pm,
From £9

Rediscovering our heritage can take many forms. But I suppose when we're young, especially if it involves a language that may not be as actively used as it once was, it may make it a little more difficult to embrace it, unless some form of link is provided.
Our tale created by Theatre Gu Leor and written by Murieann Kelly and Frances Poet, concerns a Glaswegian lad of about fifteen, Michael (Ryan Hunter) who is being nagged by his parents about getting up to speed with his homework and how he's not embracing his Scot's Gaelic language. I remember myself about that age too growing up in Ireland and having to deal with similar kind of fare and felt that I wasn't really given an interesting lure to get me genuinely invested in the traditional Irish language. But that all changed quite shortly afterwards. Two things helped me to change my attitude and embrace my heritage a bit more. One was the fact that I had a teacher who had no time for my impudence and truly gave me a run for my money and once after she threw me into detention she was truly surprised by diligent attitude afterwards. It also just so happened at around the same time that TG4 an Irish speaking TV channel appeared on the scene and I actually learned quite a bit and was equally entertained through watching the Power Rangers being dubbed into my old native language!
I'll admit Michael's quest is certainly more personal than my mischiefs, as it starts out with quite a bit of heart and the nature of exploring people's traditions, but alas it does lose it way over it's ninety minute viewing period and becomes a bit po-faced.
Part of this story's strong set up is brought to life by Charlotte's lane minimal but effective stage design. With the stage floor covered in earth and it even falling of the stage while hessian sacks are slumped in the corners, it does help to hark back to times gone by but also engages it with the present as well, as this family is trying to hold on to part of their heritage and where it hails from. This is also married well with Simon Wilkinson's lighting design, as we feel we're catching the last burnished rays of sunlight as it flows seamlessly into twilight. And there is some haunting music to be had here too which is ably supplied by Allana MacInnes on her uilleann pipes.
Our story involves our hero drifting back and forth between our timeline and 1937, where he's seen as an apparition and only by Irish speaking girl Molly. They do bond with each other. And it's never entirely clear if Michael is dreaming all this or that maybe Molly is dreaming of Michael! I do like this little bit of ambiguity, I even liked how she was speaking quite a bit in Irish. But as the tale progressed and tragic aspects are revealed in the past, that point toward prosecution, unfortunately the way it tries to tie it personally to Michael's present becomes way to soap operatic and undoes all the good world building it has taken so long to set up.
And while this show is overall about people putting aside their differences and coming together, I think the fact that Gaelic is used so ardently may prove somewhat alienating to some people who come from more foreign climes. I think maybe subtitles should be considered, like they do at the opera these days.
All in all, a show that looks quite well in it's set up but kind of loses its way on its journey.
Markus Helbig