Hey Nonny Nonny! Be transported to a night of revels and wonders thanks to this magical production of  Shakespeare's grand party play!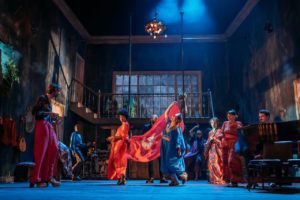 Mihaela Bodlovi
Royal Lyceum Theatre
14th September – 6th October
7pm Tuesday to Saturday, 2pm Matinees Wednesdays and Saturdays
The Royal Lyceum Theatre and the Bristol Old Vic have formed an alliance in order to bring about much mirth and merriment! Set in the 70's within the dilapidated walls of of a country mansion a bunch of musicians and bohemians are partying the night and day away. And in all their drug and booze addled mischief making, they start to perform "Twelfth Night" almost as if it's a game to them. The play itself is also about partying and living life largely and to its fullest. And hang whoever may get in the way of all these japes. But at its core it's about identity, and how that can be perceived.
Two twins, become parted in a tempest Viola-(Jade Ogugua) and Sebastian (Joanne Thomson), and in order to get by in this world Viola disguises herself as a boy called Cesario. Whereupon she becomes the courtier to Duke Orsino (Collette Dalal Tchantcho) . She harbours a crush for him, but Orsino has his gaze set on Lady Olivia (Lisa Dwyer Hogg), but the lady only has eyes for Cesario! And so a tangled love affair amongst many takes place!
There always be a bit of gender bending involved when it comes to the bard's plays. What with women not being allowed on stage back in his day but I think this play takes it to a whole new level and has a lot of fun with it too, particularly within the period it's setting itself too. Apart from the few ladies I mentioned above who gender swap within the play, I should mention Lady Tobi, played with much moxy by Dawn Sievewright. In the original text it was Lord Toby, who was boorish, devil may care and quaffing any cup that is provided. And believe me Sievewright's performance is no different. She's real rock and roll!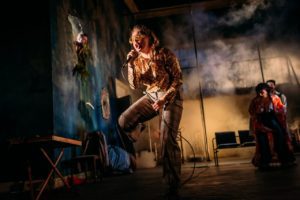 Mihaela Bodlovi
Which is apt, as although I wouldn't call this play a musical, it is very much intrinsically linked to this whole affair. Be it the songs that Shakespeare wrote for it or the diverse melodies that Meilyr Jones has brought to it. The latter helps to create something very rich here that allows us to see the characters inner essence. Be it the strutting almost Jagger like performance of the former strait laced butler Malvolio (Christopher Green) or the actual quiet and sweetly sincere piano/saxophone piece from Andrew Aguecheek (Guy Hughes). He's usually seen as just the bumbling sidekick of Lady Tobi, but here although still humourous, it comes across a little sad too.
Director Wils Wilson and designer Ana Ines Jabares-Pita are something of a powerhouse duo in bringing this show to life. In all the chaos of this sensational soiree Wilson distills the very best, drop by drop from her performers. And Jabares-Pita looks like she had an absolute field day with these fantastic costumes and how all their vibrancy was so well suited for each character.
This play was so much fun, you kind of felt like you never wanted it to end. So be sure to put on your glad-rags and head on down to the Lyceum for the best knees up in town!
Markus Helbig