Hold onto your keep cup, we've got the secret to finding Edinburgh's best coffee.
It took four long months of searching to find Edinburgh's best coffee.
Jittering up and down the hilly streets after multiple failed brews. Sipping foamy cups of something I'm not sure you can even call coffee.
Harsh? Maybe. Call me a Melbourne coffee snob if you must (although let it be known I will happily* drink instant coffee of a morning.) But a snazzy minimalist interior with bearded baristas just isn't enough for me.
I don't care if the beans were hand harvested in Guatemala. Please don't bother me with your long list of alternative milk choices (how the heck do you milk a cashew?) And deconstructed flat whites and tumeric lattes? Now you're wasting my time AND yours. I just want coffee that tastes like real coffee.
The eternal search for the holy grail – Edinburgh's best cup of coffee – completely consumed me. But then I finally found it. In fact, I think I found seven.
I stumbled into Filament Coffee on route to the supermarket. The hot cup landed on my table and I leaned in. It smelled good. I took a hesitant sip and felt the flood of relief. I might be able to stay in Scotland for the next couple of years after all. Decent coffee does exist.
I shared this sentiment with the barista and she slid a card across the counter. With a quick flourish she stamped it and I added yet another loyalty card to my wallet. But once she began to explain what the card was, I had to fish it out to properly inspect this brilliant little thing called The Disloyal Seven.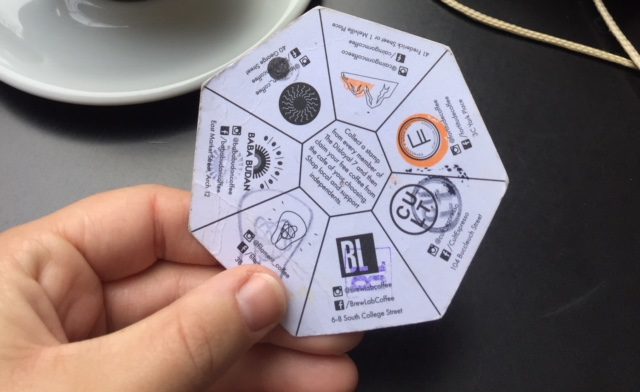 It's not a loyalty card, she explained. It's a disloyalty card. Instead of getting a free cup of Joe after 6 or so visits, you go on an adventure through seven different indie coffee shops before choosing your favourite to return to for a freebie.
It goes against every competitive business instinct but it's absolutely genius. Indie businesses banding together to thwart the big chains. It's a passport to Edinburgh's best coffee houses and I wasted no time filling it with stamps of my conquests.
After Filament there was Cairngorm, named for the highland mountain range. Good coffee with a side of cheese toastie to die for – a stupid amount of different cheeses melted together with chilli jam. Yum. Then Brew Lab, a cult classic in this town apparently. (Although they lose a few point for their disdain when I asked for an iced latte one hot** day. 'Um, we don't do that, we only serve cold brew.' Call that icy caffeinated cup of liquid gold what you will, it's still divine.)
Another hot tip for a cold drink? Try out Baba Budan's espresso tonic. It's exactly what it sounds like and I am still trying to figure out if it was the weirdest or most glorious thing I've ever tipped down my throat. Or both.
Heartened, I dragged my latte-swilling self to each of the disloyal crew, before deciding on a firm favourite – Lowdown. Just a hop and a skip around the corner from my work, I'm regularly greeted with a smile that could make a Scottish clansman blush. And the coffee? Bloody good of course!
*Happily is a stretch. But I'm broke and it's free.
**Yes I know 24 degrees is not hot. I've officially acclimatised.
You can get The Disloyal Seven disloyalty card at any of the participating cafes.