A TRULY HAUNTING TALE SERVED BY BOX TALE SOUP!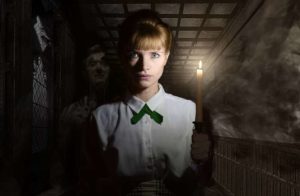 Underbelly, Cowgate – Venue 61
20 -26th, 11am

The delicious Box Tale Soup are back offering us another dark morsel, in an extremely good adaptation of Henry James haunting text "The Turn of the Screw". Box Tale Soup are a husband and wife double act that have been creating these beautiful little productions for years. The aesthetic that Noel Byrne and Antonia Christopher have is very much wrapped up in an old trunk. As a matter of fact, this old trunk which pretty much turns up in every production, is the reason why their shows are so intimate. You see they believe that all the props, costumes and puppets they need should all fit into this old box. So that they can travel around anywhere and put up a show any old how. And this minimalism has truly worked in their favour as it makes them get even more creative in developing the worlds that they play in.
And the realm in question today happens to be an old Victorian manse. It's true the dark catacombs of the Underbelly do help in delivering the mood of an old dark house, but I suppose it's something more of an enhancement. The tale in question (which I've always felt is rather underrated) concerns a young governess who has taken up a new position in a place called Bly in Essex. She is responsible for the welfare and upbringing of two young children, Miles and Flora as there only relative, their uncle, is constantly in London and doesn't seem to care too much about his young charges. And it's whilst he's away that these children come under a form of malign influence of a rather otherworldly nature. Christopher performs just the one role, that of the governess whilst Byrne performs the puppets that animate the children and the old housekeeper Mrs.Grose and also appears as the ghostly apparitions to boot. It's a nice little touch this seeing as the children and the spirits are so intrinsically linked.Christopher is also extremely good at showing a young lady who truly cares about these good children. There's an innocence about her character, that makes one think that she probably isn't really all that much older than the bairns she's protecting. She also sells that fact that as things get more out of control, you do wonder if it's not the poor governess who's losing it.
When I first read this book, quite a few moons ago, I was surprised that not much happens in it to begin with. It's very much a slow grower, that doesn't rely on melodrama like a lot of the more supernatural texts of the time did. And Box Tale Soup totally get this. They are also greatly helped in creating this atmosphere thanks to considered and genuinely eerie sound composition of Dan Melrose . My only fault here is that the show does lag a wee bit in the middle, but apart from that it's genuinely one of the most haunting things I've ever experienced and truly had me gripped!
Markus Helbig