AN AMUSING BUT HARROWING PLAY THAT LEAVES THE AUDIENCE HOPING FOR A HAPPILY EVER AFTER!
Assembly Roxy
Get ready for a breathtaking performance about courage and disappointment, daily struggles and embracing your own true self.
The Pride by Alexi Kaye Campbell debuted at the Royal Court Theatre,  London in 2008 and won several awards. It deals with the lives of gay and bisexual men with their inner and outer struggles. Today this subject is as relevant as it was ten years ago.  This astonishing play takes place in two different timelines, one in 1958 and the other in 2008. It shows the three characters Philip, Oliver and Sylvia in each period and demonstrates how different their lives would have been only by being born 50 years earlier or later.
Director Steve Griffin and Assistant Director Louise Sables created Different Works Theatre Productions to show plays 'that haven't been performed in Scotland before' those which go against the norms of our society, proving the importance of 'standing up and celebrating your own uniqueness'. Additionally to staging The Pride on it's 10th anniversary the play performs in conjunction with Edinburgh's Pride weekend.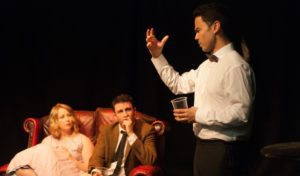 Enrique  Poves
Griffin and Sables did not only create an inspiring play, furthermore they performed alongside the two male protagonists, Michael Davies and Ian Fallon. All of them cast a spell on the audience, drawing everyone into the lives of the main characters. I can only applaud them for their incredible performances. Starting from the second scene I was completely lost in the story line. I could feel their pain, their fears and their hopes. I felt on edge!
After every intense scene a funny one followed to make sure the mood didn't get too dark, which I appreciate. Even if a play is supposed to make the audience think and question society, a laugh is very important to see the good and the bad, to not only sympathise but to actually fall for a character. Watching this energetic production of The Pride is a great addition to Edinburgh's Pride weekend, to learn of the struggles every member of the LGBTQ community has had and to celebrate their progress and their acceptance.
Anais Andresen