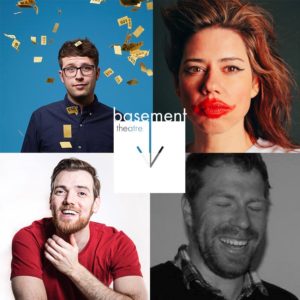 MARKUS EXPERIENCED QUITE THE FEW WITTY WONDERS DOWN IN THE BASEMENT!
Basement Theatre
I came down with a lot of people to the Gilded Balloon's Basement the other night in order to experience their regular offering of weekend laughs. And we were certainly provided with plenty!
It was quite the intimate affair, and we were encouraged to sit near the front at one of their many tables, which you know will be rife for comic chat and banter. And our esteemed host for the evening, Chris Forbes, was well able for it. The thing that makes a great MC is that he can pull a whole group of strangers together and make them feel like a group of friends for that evening. And believe me Forbes is very good at doing this. It's quite common when you have a comedian doing the whole schtick of "what's your name and where do you come from" that they can be just going through the motions, but Forbes seemed genuinely interested and making sure that everybody was having a good time. He was always quick as a bullet at creating new material on the spot too. Be it his horror of hearing about cat genocide or his close encounters of the eight legged kind down in sunny Australia.
He also introduced us to an array of different comedians. First up was the Perthshire farmer who does a bit of moonlighting on the comedy circuit, Jim Smith. I've seen his work before, and I'm very fond of it, as he involves a lot of rural aspects into his particular brand of comedy. And seeing as I grew up in the middle of nowhere in Ireland I could relate to a lot of his material. Be it trying to have any sort of a dating life, when you're miles away from the nearest town, and the shenanigans that ensue. Smith is also rather masterful at accents be they of the more local variety or even further afield. It's true that he was doing some of the same jokes that he did a couple of years ago, but to honest I didn't mind it. As it was like one of your friends retelling one of their best anecdotes and you just want to hear it all over again.
Next up was Lou Sanders, a girl who takes awkward comedy to another level. The thing is I'm not entirely sure that was her intention. And I'm actually not referring to her jokes on abortion. In this day and age these types of jokes do seem par for the course. But it was more in relation as to how she interacted with the audience. There was a lot of good will and humour built up amongst the audience members thanks to our host and Smith. So there would occasionally be the odd aside here and there after a particular joke. Anyway, there was one group of lads whom she demanded what they were talking about, pretty much lurching into the audience to get these answers. Their behaviour was all rather innocent, so it just created an awkward vibe that certainly lingered. Also there was a young lady in the audience whose father had died, and she decided to make quite a few cracks on that as well. I know that I wasn't the only one in the audience to find this uncomfortable.  Maybe she was channeling her inner Andy Kaufman in trying to get a reaction out of her audience but I'd probably have to sit through another session of her particular brand of comedy to be sure.
And finally we had the comedic musings of Chris Washington. A true master of channeling the surreal out of the mundane. Be it the semi nude sightings he'd encounter on his post office rounds or tales of how he worked as a dinner lady as part of his work experience and even his WhatsApp group membership involving dairy products. With his offhand delivery of all these choice nuggets he had me laughing so hard I was crying!
All in all, it was a great night's entertainment and I'll certainly be intrigued to check out another line up in the future.
Markus Helbig
Every Friday and Saturday night
20:00 / 21:00 (various)
CHECK OUT MORE FUNNY STUFF HERE!