James Glossop
MARKUS IS TRANSPORTED TO MOTHER RUSSIA WITH THIS MAGNIFICENT OPERA!
Festival Theatre
The Scottish Opera is back in town with a pretty intense tragedy that came from the pen of poet Alexander Pushkin and that has been adapted by that rather moving maestro Pytor Ilyich Tchaikovsky. This fine production doesn't pull any punches. And literally had me gasping on more than one occasion!
As the curtain rises in the Festival theatre it opens on what was once a grand chamber in a crumbling Russian manse, where the wizened form of Old Tatyana (Rosy Sanders) has come to make peace with some memories that appear before her like ghostly apparitions. To come to peace with the man she once loved.
The man in question is our titular anti-hero, the rather caddish Eugene Onegin (Samuel Dale Johnson).  A young man of station who literally rides into the neighbourhood and all his swaggering nature truly turns the head of our young demure heroine Tatyana (Natalya Romaniw).
Ah, Eugene, bless your cotton socks, you're the kind of character that doesn't know what he wants aren't you? And it's due to his rather capricious nature, that he creates much trouble and strife not just for himself but for his poor smuck of a best friend, Vladimir Lensky (Peter Auty) and for the besotted Tatyana.
Initially when this opera started out, I was a little unsure about it. Aesthetically, the stage design (Annemarie Woods) and the atmospherics are sublime. There are some truly wonderful lighting effects (Fabiana Piccioli), be it the morning rays beaming through bay windows or the glow that dances out of a zoetrope lamp that comes a little later. But it takes a little while to get going and there is quite a long winded scene where our chaste heroine can't make up her mind if she should reveal her love for Onegin through a romantic missive. Don't get me wrong, it's remarkably sung by our soprano, there was just a bit too much of the whole will you, won't you element. But to be honest that was the only real quibble I had with the piece.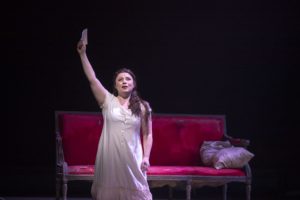 James Glossop
It's within the next act where things do tend to pick up during a rather intense ballroom scene. It is carefully choreographed by Ashley Page and I tell you the brooding sexual tension here was so palpable that you'd almost suffocate on it! Auty ridiculously strong voice duly delivers how much pain his character is in here, and your heart really does go out to him too.
In relation to this scene and some others, is the considered direction from Oliver Mears. He sets up things in certain ways that'll actually prevent the audience from clapping in order to keep racking up the tension! One clear and very clever example of this is the way the shutters of the windows start banging as soon as the ballroom scene is over.
As operas go this is certainly one of the most dramatic that I've ever encountered and with tickets going for just £10 if you're under 26, I urge you to go see this remarkable production before it gallops out of town!
Markus Helbig.
23rd, 26th, 29th, 31st May
7:15pm
Tickets from £10!