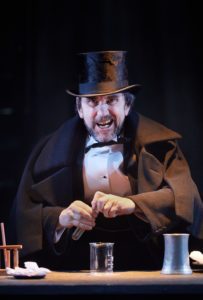 Mark Douet
A DELIGHTFULLY ATMOSPHERIC RENDITION OF STEVENSON'S CLASSIC TALE!
King's Theatre
That world famous text by Scotland's beloved son Robert Louis Stevenson that deals with id and ego, and the darkness hidden within the human soul, has been brought to life on the King's stage. But is it good, bad or something a little more complicated?
I think I've only ever seen one true adaptation of the book before, and that was the 1920 silent movie starring John Barrymore. Don't get me wrong, I've seen plenty of clips and ensembles and cartoons which usually have some meek doctor transforming into a raging behemoth. But what's so wonderful about that film was the way Barrymore could look so different just by the way he moved his face. There were no prosthetics involved, although apparently he had a contortionist knack of being able to dislocate his jaw at will! Now, I'll admit I wasn't expecting that of Phil Daniels who plays our titular characters, but I was wondering how this play would get down to revealing the more intimate aspects of this transformation on stage.
But alas I have to say it's not too effective, which is a shame as a lot of the atmospherics used are truly splendid. The way Daniels' body moves with bones cracking under dim flickering light is marvellously effective. It's just a shame that he looks exactly the same! You could say that this is the point, that he is still the same man and that it's his behaviour which is different. I would have agreed with you, if there wasn't a scene earlier with Jekyll's stiff and starchy butler Poole (Sam Cox) describing Hyde as younger and brutal in appearance. Daniels does the best with what he has although he does initially come across as something of a rowdy drunk. But I think the problem lies more in the hands of David Edgar (Adapter) and Kate Saxon (Director) respectively. If Edgar had left out those descriptive parts it would have been just up to the power of Daniels' performance and the audience's imagination. Plus even on stage, appearance can be tweaked. The fact that Daniels has a full beard doesn't help matters as I think a clean shaven face would have been more expressive. Similarly had his hair been slightly different from character to character this simple detail could have helped to sell the whole metamorphosis more.
The previously mentioned atmospherics are probably the highlight of the show, as there are such evocative and esoteric uses of light. In fact there so much darkness used on stage, that it's wonderful to see how creative lighting designer Mark Jonathan can get. And Richard Hammarton is equally able in his sound design and composition. I believe it was Saxon's idea to have an urchin girl (Rosie Abraham) to sing rather haunting melodies that evoke so many dark nursery rhymes and penny dreadfuls between scene changes, and it truly is an inspired touch.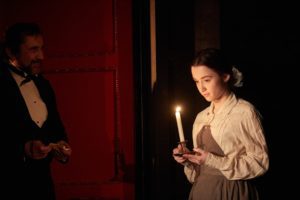 Mark Douet
Stevenson's tale is very much a metaphor about the evils of society in the Victorian age.  Not just trying to cover dark or tortured things up with appearance but also the use of filling the body with damaging substances and how they too can change a person nature or reveal something baser that lies beneath. But I find that the script maybe tries too hard in adding even more metaphors and this ends up making Jekyll's character a little greyer. This is very much a conscious point on the part of Edgar but can make it a little harder to get behind this strange tale at times.
All in all, it's a very enjoyable and entertaining night at the theatre but not without a few flaws that appear a little close to the surface.
Markus Helbig.
Tue 10 to Sat 14 April 2018 
Evenings 7.30pm
Matinees Wed & Sat 2.30pm
Tickets from £15 (Check concession details)