CHECK OUT THIS WILD EXHIBITION WHILST IT'S STILL IN TOWN!
National Museum of Scotland
On loan from the Natural History Museum in London, is this rather beautiful and thought provoking exhibition that shows nature in all its wild, wonderful and sometimes cheeky glory. This is the 53rd year of this competition where 50,000 entrants from all over the world submit their photos.
As you walk into the exhibition which is all set in a dark gallery where the photos are back-lit, and soothing music is playing (that has the added call of birds here and there), it makes you feel as if you are in the middle of a nature documentary! The photos are divided into quite a few different categories ranging from earth's environments to portraits and even young photographers.
The young photographers section is very interesting to see as to where the mind of youth is in comparison with the judges. There are three different categories that range in age, and all the winners in these categories had a sort of humorous edge to them, particularly Ashleigh Sally's photo "Stuck In".  With it showing a fox's hindquarters poking out of the snow!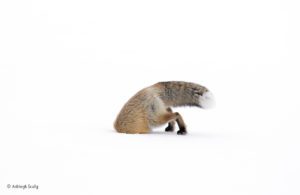 But we have some photos that have a raw powerful beauty like "Wolf Watch" by Lasse Kurkela or and even a more thoughtful quality; "When Worlds Collide" by Fred Zacek, that don't make the winning grade. It appears the judges were almost avidly scanning through these prodigies work looking for critters getting into jolly japes. It's true that there's quite a bit of humour in the animal world, but I feel it takes away from the artistic qualities that some of these youngsters wanted to portray.
There are also some pieces in the exhibition that have a science fiction quality to them; which photographer Laurent Ballesta has quite the talent in producing. Be it his photo "Ice Monster" which makes an iceberg looks like some kaiju lurking beneath the surface or his rather charming put surreal "Swim Gym" which looks as if a weddell seal and her pup are floating in through the air!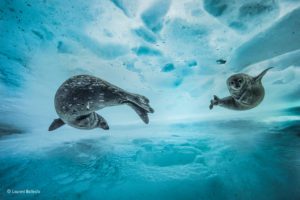 In the other worldly quality; Mats Andersson's black and white "Winter Pause" of a squirrel blinking looks like something out of a folktale, and the way Sergy Gorshkov's photo "Artic Treasure" is lined up, it's almost as if the Artic fox with the goose egg in his mouth might wink at you in any given moment, as if he's some adventurous huckster in a comic book.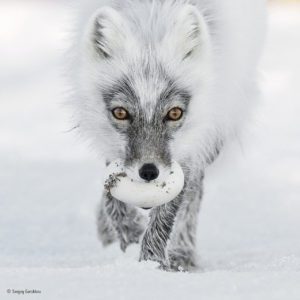 But for all this wonder and humour the exhibition is not without some darker meaning. Particularly, from one of the overall winners Brent Stirton and his prize work of "Memorial to a Species". A photo that shows the carcass of a poor black rhino that has recently been dehorned. The way the photo is taken as a landscape with the last rays of the evening dancing across the veld is actually quite picturesque. And then we have this unfortunate beast in the foreground, where the shadows are starting to creep in. It very much is a kick in the teeth to humanity, which highlights our complacency and certainly our casual evils. I saw this very image of Stirton's in a different exhibition last year, but the photo still has a power and a hold over the viewer, that is no bad thing at all.
So do pop down to this fantastic exhibition to be enchanted, informed and reminded before it leaves Edinburgh in the not too distant future.
Markus Helbig.
19 Jan – 29 Apr 2018
Adult: £8
Concession: £6