IT'S TIME FOR YOU TO GET REGALED, WITH THIS RATHER TRAGIC SCOTTISH TALE!
Traverse Theatre
Oh, don't you know how I long to hear those three little words….
Yes, we're talking about the three P's… Play, pie, pint! Never has there been truer words said that will sate most of my passions! And you'll be getting all three of these for the dandy price of £13.50!
Indeed, the Traverse Theatre will be offering us a different play every week for the next month under their "A Play, a Pie and a Pint" banner.
And to kick it all off is this delightful doggerel by Gary McNair. The poetical play that we get delivered (Yes, it is all in verse!) is about the infamous Scots bard William Topaz McGonagall.
My technique to reviewing a play is that I never read anything about it before hand. In earnest the same applies to books and films for my personal pleasure. I probably haven't seen a trailer in about fifteen years, nor have I read the synopsis of a book in about the same amount of time. I very much like to jump right in and be engulfed. So I'll admit I didn't pick up straight away, that this elaborate limerick was about one of the true underdogs of Scottish history!
McGonagall (the poor schmuck) was a retired weaver who was desperate to be recognised as a laureate as if his life (if not his livelihood) depended upon it. He only started this endeavour in about his fifties and although his verse was ridiculed left, right and centre, he was determined to make a go of it. And I think this play is something of a love letter to this romantic Scottish way of life. For although it is a mickey take and openly admits it, there is the essence of true pathos here.
I have to say that this is not the first time McGonagall has been thrown under the omnibus for humour purposes; the "Horrible Histories" have had great fun at his expense, as well as Britain's favourite surrealist Spike Milligan, in his film "The Great McGonagall". Actually in relation to the latter it did have me questioning if this play was influenced by the great Goon. But as I said, although McNair is willing to have a laugh at this poor poet's fate, he does spend time to treat him as a human being particularly towards the end of his production.
But in the beginning, I was a little unsure what to make of it and Joe Douglas' direction. The way we have Brain James O' Sullivan introduce the piece, and Simon Liddell play his music, and with them both bedecked in flat caps, it certainly did give of vibes of a children's show in a rather jolly jaunty way style.  But by the time McNair appears on stage regaling this tale in all his sweaty profusion and what with the spit spraying from his mouth as he leaps about on stage, you can tell that he's not holding back here. And what with all his passion bristling forth, you can tell he's being quite profound but in a rather mischievous way.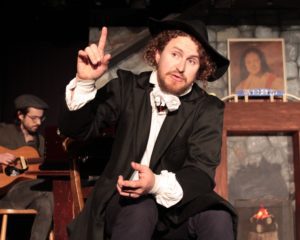 But it's not just the glimpse at McNair's gumption that makes this show worthwhile, as we are also graced with the fact that he's a very witty wordsmith. I particularly liked the fact that the play's play on words would be going out of it way to sound as bad as possible at times. Or that they would break out of character but still work in rhyming asides.
Believe me if you're up for a wee bit of lunch and hearing some sprightly verse about Scottish history, this is just the afternoon for you.
Markus Helbig.
Start date 3 Apr 2018
End date 5 May 2018
Tickets £13.50