MARKUS CHECKS OUT A SPECTACULAR BEHEMOTH AT THE LYCEUM!
Royal Lyceum Theatre
What lurks within us? Is it great good or great evil? Or is it something a bit greyer. A certain something that's more brutish and primal than either of those simplified concepts. What if just lurking beneath our skin is a rhinoceros just waiting to break forth into this world!
That is all told, the essence of Eugene Inonesco's script, which is a surreal concept that's played up for laughs, but is it not without its dark core that's bursting to reveal itself. As larger than life characters in a wee village in France come to terms with the transmogrification of their fellow man into these great lumbering beasties!
At its core this tale is told through the eyes of Berenger (Robert Jack); a sweaty, fidgety and unkempt bloke who's a little too fond of the gargle. His smart best friend (in form and manner) Jean (Steven McNicoll) has a tendency to call him out on it and his rather uncouth ways. He tries to mentor Berenger in becoming a better man, but is full of contradictions himself. But will this cause him hubris?
This tale when it was conceived was very much about Inonesco's own experiences as he saw nations and even people he knew turning into fascists right before his eyes. This is something that has not escaped British playwright Zinnie Harris' adaptation in her collaboration with Turkey's Dot Theatre. They complement each other very well in bringing this metaphor to the modern stage. She adds a very puckish and knowing wit to the script, where sometimes the characters are practically winking at the audience. And director Murat Daltaban brings his magnificent vision to the stage as he has created one of the most wonderful spectacles I've ever seen. They are greatly complimented by that triad of design Tom Piper (Designer), Chris Davey (Lighting Designer) and Oguz Kaplangi (Composer and Sound Designer).
You can see Piper is having a whale of a time as he designs such an elaborate set, which is elevated with his considered costume design. And Davey's lighting seems to dance in sync with Kaplangi's melodious touch. Be they delivering a scene of a crisp sunny afternoon or the rather melodramatic 1950's style B-movie ending full rising paranoia and grasping hope.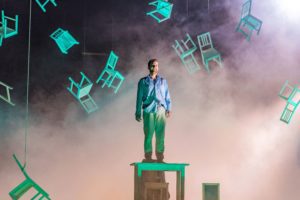 Mihaela Bodlovic
This is all marvellously brought together by a very able bodied cast that are up for pretty much anything this director of Dadaism throws at them. In a matter of fact it is definitely up there as one of the most physical productions I've ever seen. As Piper builds up the set piece by piece whilst almost bringing it down at the same time as if it's a ginormous game of Jenga, his cast is more than willing to scramble through tunnels or shimmy up ladders at a moment's notice. They truly use this space so well. And if you go to see this show for nothing else but the set, you'll be more than entertained by that alone. But, within in all this well balanced mania, there are some subtle moments too. The means of transformation from man to beast is deviously done, and sometimes took me by surprise as they take their influence from the clay mask formation of Mummenschanz.
But for all my praises, I do have one misgiving. And that's the fact that at times maybe certain scenes can go on a little too long. As quibbles go though, it not's monstrous in this fascinating night of art and mischief.
Markus Helbig.
23 March – 7 April 2018
From £10