A NIGHT OF INTENSE POLITICAL SHENANIGANS COMES TO THE FESTIVAL THEATRE!
It's 1974 and the House of Commons are in a state of flux with the announcement of a hung parliament. Will Labour and the Tories ever get over their differences, to bring this British nation together or will they pull every trick in the book to get one up on each other?
As history tells us it's the latter. But James Graham's tale takes us on a journey of break neck speed with a myriad cast of characters, which demands your full attention. And director Jeremy Herrin certainly puts his cast through their paces.  Don't take your eye off the ball for a second, as you could find yourself having to play catch up. This is certainly a bit distracting and you have to invest yourself fully. But I very much think this is the nature of Graham's script, as he tries to envelop you in this world of politics. And I found myself genuinely leaning forward as to properly take everything in. So congratulations Mr. Graham  in keeping me rapt!
The stage is literally set like the rooms in parliament, and if you're lucky enough you could even get to sit on the very stage itself and witness this circus full on. And as circuses go we get paraded before us a whole host of characters that I initially found a bit much, as they do really play up the whole class system to quite a ridiculous degree. I don't actually mean that in a negative way though. It's just that all the Labour party members come off as being salt of the earth, whilst the Tories come across as being toffee nosed gits. It's genuinely amusing, but it did remind me very much of some of those over the top class rivalries you'd get in all those old humour comics I'd read growing up. The likes of "The Blots and the Swots" spring to mind.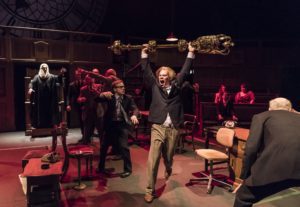 And like those barmy comics, the lengths they'd go to put the wind up one another is equally on par. Be they hauling in cabinet members who are on deaths door or keeping them hidden away and liquored up in cupboards, all to make sure that they place their votes. And the outrageous stereotypes don't end there, as the parties go out of their way to butter up the Northern Irish, the Scottish and of course the Welsh. I'll admit I was quite fond of the Welsh portrayal, as although it was in jest, they did actually add a rather poetic quality to them which helped to round them out a bit more. This blatant humour is certainly predominant but we are treated to some really witty lines peppered here and there within the script.
But because all these characters are larger than life and there are so many of them, it does make it hard to pinpoint who adds the best to the proceedings. William Chubb certainly does tend to relish his role of Tory chief Humphrey Atkins with all his smarm and guile and is certainly given a run for his money from James Gaddas who performs as the rather wily Walter Harrison, the Labour man who knows all the secrets of both parties. But one of the best performances for me was actually from ensemble actor Ian Houghton, who during the interval was chatting and engaging with audience members as if they were all potential voters! There was handshakes all round and I imagine if people brought their babies he'd have kissed them on the heads too! I think this was a good touch, and adds that little extra element that helps to make this a more memorable night.
One of the best things about the show's script is that you can practically almost feel all of Graham's research brimming forth. And getting to know all of parliament's traditions is like getting to know a character in itself. In a matter of fact it's probably the most important character of this whole show. It's true it takes a while to get to know it, and that you must invest your time in it. But all in all, that investment is rewarded and this is time well spent.
Markus Helbig.
Tue 27 to Sat 31 March  |  Festival Theatre
Evenings 7.30pm Evenings 7.30pm | Matinees Thu & Sat 2.30pm
Tickets from £17