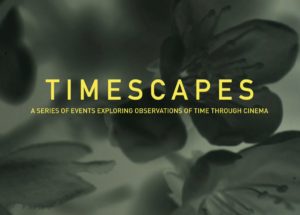 MARKUS EXPERIENCES A CULTURAL ADVENTURE IN TIME AND ART!
Assembly Roxy
You know what I love about this city? It's that there are so many events happening all over the place that are imbued with such diverse and quixotic qualities! The fact that this particular setup was quite the artistic endeavour covering something scientific and all being presented in a converted Gothic church; well what can I say but it just brings a smile to my face! I ended up in the Roxy last night where I got to experience a rather esoteric evening. "Timescapes" is a curious endeavour created by the students of the University of Edinburgh in relation to film, exhibition and curation. It's a series of events exploring observations of time through film and this particular evening was celebrating the work of filmmaker Eric Lucey.
So, Mr. Lucey was a bohemian scientist who did a lot of his film experiments within this very city and quite a few of those involved timelapse and slow motion. His work, be it featuring jumping crickets or speeding trains was accompanied by music and live poetry by Opul this evening. I didn't mind the music as it hit the right beats, but poetry wise I felt was a bit distracting at times, but a least it was thematically linked to the images.
The night was very much a love letter to Lucey, but it wasn't just about his films. We got glimpses of other wee movies that used him as an influence as well as being treated to some work from his crony C.H. Waddington. They kind of had an enabling relationship where they both kind of stimulated each other simultaneously. And we got a look at his documented films that were kind of a window on the world.
Overall, I like the idea of what's happening here, and this curious little obsession with time. But there are instances of elements in these pictures that stray into repetition, and yet the whole experience does come off a bit discombobulated. But although there is an awkward passion to the proceedings, this troupe has invoked my curiosity.
The celebration of Lucey, may have been a one off event but we shall be seeing more from these chronomongers in the near future as they meld time and film together. Be it in a creative workshop on how you can create your own timelapse films or on a presentation and discussion of "Nenette", where perceptions of time are challenged through an intimate portrait of an orang-utan in captivity; as part of the Edinburgh International Science Featival.
I'll certainly be willing to give them a little more time in the future and so should you if you if you have hunger for knowledge but the heart of an artist.
Markus Helbig.
EISF: TIMELAPSE MASTERCLASS with filmmaker Walid Salhab
Saturday 31st March 2:30pm
Summerhall, Red Lecture Theatre
£8.50 / £6.50
EISF : NENETTE  and Our Perceptions of Time
Saturday 31st March 7pm
Summerhall, Red Lecture Theatre
£8.50 / £6.50