Assembly Roxy
Just in time for International Women's Day comes this debut production from amateur Shoots Theatre. It's of Lousia May Alcott's famous tale of sisterhood and much like the book, it has a lot of strength but in a very subtle way. It's set in America within the quaint town of Concord during the 19th century. And although it's far away from the civil war, its effects are still felt upon the coming of age of the March sisters. As their father is at the front, it's up to the loving but practical Marmee (Lesley Ward) to rear these young ladies. There's the romantic Meg (Ashley Davies), rambunctious Jo, society seeking Amy (Hanna Ward / Rhian Ferrigan) and sweet Beth (Kirsten Keggie).
I read this story quite some time ago but I always remember finding that certainly in the beginning, not a lot of action was happening! But that is the point, as this story takes its time in getting to know the characters and it's all the little day to day details that are very important in making these characters whole. So when things take a more dramatic course in the latter half, you really do feel for them.
The fact that this is a musical version of such an understated book, it did indeed make me curious as to how Shoots were going to go about it. But my faith in them has been well rewarded as they've put on a magnificent little show. Have no fear folks, due to  Rhian Ferrigan's considered choreography we don't get any jazz hands here! In a matter of fact we don't get much dancing at all, but what is done does come from a natural place and I think that's important for this production. Part of this show's strength comes from its singing talent. Not only does Michael Davies play the part of stuffy Professor Bhaer to a T, he's truly very good at expressing all his characters frustrations through his singing. James Duffy who plays the puckish Laurie is also very able in showing his whimsical nature through voice alone, but the real stand out singing performance was truly from Hutton. This lady has a powerful pair of lungs on her that completely rivets you to her performance. (Which is ironic as her character Jo in the book has such a poor singing voice!) Her chemistry is equally good with the latter two gentlemen whom she bonds with. In fact I think her interaction with Mr. Davies was so good, it actually had me buying this quirky pair much more easily that Alcott ever did!
Sheryn Ali (Director) does extrude the best from her cast's performances. Keggie has one of the most difficult roles of all, seeing as wee Beth is constantly sweet! But while this may be the case she's never saccharine and she can even be a little cheeky at times, but still in a rather demure way. Ms. Davies interpretation of Meg as something of a dreamer is a lot of fun, and brings a lot of humour to her role; which was delightfully unexpected.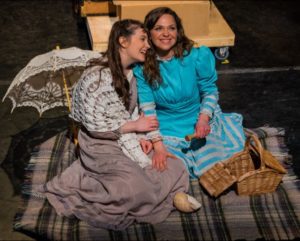 For all my praises, I'll admit the set design has a rather ramshackle quality to it, but I think this was a considered choice, as it rather conveys that the family is not the wealthiest and that the house has a lot of character of its own.
Which is very much like this production: it has an extraordinary amount of character and although it is an amateur production it is certainly one of the strongest that I've ever seen.
Markus Helbig.
Tickets: £12
http://www.assemblyroxy.com/event.php?id=160