In case you didn't notice the weather…
Freezing temperatures, strong winds and heavy snowfalls have swept the nation, with Scotland taking the biggest hit in the UK. For only the second time in history, the Met Office has issued amber weather warning for Scotland. The storm has earned a range of creative nicknames across Europe. The Dutch are calling it the Siberian Bear, meanwhile the Swedish refer to it as the Snow Canon. The United Kingdom have opted for a slightly less creative and tasteful name: the Beast from the East.
The storm has spread from Siberia, causing extremely unusual snowfall in regions like Spain, Italy, and some Mediterranean islands. While Scotland is no stranger to snow, we're dealing with a little more than just subzero temperatures (although it is freezing). 4 people have died in the UK, however Poland has reported as many as 53 deaths from the storm.
The roads of Scotland have proven particularly treacherous as drivers struggle to navigate the icy roads. Time to whip out the snow tyres?
The impact on Scotland
Scotland is among the most heavily affected regions as experts warn that the weather conditions pose a serious risk to human lives. For obvious reasons, Glasgow Airport closed at 3pm today, and majority of Scottish public transport has been cancelled.  For those of you currently in Scotland, we recommend you find a place to stay immediately and put off any travel plans. If you are stranded, try contacting our hostels in Edinburgh or the Highlands to stay the night.
Thousands of schools around the country have been closed, and employers have been urged to offer flexible work for staff. Majority of bars and restaurants in Edinburgh City Centre closed for the day in order to protect their employees. Supermarket shelves are being cleared as people prepare for the worst, and deliveries are unlikely to run tomorrow. To keep yourself safe, try to stock up on food and stay off the roads as much as possible.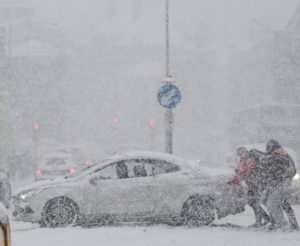 Clash of the storms
If the Beast from the East isn't terrifying enough, meteorologists have predicted another storm to arrive from the Atlantic tomorrow. The (far less) intimidatingly named Storm Emma is expected to bring 16 inches of snow to Scotland, and perhaps a power cut or two. Britain is expected to reach record low temperatures with a whopping -15ºC reaching Scotland. The battle of the Beast from the East and Storm Emma might create an unusual phenomenon known as Thundersnow. If you've ever wanted to experience snow, rain, thunder and lightning at the same time, now's your time.
On a lighter note, the storm has also spread some joy across the country as people frolic in the snow. Some highlights of the week: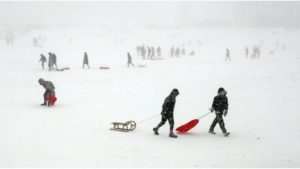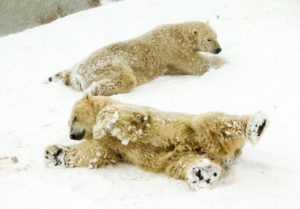 Public transport being cancelled didn't stop everyone from commuting.
And finally…
Alternative ways to keep you busy during the storm
Have a Nicholas Cage movie marathon (this one could take days)
Make your own Play Dough and talk to your new Play Dough friends
Whip out your old Sims 2 game and create your own storm-free world
Practice Availabalism and create art, clothes or food from whatever is in your house (as a back-up, you can consult My Fridge Food for recipes based on what you have you in your fridge)
Binge watch literally anything on Netflix