For most of us, having lots of small, loose change is a nuisance – for coin collectors, it's a goldmine. If you have a good look at the change in your pocket, you might notice that they don't all have the same. In fact, there are many limited-edition coins that are considered rare, but could easily end up in your pocket.
Scarcity versus value
So, what makes a coin rare? The fewer of them in circulation, the 'scarcer' they are, hence the more 'valuable' they are to collectors. ChangeChecker measures a coin's value by the Scarcity Index, a function of the number of coins in circulation and collector demand. The higher the number (between 0 and 100), the more valuable the coin is. That being said, coins don't have to be the scarcest to be in demand.
Of course, a 50p coin will always be worth 50p in terms of 'buying power'. However, a rare 50p coin can easily be sold for 200 times its monetary value. So, if you're feeling desperate to earn some cash, have a look for some of these rare coins in your change.
The Beatrix Potter 50p Range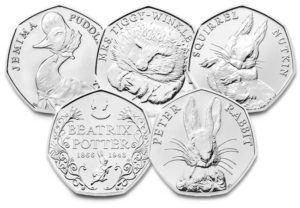 In 2016, The Royal Mint released a series of coins to honour the 150th anniversary of Beatrix Potter's birth. The coins feature characters like Peter Rabbit and Mrs Tiggy-Winkle. Of the Beatrix Potter collection, the highest-ranking coins are Jemima Puddle-duck and Squirrel Nutkin, which have been sold on eBay for ~£100. However, Peter Rabbit coins are more in demand, with some selling for over £300. Realistically, you can only sell the coins for about £5 – still, that is 10 times its monetary value.
2012 London Olympics 50p Range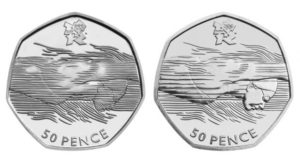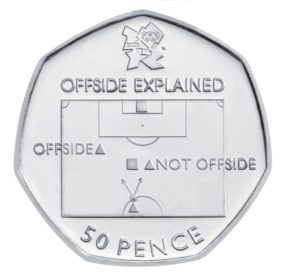 Since Royal Mint were the official producers of medals for the London Olympics and Paralympics, they decided to make some coins in honour of the games. They launched a design competition and received over 30
,000 applications from the British public. 29 differently designed 50p coins were circulated, featuring games like rugby, football and tennis – these can usually be sold for around £5. But the real money-maker is the original aquatic coin, pictured left above. 600 of the coin were released, however they were taken out of circulation because the water obstructed the swimmer's face. The coin can be sold for £820, although someone actually managed to sell it for £3000.
You're more likely to find the 'Offside Rule' 50p, which has been sold for anywhere between £12 and £100.
Kew Gardens 50p coin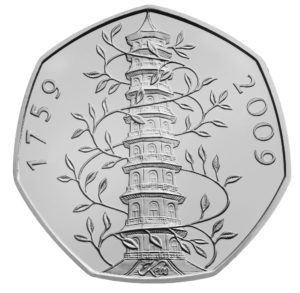 The Kew Gardens 50p coins were released to celebrate the 250th anniversary of the Royal Botanical Gardens. As only 210,000 coins were circulated, The Kew Gardens coin is the rarest British coin of any denomination, topping the Scarcity Index for 50p coins. The coin is regularly sold on eBay for £200-£300, which could easily fund your next holiday.
Old £1 Capital City coins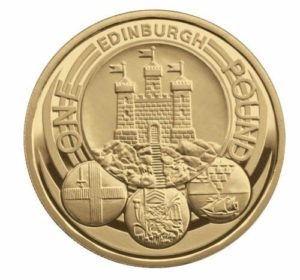 The round, all-gold £1 coins ceased to be a legal tender in October 2017, and were replaced with 12-sided silver and gold ones. Although the old coins can no longer be used to buy things, collectors are keen to buy limited edition ones early. According to ChangeChecker, the Edinburgh City £1 is the rarest £1 coin, and can be sold for about £20. You would have to find the full set – London, Belfast, Cardiff and Edinburgh – to make it worth £100.
Undated 20p coin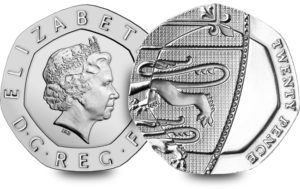 In 2008, Royal Mint decided to switch the design of their coins, moving the date to the front (face) side of the coins. Unfortunately, whoever was in charge of 20p coins messed up and forgot to put the date on at all. An estimated 200,000 undated 20p coins were released before anyone noticed. Lucky for you, collectors love mistakes, so one of these bad boys could easily pocket you £100.
How to check the value
Naturally, there are many more rare coins you can sell – but how do you find out? The 'easy' way is just to Google it, e.g. "Kew Gardens 50p coin value". However, most coins are sold on eBay, making it the best place to find out how much you can sell it for.
Type in your search on eBay
Click Show Only > Sold Listings
Sort by End Date: Recent First
Scroll through and check the usual price range and condition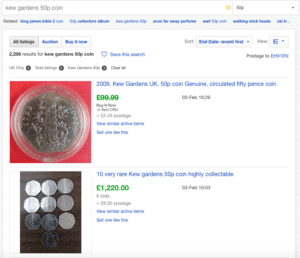 Sometimes, it's helpful to check the 'Auction' section as well to see how much are people are bidding. You should also check the date on your coin, because the year of mintage could increase or decrease its value. Once you've determined an 'average' price, you can set up a sellers account on eBay and start selling.
Helpful tips for selling your coins
Be realistic and reasonable in your pricing: Selling your coin for £50 instead of £500 is more likely to attract buyers, and is still a lot more than it is technically worth.
Try to put more than one coin up for sale on your profile: Would you buy something from a profile with only one product on offer?
Learn the terminology and use it: Essentially, fake it till you make it. Most sellers include the year, name of design, and condition. So, key words like 'rare', 'genuine', 'circulated' and 'highly collectible' can get you a lot further than simply '2009 Kew Gardens 50p'. Still, you can't lie and claim the coin is in 'mint condition' if it isn't.
Be patient: If your coin isn't selling right away, consider putting it up for auction or lowering the price.
Use your own photos: If the photo looks like it's from a website, it looks fake. Take your own photos using good lighting on a blank surface.