Every year on January 25th, Scots gather to celebrate the life and work of Rabbie Burns. Celebrations, both public and private, revolve around haggis, whisky, and of course, poetry. He is renowned as the Bard of Ayrshire, the Ploughman Poet and the National Poet of Scotland (to name a few). But how did Burns Night become a national holiday, and why does it involve haggis?
Life of Rabbie
Robert 'Rabbie' Burns was born on the 25th January, 1759 in Ayrshire. As the oldest of 7 siblings, Rabbie worked on his family farm alongside his education. Although he started writing love poems as a teenager, his big break came later in life. His 1786 collection entitled Poems, Chiefly in the Scottish Dialect propelled him to literary fame at age 27. Today, Burns is renowned for writing poetry in the Scottish dialect whilst appealing to Scots and Non-Scottish audiences alike.
Alongside his poetry, Rabbie was determined to keep farming, although this led him to poverty. To support his family, he moved to Jamaica to work as a bookkeeper on a slave plantation, earning £30 per year. His moral struggle working on a slave plantation were reflected in his song, The Slave's Lament:
The burden I must bear, while the cruel scourge I fear, in the lands of Virginia-ginia, O;
And I think on my friends most dear, with the bigger, bitter tear, and alas!  I am weary, weary O;
Throughout his life, Rabbie strived to preserve Scottish folk songs by expanding, revising and adapting them for popular culture. He would work with great composers like Ludwig van Beethoven and Franz Haydn. One of his most famous works is the poem, Auld Lang Syne, set to the traditional tune, Can Ye Labour Ye – which is now staple song of Hogmanay celebrations at midnight.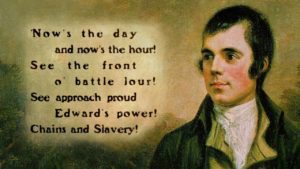 Political beliefs
Rabbie was a supporter of the French revolution, but his liberal and democratic beliefs were considered radical at the time. In 1793, his song Scots Wha Hae was published anonymously, expressing his support for Scottish independence:
 Wha for Scotland's king and law, freedom's sword will strongly draw, freeman stand, or freeman fa', let him follow me!  […] Liberty's in every blow! Let us do or die!
Rabbie was a self-professed fornicator, fathering 12 children to 4 different women. His open affairs were a subject of controversy at the time, as church authorities campaigned for monogamy. Much of his poetry was dedicated to the fairer sex (aka women), which many modern-day literary analysts regard as early feminist writing. These beliefs are reflected in excerpts from his 1972 piece, The Rights of Woman:
While Europe's eye is fix'd on mighty things, the fate of Empires and the fall of Kings;
While quacks of State must each produce his plan, and even children lisp the Rights of Man;
Amid this mighty fuss just let me mention, The Rights of Woman merit some attention

But truce with kings, and truce with constitutions, with bloody armaments and revolutions;
Let Majesty your first attention summon: Ah! Ca ira! The Majesty Of Woman!
Death of the national poet
The aforementioned beliefs earned him a reputation as a 'radical', and would alienate him from society. His passion for hitting the pub suggests he may have been an alcoholic. Furthermore, his womanising ways led to scrutiny that he suffered from venereal diseases. Rabbie passed away at age 37 in 1796, though most believe his cause of death was his heart condition. Despite his short life, Burns created a legacy that rings true in the heart of Scotland over 200 years later.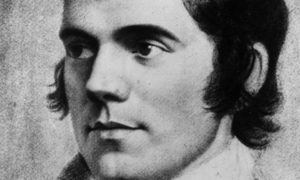 The Burns Supper
Rabbie's birthday, January 25th, is now considered Scotland's second national day (alongside St Andrew's Day). The first Burns Supper was hosted by the first Burns Club in Greenock not long after his death. Many today's traditions originated from that first Burns Supper, which incorporated his poetry into every part of the meal.
The Selkirk Grace is the opening act for the evening, which reminds guests to be thankful for the food they shall receive. Haggis is the main course of any Burns Supper, inspired by his humorous poem, Address to a Haggis, which proclaims:
Fair fa' your honest, sonsie face, great chieftain o' the pudding-race!
Of course, it is essential that you recite the poem before eating. Ideally, someone should be playing the bagpipes and the food should be served piping hot. No pun intended.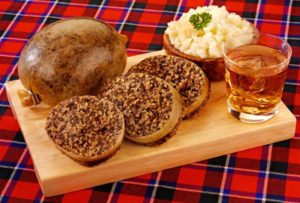 Raise a dram
The drinks are sponsored by Scotland's national beverage, whisky, as we 'raise a dram' and shout haggis! Generally, Burns Suppers are a drunken affair, as you have to raise your glass for many things. The men perform 'a toast to the lasses', which was traditionally a way of thanking the women who prepared the meal. The tradition has evolved to become an analysis of women's role in society today, as women now perform a 'reply to the laddies'. The toasts are a humorous affair, as the toast to the lasses satirically focus on old stereotypes – think 'go make me a sandwich' style jokes. These are met with clever comebacks and jokes from the women, with the jokes mostly at the men's expense. In a true nod to Rabbie's feminist side, the toasts celebrate the contributions of both men and women.
The night concludes with everyone singing Auld Lang Syne, which can get pretty emotional. Before, during and after the song, you'll probably drink a few whiskies to end the night. If you're feeling frisky, the appropriate course of action is to head to a ceilidh. Wherever you are in Scotland, there will be a Burns Night Ceilidh, where you can continue singing and dancing the night away. Whether it's because of the dancing or the whisky, you are guaranteed to feel the Burns.