Thanks to Scotland's breathtaking scenery and historical buildings, it has been used as a backdrop for many of your favourite films! And while all of Scotland is beautiful, we can all agree the Highlands are the real MVP. If you're a true film fanatic, take a tour of the Highlands' top movie sets and filming locations.
Braveheart (1995)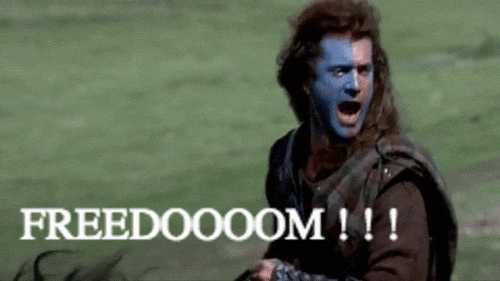 This epic war film tells the tale of William Wallace leading the Scots in the First War of Scottish Independence. Although set in Scotland, majority of the movie was filmed in Ireland. But fear not – you can still get your Braveheart fix in the Scottish highlands. William Wallace's village, Lanark, was built in Glen Nevis valley. You might also recall William Wallace trekking the Mamores of Glen Nevis after killing Lord Mornay? Lanark has been torn down, but you can trek the 10 Mamores mountains and have your William Wallace moment. No one will judge you for shouting "They may take our lives, but they will never take our freedom!" After a long day of Braveheart-ing, you won't need to go very far – Fort William Backpackers is just around the corner.
Macbeth (2015)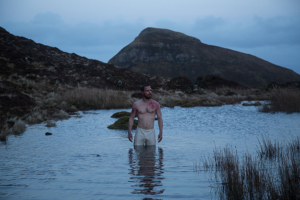 Adapted from Shakespeare's famous tragedy, Macbeth is a story about a Scottish general who is told by a trio of witches that one day, he will be the King of Scotland. His thirst for powers drives him to murder King Duncan, and causes a psychological decline that turns him into a Mad King of sorts. Double, double toil and trouble, indeed. To offset all the gore and horror of the many murder scenes, director Justin Kurzel chose the Isle of Skye as a backdrop. Lady Macduff and her children saw their demise in the picturesque Sliglachan. Banquo is executed by the beautiful Fairy Pools of the Glen Brittle forest. And of course, many epic battle scenes were filmed at Glanaig and the Red Northern Hills. Lucky for you, you don't have to go alone. The team at Skye Backpackers are happy to take you around the sights.
James Bond (1977, 1999 and 2012)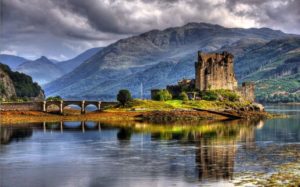 Albeit quite briefly, Scotland has made cameos in a few James Bond films. The naval base seen in The Spy Who Loved Me is Faslane naval base on Loch Gare, the Royal Navy's main presence in Scotland. And it's not far from Loch Lomond! Fans of the Bond franchise will know that James Bond's family estate is in Glen Coe. In Skyfall, Bond and M escape to the Highlands, featuring the scenery of Glen Etive, Buachaille Etive Mor and Buachaille Etive Beag. Arguably, Scotland's biggest cameo to date is in The World Is Not Enough, where Eileen Donan Castle is used as MI6's Scottish headquarters. The film even features bagpipes that turn into fire blazing machine guns.
Harry Potter (2002 and 2004)
It's no secret that JK Rowling wrote a large chunk of the Harry Potter series in Scotland. Hogwarts was inspired by buildings in Scotland, especially Edinburgh, which you can read more about here. The bridge that the Hogwarts Express crosses in in Chamber of Secrets and The Prisoner of Azkaban is actually the Glenfinnan Viaduct, where you can catch the Jacobite steam train. The bridge is located in Mallaig, who nearly closed the railway due to economic troubles – luckily, JK Rowling turned the Glenfinnan Viaduct into a tourist attraction and saved the jobs of many locomotive workers. For the ultimate experience, catch the Jacobite steam train fromFort William to Mallaig, and head out from the car park to get a good view. Harry Potter also used Glen Nevis as a backdrop for Quidditch matches.