Living on a budget can be hard. Cooking spaghetti and tomato sauce in your hostel kitchen every night gets old pretty quickly. Sometimes, it gets tempting to just treat yourself to a nice meal out. Traveling on a budget doesn't have to be a matter of compromise when it comes to your meals though! Edinburgh may not be cheap, but thanks to the bustling student population, there are lots of cheap eats. Since we've already told you where to drink in Edinburgh, we've compiled some cheap eats to save your alcohol budget.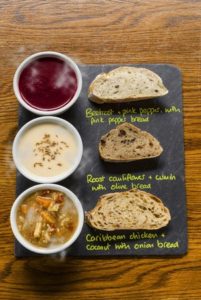 Scotland's first soup café aims to provide comforting, nourishing and sustainable food for budget-friendly prices ranging between £2.50 and £7. All packaging is compostable, and you receive the soup for free if you bring your own soup container or return your takeaway packaging. The menu changes every day with 6 soups, 2 salads and 2 chillis always on offer, including a good selection of vegan and gluten free options. If their Forrest Road café is too busy for you, you can always look for their big green soup van on Edinburgh University's George Square campus.
8 Forrest Road, EH1 2QN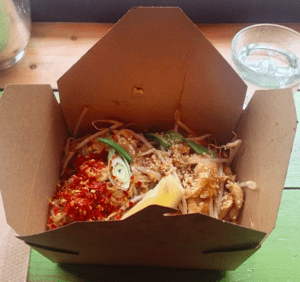 Sister venue of The Outsider, Ting Thai Caravan brings you authentic Thai street food in cardboard boxes for roughly £3 to £8. The café is so popular during lunchtime, you'll often see hungry students queuing up outside to get a seat at the communal dining tables. One thing to note before you go: the venue is cash only and the turnover between tables is rapid. If Ting Thai is too busy, their newly opened sister venue Saboteur serves up a Vietnamese alternative. You won't need to go far either; Saboteur is literally a few doors down the street, and is equally budget friendly.
Dish to try: Chicken pad Thai
8-9 Teviot Place, EH1 2RA
A favourite among Edinburgh University students, this Sudanese café sells wraps, salads and soups at prices ranging from £3 to £4.50. Don't let the price put you off, because you certainly get your money's worth both in terms of portion size and food quality. The café is quite small and better suited for a quick bite or take-away, so don't expect a long sit-down meal with 30 of your nearest and dearest.
Dish to try: Falafel, hummus, peanut and aubergine wrap
6 Chapel St, EH8 9AY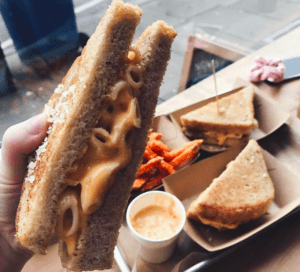 If you're looking to satisfy your cheese cravings, look no further than Edinburgh's premier cheese toastie café. Meltmongers has everything from a Breakfast Club Melt (bacon, egg, hash browns and melted cheese) to a Meltmallow (Nutella, banana, marshmallow). Most importantly, their classic cheese melts are to die for, and they won't cost you more than a fiver. You'll have to fork out an extra quid or two for their meaty melts, but it'll be worth it.
Dish to try: The Mac n Cheese melt and The Breakfast Club melt
80 Bruntsfield Place, EH10 4HG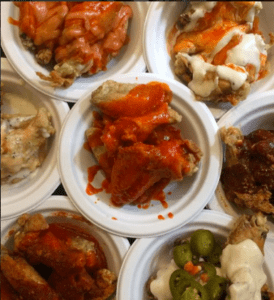 Have you ever dreamed of eating nacho flavoured chicken wings at a Rick and Morty themed table while playing Mario Kart? Look no further – this is the place for you. The menu has over 50 flavours of chicken wings, like Lemon Pot Noodle rub, Sriracha Chipotle, Maple BBQ, Whisky Pepper and more. Every table has a theme, including Star Wars, Star Trek and Jurassic Park, and after (or during) your meal you can stop by the games room to play some retro video games.
A portion of 6 chicken wings will cost between £3 to £5, and if you live at Castle Rock hostel, you get a sweet, sweet discount. For those who are less faint-hearted, Wings presents the Suicide Challenge: eat 6 wings covered in their Level 11 spicy sauce…. Without sour cream. Survivors Winners receive a spot on the coveted Wall of Flame.
Dish to try: The Imperial Tiger Wings
5/7 Old Fishmarket Close, Edinburgh, EH1 1RW