Thinking of traveling to Northern Europe? There are a plethora of reasons to visit Scotland this December. In the interest of keeping things short and sweet, we won't mention the obvious. Beautiful scenery. Haggis. Loch Ness. Whisky. These things will always be around. But December is a very special time in Scotland as it marks the official Christmas and New Years season. If anyone does winter right, it's Scotland. Not convinced? Keep reading.
Reason #1: The Northern Lights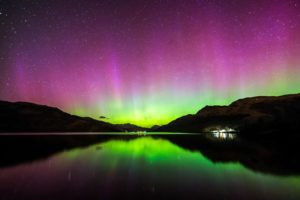 The north of Scotland is on the same latitude as Stavanger, Norway, making it an optimal spot for catching a glimpse of the Northern Lights. The Northern Lights, also known as Aurora Borealis, are a natural light phenomenon which occurs under conditions of extremely low or high sky light. With Scotland's dark, long and cold winter nights, December is a primary stargazing time. If you're lucky (and patient), you will experience the wonder of colourful lights dancing across the night sky. Scotland has a number of locations approved as official Dark Sky Spots such as:
Galloway Forest Park, the first Dark Sky park
Moffat, Europe's first Dark Sky town
Isle of Coll, the Dark Sky Island
The famous Isle of Skye in the Highlands, known for its magical views, has 9 Dark Sky spots. The Highlands are the highest whisky producing region in Scotland, which is reason enough alone to pay a visit. For the traveler on a budget, Skye Backpackers offers a colourful, cozy atmosphere to meet new people you can enjoy the sights with.
Reason #2: The Santa Dash
The Santa Dash is an annual charity fundraiser that takes place across the UK throughout December. The cause being fundraised for varies from city to city, with hundreds (and sometimes thousands) of participants entering each year. Essentially, participants dress up in Santa costumes and run 5k or 10k for charity. You can join the fun on December 10th in Glasgow and Edinburgh, and on the 16th in Aviemore. Don't worry about finding a costume – you will receive one included in your entry fee. For those of you who are not keen runners, just come along and watch thousands of Santa's jiggling along the city centre.
Reason #3: Inverness Winter Festival
Remember how we said Scotland does winter right? Well, Inverness really does winter right. The Christmas lights switch-on in late November marks the beginning of Inverness' 6 week-long winter extravaganza. On the 15th, Whin Park is transformed into a Winter Wonderland complete with Christmas lights, Santa Claus and a reindeer or two. The Victorian Market is an old re-built market consisting solely of small businesses, making it the perfect place to find a unique gift for your loved one.
If you happen to stick around the Highlands until the end of the year, don't miss out on Scotland's biggest free Hogmanay concert… The Red Hot Highland Fling at Northern Meeting Park in Inverness on December 31st! Over 10,000 visitors gather to ring in the New Year with performances by The Elephant Sessions, Scooty & The Skyhooks, and  more. Need a place to stay? The Lochside Hostel lies right on the edge of Loch Ness, providing a prime view of the fireworks (and of course, the water).
Reason #4: Cromarty "My Favourite Film" Festival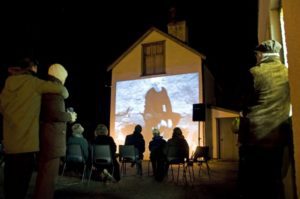 Truly the underdog of film festivals, Cromarty's "My Favourite Film" Festival has maintained a rustic charm despite running for 11 years. The films are projected onto whatever surface will work – whether it be the wall of a cottage, a ship, or someone's car. Hundreds gather to watch films, drink whisky, and eat wood-oven pizzas under the stars (usually huddled under blankets). Unlike major film festivals like Cannes, Cromarty showcases film favourites for all kinds of audiences. This year, the lineup includes Guardians of The Galaxy 2, Paddington 2, Deadpool, An Inconvenient Sequel and more from December 2nd to 4th.
Reason #5: Irvine Harbour's Festival of Light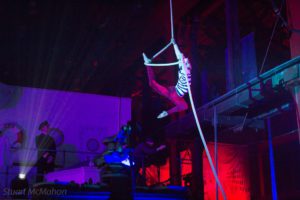 Running from November 30th to December 3rd, the Festival of Light kicks off with a fireworks display in honour of St. Andrew's Day. The entire Irvine Harbour is illuminated, including a spectacular light trail. The illumination festival also involves a lantern parade, a cycle stunt competition and a coastal rowing race. But perhaps the most astounding part is the Light, Fire and Aerial Art Spectacular, where you can watch brave souls doing aerial stunts while people literally dance with fire underneath them.
Reason #6: Hogmanay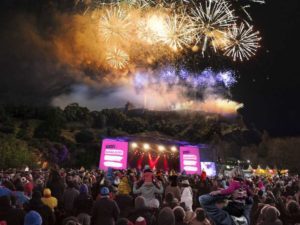 Hogmanay is a Scots word for the last day of the year, also known as New Years Eve. The Edinburgh Hogmanay is one of the greatest New Years celebrations in the world, and has been rated as one of Discovery Channel's Top 25 World Travel Experiences. Edinburgh's street party attracts over 100,000 visitors, with live concerts, a 10,000 man torch progression, fireworks displays and a ceilidh by the castle.
Glasgow is also a hotspot for Hogmanay, with a wide range of events for those who want something different. Want to see a burlesque show? Head to Club Noir for their burlesque and cabaret party. Want to rock'n'roll all night? Waxy O'Connors Rock Lock-in is the place for you. There's even a student house themed bar called Flat 0/1 serving up student classics like Strongbow cider and Lidl's finest wine. It'll be like a student house party, except you have to pay for things… But at least it'll be the cheapest bar to go to on Hogmanay.
Further up north, Aberdeen will be hosting its traditional Stonehaven Fireballs Ceremony. It's pretty much exactly what it sounds like – hundreds of people gathering in the streets to march and throw fireballs around their head. What better way to welcome the new year?
Traveling solo?
Check out Macbackpackers tours of Isle of Skye, Loch Ness and more for the ultimate Scottish experience.