Whether you're just going for a quiet drink, on a date or for a mad night out with your friends, Edinburgh's bar selection is so wide and diverse, it can be overwhelming. If you're new in town, it can be especially hard to gauge which place is right for you. But don't you worry: this guide will help you find the best bar(s) to satisfy your alcoholic needs, for every occasion.
For the craft beer enthusiast
Since its opening in 2012, The Hanging Bat has gained serious traction in the craft beer scene. With 6 cask and 14 keg lines rotating on a daily basis, and over 100 bottles and cans, there's something for every beer snob out there. You can expect to find anything from spiced pineapple sour beer to smoked porters, all served in schooners or 1/3 pints. As well as beer, they also offer a classic bar bite selection including wings, nachos, halloumi fries and more. Their 5th birthday party, on November 17th, will feature a limited edition birthday beer by their in-house brewer, as well as some of the UK's top breweries.
133 Lothian Road, EH3 9AB
Inconspicuously located on the corner of Lauriston Place, this German beer is truly a hidden gem of Edinburgh. With limited seating (I'm talking 30 people max), an old sewing machine, and candlelit tables, Brauhaus offers a perfect atmosphere for a solo drink after work or a catch-up with an old friend. Whether you want to cozy up on the couch by the window for some people watching, or learn something new from the knowledgable bar staff, you will definitely be doing so with some of Germany's finest beer in hand.
105-107 Lauriston Place, EH3 9JG
Situated right between the Royal Mile and Cowgate, Salt Horse is the perfect layover between exploring the tourist attractions of Edinburgh and starting your night out on the town. Aside from the 12 keg lines in the bar, Salt Horse also has a bottle shop with a selection of over 400 bottles and cans from all over the world. If you're feeling peckish, you will not be disappointed by their burgers (vegetarian options are also available). Although you wouldn't guess it from its exterior, Salt Horse is actually home to one of the few beer gardens in Edinburgh – don't worry, they're installing outdoor heaters and covers for the winter.
57-61 Blackfriars Street, EH1 1NB
For the traveller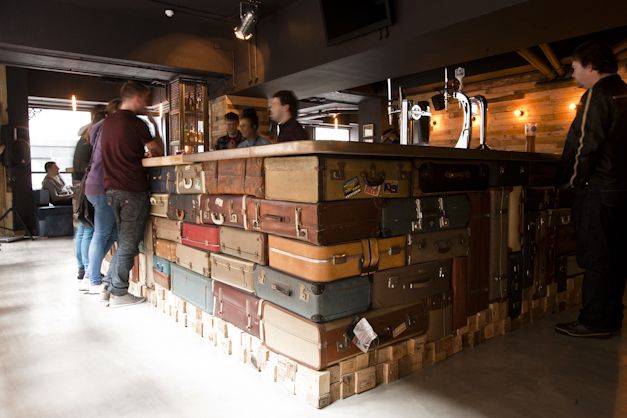 Feeling a bit light in your wallet after all those craft beers? Opium will sort you out. The happy place of all broke travellers, students and just plain stingy locals – a double spirit at Opium will set you back a  mere £3. While the downstairs bar is chilled with plenty of seating, upstairs there's an alternative rock nightclub for those who want to lose themselves to Edinburgh's dark and dirty rock subculture.
71 Cowgate, EH1 1JW
With a motto like 'not all those who wander are lost' it's no secret who Pilgrim is trying to lure inside. A student and traveller-friendly late night bar, Pilgrim is gaining popularity for its industrial chic design (check out the bar built from recycled suitcases and the 1930s cinema seating) and eco-conscious approach. Come for the quirky décor, stay for the good times and drink deals.
3 Robertson's Close, EH1 1LY
For the sports fan (or just a game of pool)
This Aussie sports bar, the first stop on the Castle Rock pub crawl, has 2 pool tables where you can play for free. Between games, you can watch sports on the TV screens (did someone say Rugby?), while snacking on Shapes and drinking cheap beer and spirits. Bonus: they offer student discounts.
33 Candlemaker Row, EH1 2QG
Showing just about every sporting event you could possibly ask for on its many screens and serving beers from across the globe (get it now?) The Globe is a Castle Rock favourite. But come Monday and Thursday nights it's easy to forget Globe is a sports bar. The week kicks off with a pub quiz including a tricky music round that will have you searching the corners of your mind to remember the name of that Pink Floyd song. When Thursday night rolls around, The Globe is overflowing with revellers enjoying the cheap booze and world-famous karoke.
13 Niddry Street, EH1 1LG
For when you're craving cocktails
Disguised as a vintage barbershop, complete with a Hogwarts-style hidden bookcase door, the speakeasy style Panda & Sons is very easy to miss. When you enter the basement bar, it really does feel as if you've stepped into a different decade – everything from the decor, to the music, to the bar staff's uniforms has a vintage feel. When you sit down, you will be equipped with chilli popcorn and water to last you through the night. With cocktails served in anything from Chinese takeaway boxes to hats, using ingredients like coriander seed and grapefruit foam, you will definitely be staying for more than just one.
79 Queen Street, EH2 4NF
The sister of Edinburgh's famous Bramble bar, Lucky Liquor brings you a regularly rotating list of 13 cocktails all filled with unique twists and turns. Unlike many of Edinburgh's cocktail bars, which tend to go for a wooden, vintage-style decor, Lucky Liquor opts for an American diner style of interior decor – complete with black and white tiles, exposed brick walls and a pink neon sign. The best thing about Lucky Liquor? The bartenders are top notch. If nothing catches your eye on the menu, they will happily (and effectively) go off-book to create your dream cocktail – and provide some good chat too, of course.
39A Queen Street, EH2 3NH
Like Panda & Sons, this speakeasy bar is literally a hidden gem – though the frosted windows and faded door makes Bryant & Mack especially difficult to find (we recommend using Google Maps). Recently voted as one of the country's best bars of 2017, the venue is styled as a private detective agency with a touch of creepy hotel where you might get murdered. You will receive menus in brown 'confidential' envelopes, boasting a selection of classic cocktails with a twist, using ingredients like Malbec infused egg white and fig twists. On a busy night you might have to squeeze in and share a table with some fellow investigators, but if you go on weekdays, there are plenty of couches and corners to cozy up in.
87-89 Rose Street, EH2 3 DT
For live music
With live music 7 nights a week and over 100 bands playing each month, Whistle Binkies is one of Edinburgh's staple live music bars. Offering a mix of open mic nights, free gigs and ticketed events, you are sure to find some of the city's best up and coming talent. The bar is placed right above the South Bridge vaults, renowned as one of the most haunted areas in the world, with hundreds of inexplicable paranormal encounters occurring over the past couple of centuries. But don't let that scare you – some tequila will help you forget all about it.
4-6 South Bridge, EH1 1LL
Formerly an 18th century Free Church, Stramash is Edinburgh's largest music venue, with a capacity of 900 people. Aside from the big stage – where you can enjoy open mic night, songwriting sessions and live gigs – the venue has three bars, an internal balcony with a view of the stage, and a restaurant. To top it all off, Stramash is home to Edinburgh's largest TV screen, so you can even catch a game or two.
207 Cowgate, EH1 1JQ
This award-winning live music venue, home to the Jazz Festival, is a must-go for any music fan. With a range of small bands, solo singers and orchestra performances in a multitude genres including jazz, funk, blues, acoustic and more. Entry is usually free until 7:30pm or 10:30pm (depending on the night), but all money goes towards the musicians rather than the venue.
1A Chambers Street, EH1 1HR
For a late night meal
It's in the name: sometimes you just need one last drink before you go to bed. Nightcap is home to Feed, offering a sit-down menu of anything from ribs and burgers to bar snacks until 2am – a true rarity in Edinburgh, where most places stop serving food at 10pm. The late service doesn't compromise the food quality though, especially when paired with their classic cocktails.
1-3 York Place, EH1 3EB
Conveniently located right on Cowgate, for those who went a little too hard on the drinks, OX184 serves brunch until 12pm and wood fired grill food until 2:30am. Cocktails are more on the average side, but their beer selection and food quality is pretty top notch considering its location and opening hours. On weekends, the bar is busy and noisy, but on weeknights you can easily hold up a conversation over food and drinks at 2am.
184-186 Cowgate, EH1 1JJ