By Rachel Wagner.
Edinburgh Christmas
16th November – 5th January 2019
Live out all your European winter Christmas fantasies at once with Edinburgh's Christmas celebrations. Head to the Ice Skating rink at St Andrew's Square to keep warm with a spin on the ice, check out the silent light disco on George St for a dance, or just take a stroll through the Princes St Gardens Christmas Market. Be sure to pick up a Hot Toddy or Gluhwein, snack on hearty German food and shop the gorgeous stalls for all your pressies. And remember, you're never too old to get lost in a Christmas tree maze or visit Santa's Grotto.
Find out more about Edinburgh's Christmas here.
Love Actually Live on Screen
Saturday 8th December at Usher Hall 
Show me someone who doesn't love watching Love Actually every week of December and I'll show you a liar. But if you want to go one better this year, you can watch your favourite Christmas film with a full orchestra performing the magical score live. Does it get any more Christmassy than that?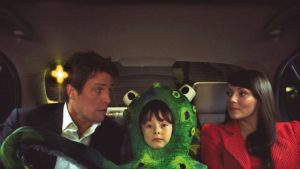 Tickets range from £43.45 up to £71.50, buy them here.
Christmas at the Botanics
Royal Botanic Garden Edinburgh, 23rd November – 29th December
Edinburgh's most beautiful gardens come alight with over one million twinkling lights. Follow the trail through the Botanics every night to spot larger-than-life incandescent flowers, illuminated tree sculptures, a scented fire garden and of course, Santa. Sip on spiced cider, mulled wine or hot chocolate and eat roasted chestnuts. You can even toast your own marshmallows on a fire pit. All profits from this event go to plant research and conservation work.
Dayglow for Women vs Cancer Christmas Belter
Saturday 8th December at Bongo Club
Have you ever been clubbing in the daytime? (And no, it doesn't count if you're still up from last night.) Bongo Club is holding a party starting at 2.00pm with DJs, glowsticks, facepainting, balloons and more. The best bit is, it's all in aid of Women V Cancer,a partnership between Breast Cancer Care, Ovarian Cancer Action and Jo's Cervical Cancer Trust.
Get advance tickets now for £11.25.
Sleep in the Park
Saturday 8th December at the Princes St Gardens
If you want to get an idea of what it's like to be homeless in the harsh UK winter, join the massive charity event Sleep in the Park. If you've got the guts to pull up a patch of grass in the Princes St Gardens with just a sleeping bag to keep you warm, join the world's largest sleepout to end homelessness in Scotland.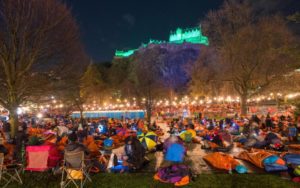 Summerhall Christmas Market
Sunday 9th December at Summerhall
Haven't started your Christmas shopping yet? Naughty naughty! Well luckily for you, Summerhall is throwing its annual Christmas Market, packed with local designers and food stalls. There will also be live music, activities and workshops to keep you entertained.
Check out all the stallholders. 
Kinky Boots
10th December to 5th January at the Edinburgh Playhouse.
For a feel good night at the theatre, head down to the Edinburgh Playhouse to watch Kinky Boots. With songs by Grammy and Tony winning pop icon Cyndi Lauper, Kinky Boots takes you from the factory floor to the glamorous catwalks of Milan. Charlie Price is struggling to live up to his father's expectations and continue the family business of Price & Son. With the shoe factory's future hanging in the balance, help arrives in the unlikely but spectacular form of Lola – a fabulous performer in need of some sturdy new stilettos.
Hogmanay
Monday 31st December
Here in Scotland, we don't celebrate New Years Eve. We celebrate Hogmanay, and it's loads more fun! Edinburgh holds a massive street party every year on Princes Street with music and fireworks. This year's acts include Gerry Cinnamon, Judge Jules, Elephant Sessions, SNAP!,and Meute. Tickets are £31.00 and include a complimentary dram of whisky.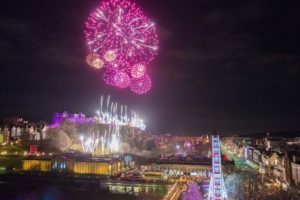 If you're a music lover and willing to cough up a few more quid, there's also the Concert in the Gardens. The Princes St Gardens, that is. It costs £65.00, but Scottish superstars Franz Ferdinand are headlining the night, supported by Metronomy and Free Love, and you'll have the best views in town for the fireworks.
For a quintessential Scottish Hogmanay, head to Ceilidh under the Castle. Join hands with friends and strangers as you bring in the New Year with Scotland's traditional dance. Tickets are £60.00.