Alan Potter of StagePics.co.uk
EDINBURGH MUSIC THEATRE PUT ON ANOTHER VERY PROFESSIONAL PRODUCTION!
King's Theatre
I had the opportunity to review Edinburgh Music Theatre's production of "Fiddler on the Roof" last year. And it was no boast to say that it was truly one of my theatrical viewing highlights of 2017. They are a local amateur troupe, but they present their shows like true pros. And believe me this year is no exception.
"Guys and Dolls" is a funny Broadway show that concerns the antics of a pair of affable 1950's gangsters Nathan Detroit (Colin Richardson) and Sky Masterson (Alex Kantor) and the ladies in their lives  Miss. Adelaide (Kirsten Adamson) and Sarah Brown (Naomi Barkley) who try to change their wily ways. There's a lot of fun to be had here and Louise Sables (Director) clearly knows her cast as well as her audience. She channels the best out of her stage stars that has the audience truly rooting for them. I mean Nathan Detroit is a rather duplicitous character, as he's constantly lying to his fiancée Miss. Adelaide and yet Richardson shows that he really does care for her and all whilst creating a funny character too, which is no mean feat.
But this integrity does flow from all the characters. Something I find that tends to get over looked in many productions is how important the background characters are to a piece. They are literally the backbone to any production and if this gets neglected it can make for a rather limp experience. But that is not remotely the case here, as they truly get to shine from the very beginning. This can be a very hard thing to coordinate, but you can see that the cast are having so much fun in performing together, that it does come across quite seamless. So Bekki Black do take a bow for your considered choreography.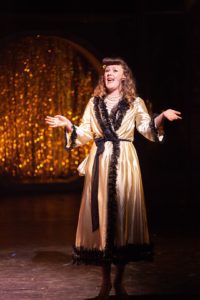 Alan Potter of StagePics.co.uk
As well as all these antics we are treated to some stellar singing to boot. The leading ladies have two very different styles that uncannily complement each other. Adamson vocals do befit the style of the setting, in an old Hollywood starlet kind of way, but Barkley's timbre is truly operatic and which they truly get to showcase in their duo of "Marry the Man Today". Barkley also gets the balance right (quite literally) as her character gets drunk in the fun and frothy number "If I were a Bell". And Kantor gets to show how strong a singer he is in "Luck be a Lady". But one of the music highlights of the show is from Tony Jackson's rendition of "Sit Down you're Rocking the Boat". He plays a kind of quiet comic relief character called Nicely-Nicely Johnson, but it's truly his character's reason for being as he gets to sing this comical song towards the end of the show. And a jolly rambunctious number it is too.
Special praise should go towards Lauren McAnna's (Head of Costume) careful eye as to what raiment suits which character best and Scenic Projects delightful set. You can see that a lot of effort and careful consideration went into creating this New York boulevard and similarly into this whole production as well. It's a fine piece of work by Edinburgh Music Theatre, much better than the film version starring Frank Sinatra and I'm already looking forward as to what they'll produce next year!
Markus Helbig.