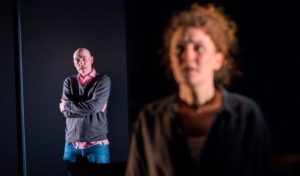 Mihaela Bodlovic
MARKUS EXPERIENCES A HARROWING PIECE OF WORK AT THE TRAVERSE!
Traverse Theatre
Trust; it's an important thing. But I suppose there's more than one type of it. There's the everyday one that we give to most strangers and there's the type that you have amongst family and friends. But while most of these rely upon the fact that there will be no betrayal, there's also the type that's more revolved around competency.
It's this type of trust that is the impetuous for an engaging psychological thriller from the pen of Frances Poet.  The set-up is well done; of young parents Rory (Peter Collins) and Maddy ( Kirsty Stuart) revealing a rather cheeky story to Rory's mother Morven (Lorraine McIntosh). Although, it has a salacious quality to it, it is delivered rather innocently and jocundly about a mistake of Maddys that kind of ends up accidentally leading a bald man, an unknown man on.
The next part is interesting as Morven tells the young couple of the day to day activities she got up to whilst looking after their three year old son Joshua. Of where she leaves their child with a nice man, an unknown man, for a few minutes whilst she sorted something out. The mood does swiftly change and Movern doesn't initially see as to what the problem is. At first it's Rory who's getting angry and finding it hard to deal with what his mother has done and Maddy's trying to placate him. But as the play proceeds, we do see this nature shift, as Rory becomes more accepting of what has happened and Maddy becomes more obsessed seeing shadows where there are none.
Zinnie Harris is the director of this piece and she has done a powerful job here. I have encountered her directing once before but I had problems with it as it wasn't entirely clear, whereas here she truly has a deft hand. I particularly liked when one scene which was particularly wrought with tension ends, we have The Stranger (George Anton) come in and hurl a box full of toys across the stage. Because although it is technically setting up the next scene, the violence of it just kind of adds fuel to this already tense fire.
Anton is very good at playing all the many types of bald headed strangers in this production. His appearance shifts only slightly, be it just the way that he buttons his shirt. His demeanour from stranger to stranger is just enough that we buy them as a completely different person but they all harbour a slight unsettling quality to boot.
Back to Harris' direction; she has a good balance with set design (Fred Meller) and lighting designer (Kai Fischer) too. There are a lot of times when The Stranger is more hinted at in a malevolent kind of way, be it a blurred image being made out through a translucent but mottled screen or his literal shadow looming ominously.
With most thrillers I do find that the tension is never really raised till a good bit of time has eaten into the show. But here we pretty much have it storming straight out the gate. Genuinely an edge of your seat experience and one that I would highly recommend if you're in the mood for something a bit more gutsy.
Markus Helbig.
Dates & Times
Tue 24 Apr – Sat 12 May, 7.30pm
Thu 10 & Sat 12 May, 2.30pm
Tickets
Full price £22
Standard concession £18
Under 30s / Student £15
Other concession £11