MARKUS ENCOUNTERS A CHALK AND CHEESE DOUBLE ACT AT THE ROXY!
            Assembly Roxy
When I first heard of this double bill of Sophocles' Greek tragedy and Noel Coward's comedy of errors being produced by amateur theatrical society The Edinburgh Makars, I was suitably intrigued. I mean it's a brave move bringing these rather disparate forms together to create an evening's entertainment and one that is not without risk.
When I walked within those cloistered halls of the Roxy and strode across the floor to take my seat, for a moment I thought that the people stood around gabbing were actually the punters who came to see the show. But it's actually the intriguing set up of the first half of this night's proceedings. Director Tom Brown has added a current corporate edge to this classic tale of power and forbidden trysts and it certainly is one of the better aspects of this production, fuelling its political prowess towards its imminent fall out. But alas, for all the plays intensity (and we certainly get that from Harry Joll's performance of Oedipus) it doesn't really gel, and the actors come across quite self-conscious.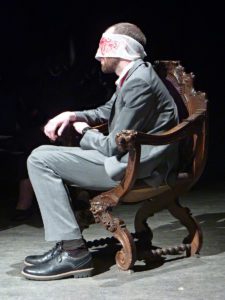 But it's a completely different affair in the jolly romp that they provide for us in the latter half. And actors who have roles in both pieces seem to revel in what they're doing here with an air of quiet confidence. Mike Appleby in particular, as he plays the part of Bogey, had me at times questioning myself if he had actually been performing as Creon moments earlier. But maybe it's due to John Scott Moncrieff's coordinated direction that gets the cast to deliver on this.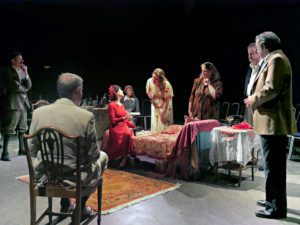 The vignette itself is very much in the Coward format of well to do people who refer to each other constantly as "Darling" bewildering each other in comic confabulation and serving afternoon cocktails all at the same time. Carol Davidson as hostess Piggy, is certainly the centre piece of this little farce and embraces her role with much gusto. But for all these bustling larger than life performances, we truly do get a very considered and controlled performance from Beatrice Cant as the very shy Miss. Burnham. Her character doesn't have a lot to say but that is where the true power of her comic acting ability lies. She never forgets her nature, be it in her posture or even in the way she moves her eyes.
Overall a gutsy move to combine these two pieces in an evening's entertainment and one that's not without consequence. But I was so fond of the last piece that it's worth coming along to this eclectic evening even if it's for that choice piece alone.
Markus Helbig.