A WONDERFUL PUPPETRY PRODUCTION BOUNDS ACROSS THE FESTIVAL THEATRE STAGE!
 Festival Theatre
Micheal Morpurgo's World War I tale that has a rather equine perspective is masterfully brought to life upon the Festival Theatre's stage.
Morpurgo has a great respect for animals and particularly for their welfare, which he has addressed in more than one text. I'll admit that the tale itself is sentimental and may not be the most sophisticated, but that does create quite a canvas that can be built upon, which the National Theatre have developed with great devotion.
The story itself concerns the deep bond between English farm boy Albert (Thomas Dennis) and his best friend, a horse named Joey. They get to know each other just before "the war to end all wars" kicks off. And as the Great War progresses they both end up getting drafted but at different times.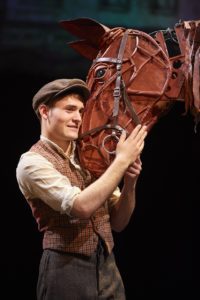 Brinkoff & Mogenburgh
This is a very interesting show to bring to stage, as not only is it ambitious, it also glorifies an art form that I think doesn't get enough respect. I'm talking about puppetry! And here you will see some of the finest puppetry performances I have ever encountered on stage. The puppet's themselves are exquisitely crafted, but they truly are imbued with subtle essence thanks to the Handspring Puppet Company's outstanding performances. These professionals really do reveal the different personalities between the horses. Be it Joey's youthful canter or his horse partner Topthorn's more proud and at times aggressive ways. All this is shown through the slightest movement, be it in the way they would tip their head or swish their tail.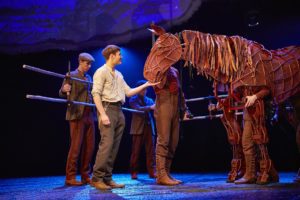 Brinkoff & Mogenburgh
There is also quite a bit of background puppetry as well what with a murder of crows swooping round for carrion, the playful mischief of what a silly goose gets up to or even the haunting image of the poor decrepit soldiers who are coming back from the front.
In the novel the tale is told only through the eyes of Joey and we just get to experience his side of the war. But in this adaptation we also get to see it from Albert's side as well, which is good to see what drives him through this abominable time. Marianne Elliott and Tom Morris (Directors) have keen eyes for what works with the more visual aspects of this show, be it the dramatic transformation of foal into horse, which literally bounds onto the stage! Or the poetic fight between Joey and Topthorn that comes across as a rather splendid four footed ballet. It's even involved when a shell hits a character on stage, and the way that character is lifted off the horse and disappears into the darkness, was a thing that truly gave me goose pimples. Tips of the hat all round to Paule Constable (Lighting Designer), Toby Sedgwick (Director of Movement) and Christopher Shutt (Sound Design) for truly selling this piece.
But although aesthetically this show is a masterpiece, some of the stage performances don't come across as well and it's a shame this didn't get tightened up with direction. I'm genuinely fond of Albert and his relationship with Joey, but he does come off a little goofy at times. It's true it is quite similar to the book in that regard, but I suppose it's trying to deliver the fact that our biped hero is so young or maybe in some ways naive. Also, apart from two German characters, the others do come off a bit arch, almost even comically so in their evil nature. I mean one of them is even wearing an eye patch for nefarious effect! But although these elements do raise the odd eyebrow here and there, they by no means detract from this absolutely marvellous show. Be sure that you get some time to see it, as you will be experiencing one of the most bold and extraordinary productions that have ever been put on stage. I'll even go so far to say that this is one of those rare occurrences where the by-product is actually even better than it source material.
Markus Helbig.
Wed 18 April to Sat 12 May 2018
Tickets from £15 with concession!