Hogmanay may be over, but Scotland is still celebrating throughout January. Now that Christmas is over, the prices have dropped but the party is still going. If you're into folk music, LEGO, dogs or light shows (or all of the above), these are the events for you.
Celtic Connections is Glasgow's annual folk, roots and world music winter festival, taking place January 19th to February 4th. The festival celebrates Celtic connections to musical genres across the globe with performances by over 2000 international musicians. The event is full of life with concerts, ceilidhs, art exhibitions and workshops. And it's not all folk music – genres include Americana, fusion, jazz, indie and more. This year, you can expect special performances for their 25th Anniversary Concert by artists like String Sisters, The GRIT Orchestra, Fiddler's Bid and more. To get involved, buy your tickets here.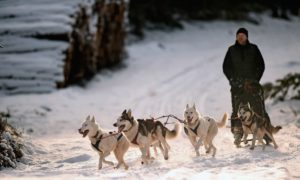 The UK's largest Sled Dog Rally takes place in the breathtaking Aviemore on January 27-28th. Competitors race with teams of 2 to 8 Siberian huskies pulling their driver on a sled. There are 2 children's classes and 8 adult classes, with competitors ranging from ages 8 to 80. The racers and dogs prepare and practice all year round for the event, preparing for the race around the Loch Morlich forest trail. Who doesn't love huskies and beautiful mountains?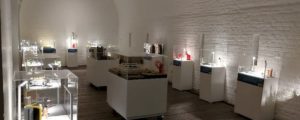 Brick City pays tribute to the most iconic buildings around the world between December 28th and January 10th in Fort George, Inverness. The exhibition features models of famous buildings recreated by Warren Elsmore entirely in LEGO bricks. However, it's not as simple as it sounds – each model consists of anywhere from 100 to 180,000 LEGO bricks. So, if you want to see a Game of Thrones intro-esque LEGO exhibition, buy your tickets here.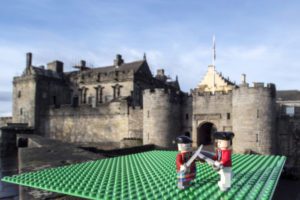 Lego fans, rejoice! Stirling Castle will be hosting Brick to the Past's 6x3m LEGO depiction of the Jacobite Risings throughout all of January. The 1m tall model is made of over 1 million LEGO bricks, featuring the Corgarff Castle, Cairngorm mountain range, a Highland village and over 2000 soldiers. The Jacobite Risings depicts both sides of the fight for Britain's throne in celebration of Scotland's Year of History, Heritage and Archaeology. So if you're in need of a historical LEGO fix, tickets are available here.
The Perth riverside is lit up from January 27th to February 14th in their annual Norie-Miller lights display. And in the spirit of killing many birds with one stone, themes include Chinese New Year, Burns Night and Valentine's Day. Between the 27th and 31st of January, the Burns Night display will tell the story of Robbie Burns with lights, music, street theatre and dance. And don't worry, the free event has plenty of food and drink stalls to keep you warm throughout the night.
Speaking of Robbie Burns, January 25th is his birthday! Scots around the nation gather to celebrate the life and work of the great poet. For those of you who are unfamiliar with the Burns Night, we'll introduce the basics. Celebrations involve haggis eating, poetry readings, and of course, whiskey drinking. A traditional Burns Supper begins with the Selkirk Grace:
Some hae meat and canna eat, and some wad eat that want it
But we hae meat and we can eat, and sae the Lord be thankit
The Burns Supper traditionally consists of four key players. The cock-a-leekie comes first – by that we mean, you start with a chicken and leek soup. This is then followed by haggis, which is essentially sheep stomach disguised as a big sausage. Before you eat, it is essential that you read "Address to a Haggis", Robbie Burns' ode to the national dish. You may then proceed to dramatically slice the haggis in half. Haggis is served with neeps (also known as turnip), tatties (potatoes) and whisky sauce. The final course is cranachan, a Scottish dessert made of whipped cream, raspberries and oat wafers. The main star of the show: whisky.
For those of you that aren't celebrating at home, fear not, there are plenty of venues hosting celebrations. The town of Dumfries is hosting a Big Burns Supper, the World's biggest Burns Night celebration. Dumfries is Burns' official resting place, so it's the place to be for a truly patriotic experience. Those heading up north can look forward to the annual Nae Ordinary Burns Supper in Aberdeen or Inverness. To finish the evening off in style, don't forget to dance the night away at a ceilidh. The traditional folk dance is led by an instructor, so don't worry if you don't know the steps.